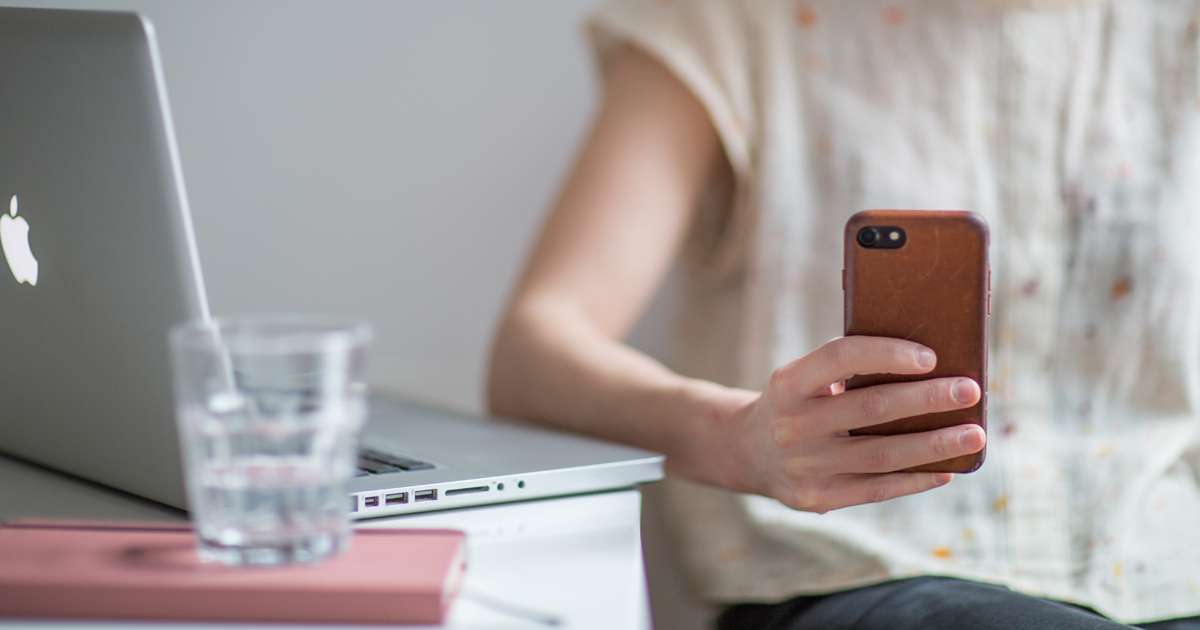 Online dating is definitely "a thing" and using dating apps is one of the most convenient ways to meet your potential love match in 2023.
No longer do singles have to trawl through pubs on a Friday night or strike up awkward conversation with a crush at work. Chatting with a stranger from the comfort of your own home is the new normal. In your pjs. Glass of wine in one hand, phone in the other. As long as you can decode a guy's dating profile, you're off and running.
With online dating becoming so popular, you may be wondering where to start. Well, we've done the research for you. Here are the top dating apps for Aussies, and what to expect from them.
NOTE: Here are some handy tips to stay safe while having fun: 12 Tried and tested tactics to date safely online.
DoULike
DoULike is a well-known dating site that was founded in 2005. There you can find meaningful or hookup connections. DoULike has a trusted reputation among singles. The site has a large number of users and offers a diverse pool of potential matches. Approximately 80% of members' profiles have photos. It allows users to quickly assess compatibility based on physical appearance, fostering initial attraction. Doulike profiles are detailed, allowing users to show their interests and personality, facilitating more accurate matchmaking.
DoULike Pros
DoULike offers a unique feature called "Valuable Matches." It allows you to see matches who share your values and life views. It allows you to find deep and meaningful connections on the website.
DoULike's user-friendly interface provides a seamless platform navigation experience.
DoULike offers free membership for women, promoting inclusivity and encouraging active female participation on the platform.
DoULike Cons
Some premium features require payment, but you can still browse profiles and find Matches on DoULike.
Eharmony
eharmony is the veteran dating app which has been around the longest. It has evolved with ever-changing dating trends to become the inclusive dating app and website we know and love today. The "number one most trusted dating app" features one of the most detailed member profiles on our list. Whilst it can take ages to fill out, it's ultimately a good thing as the more information everyone provides, the more likely we are to find a compatible match, right? Once they have your details, a clever data-driven matching system ensures like-minded people who share the same goals, whether long-term relationship, marriage or just a casual fling, get to meet and have a higher chance for relationship success. There's a price tag attached to this service (around $60/month), but we think it's worth it as you get top quality matches, video dating and more.
Check out our full, genuine eharmony review.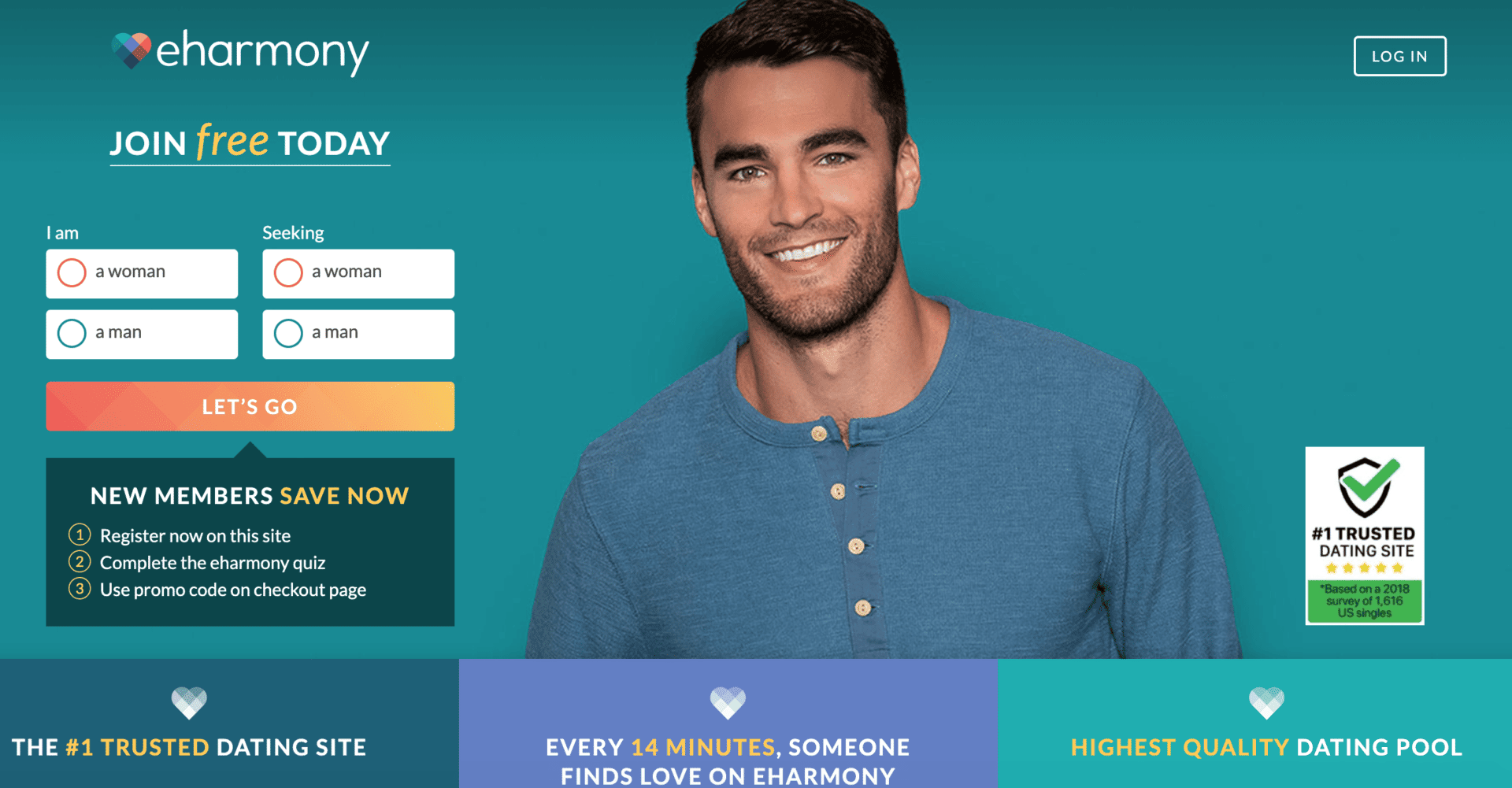 eharmony pros
If you're taking your dating adventures seriously and want a long-term relationship, eharmony is up there with the best. All users have paid so everyone on eharmony has already shown they are ready to invest in finding a new partner, which is a great start. Their thorough surveys allow you to personalise your profile, interests and bio to your heart's content so you can have more accurate matches.
eharmony cons
eharmony can be pricey for someone who's new to online dating and wants to test the waters before committing. They do offer a free version but it's fairly limited.
Tinder
Can you believe Tinder launched 10 years ago? Tinder was the first dating app to skyrocket in popularity in Australia, and it's still going strong in 2022. It is viewed as a hookup app that millennials and Gen Z use, but don't be put off by its raunchy reputation. Is it possible to find Mr. Right on Tinder? Absolutely! You just you need to be patient and sign up for premium access, because that's where you'll find the most matches. A paid subscription unlocks heaps of other goodies, like profile boosts to make your photo and bio stand out, and the ability to go back and swipe right on someone you swiped left on.
Tinder p
ros
Tinder remains an easy-to-use and fun dating app for beginners and seasoned folks alike. If you're on the lookout for casual flings or a good time, it's a pleasure to use this because the swipe right matching system is quick and fuss-free. And don't discount Tinder if you're looking for a guy to marry. Sure, you'll meet hundreds of men only here to hook up, but a chat can turn into something more meaningful.
Tinder cons
The free version of Tinder is pretty basic, so you'll need to sign up for a paid membership if you want to avoid being bombarded with requests from guys who are playing the numbers game.
Adult Friend Finder
Adult Friend Finder combines the best of playful porn and social media. It's like Facebook but for hookups online and off. And if that's what you're into, you'll find plenty of like-minded people here. They have a huge membership base (with over 25 million visitors each month), plenty of features to keep a casual browser occupied (watch webcams, vlogs, join chatrooms), and more horny members and adult content than you know what to do with. This app is for women looking for a good time, although there's a chance to make deeper connections that can progress into something more serious.
Adult Friend Finder pros
When it comes to dating apps for sex and casual encounters, we particularly like this one because of the large membership base, detailed profiles, and heaps of features. You can express your sexuality in multiple ways and have the freedom to explore and be as wild as you like without judgment.
Adult Friend Finder cons
Something we find a bit tricky is messaging. You can't contact other members as easily if you're on the free version, so you're basically just browsing. You can still watch videos and view profiles but that's about it. If you don't want to spend money, make sure your profile is standout so others can contact you.
BEST DATING APP AUSTRALIA (cont.)
HAPPN
The dating app that gives missed connections a second chance, Happn, is all about connecting with people you've met in the past or people in your area. Wonder no more what it's like to chat up that cute regular at your fave coffee shop. If he's using Happn, you can track him down in the app and say hello. You're more likely to match with people that you see often, compared to those you've met just once or twice. So if you live near a happening (forgive the pun) place, like a university or a community where you hang out on the regular, definitely give this app a go.
Happn pros
The location-based matching is the biggest selling point for us. For those looking for love in an urban area, the free version of Happn allows you to see heaps of potential matches, liking their profiles, and sending a message if the feeling is mutual.
Happn cons
You need to pay for the premium version if you want to be proactive and contact members or see the profiles of people who have liked you. Another downside is that if you live in a rural or remote location, you'll see fewer people to connect with.
Bumble
Bumble is the dating app for ballsy women or ladies who love making the first move. In an empowering twist, Bumble lets us (women) send the first message to potential matches. Like Tinder, you swipe right, and if it's a match, you can start chatting. If that sounds brilliant and not scary, then Bumble might be the app for you. We've seen many successful relationships start off on Bumble, and it's a place where you can easily connect with people who share the same interests, whether it's a future husband, a coffee buddy, or a new best.
Bumble pros
We love the fact that ladies get to initiate conversations with their matches. We get to choose who to contact and avoid creeps (for the most part). Bumble is easy to use, lets you filter matches using different categories and is a great app for women who are looking for love or networking opportunities. Bumble is also perfect if you're just looking around and want to go on dates with different guys.
Bumble cons:
Bumble profiles tend to be less detailed than say, eHarmony or OK Cupid, which can reduce the accuracy of matches. Also, you have 24 hours to send a message to your match after both of you have swiped right or the opportunity is gone (although there are ways to extend this deadline).
OK Cupid
Not a fan of swiping dating apps? OK Cupid delivers a more website-based experience with data-driven matching that claims to connect singles based on factors that really matter. The app is well-designed and has an extremely detailed signup survey to gather information about you. The data is then used to make highly accurate matches and save you from sifting through hundreds of profiles. Simply set your relationship goals (hookup, friends, marriage, etc.), fill out the questionnaire, and view your matches.
Apart from the detailed bios and accurate matching, what we like best about OK Cupid is that most features are free … and we all love freebie.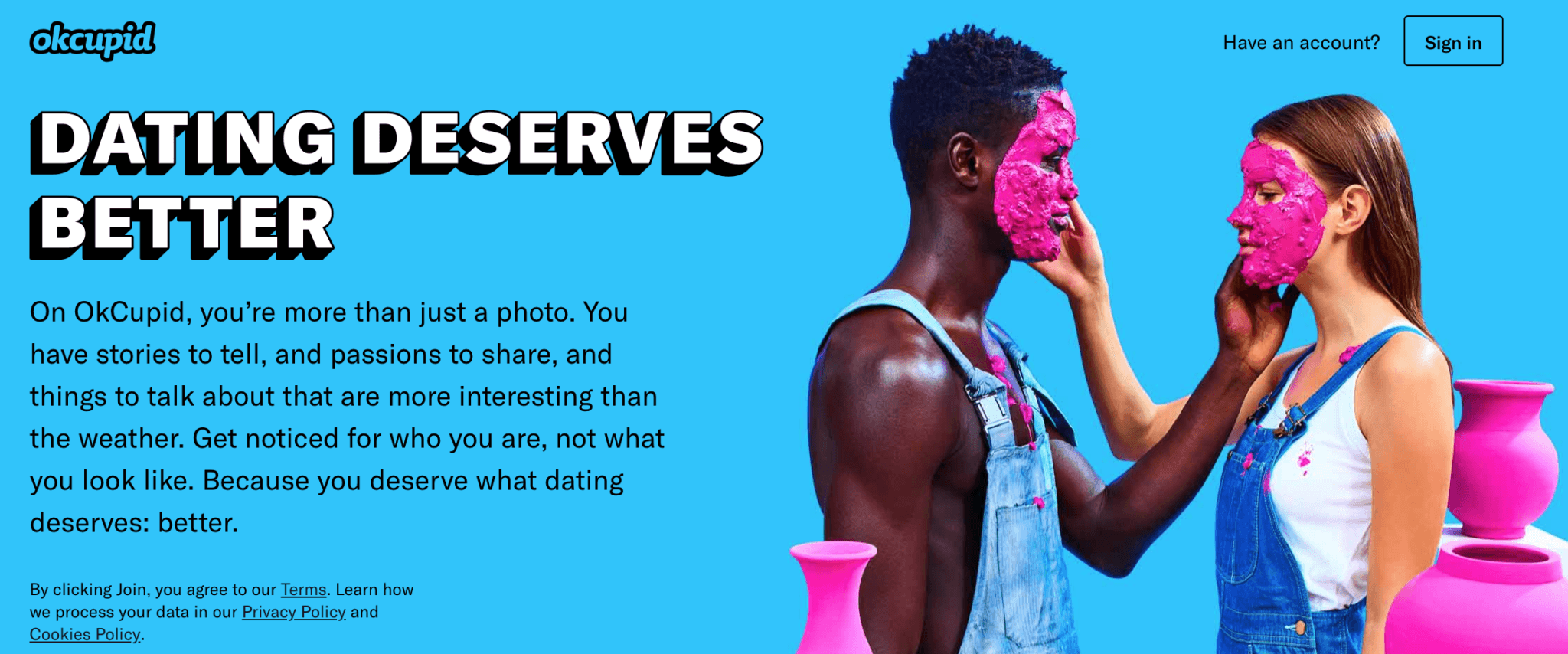 Hello Cupid pros
OK Cupid is a good alternative to swiping apps like Tinder, Bumble and Hinge with its detailed profiles, free dating tips, and smart algorithm designed to give you accurate matches no matter your relationship goal. In addition, the app is very inclusive and great for LGBTQI+. The price to unlock premium features is pretty affordable at around $10/month.
Hello Cupid c
ons:
Because most features are free, the app is ad-supported. There's also no video chat, you can only message people you've liked and who have liked you back, and you'll see ads when you browse, which can interfere with the experience. We've also heard of some users reporting inaccurate results when using the search function.
Passion
Passion is another dating app for steamy casual connections, similar to Adult Friend Finder but not quite so obvious. For example, your message settings come with a filter to block out X-rated messages. You can set this to be as clean or as dirty as you like. The Passion community ranks profiles through a points system and you can participate through voting, if that's your cup of tea.
What we love about most about Passion is the customisation. There are 12 sections to each profile so you can be as detailed as possible. You can also add photos, videos, webcams and video chats. When browsing profiles, you can use the search filters to narrow down the results, for example by interests and romantic goals.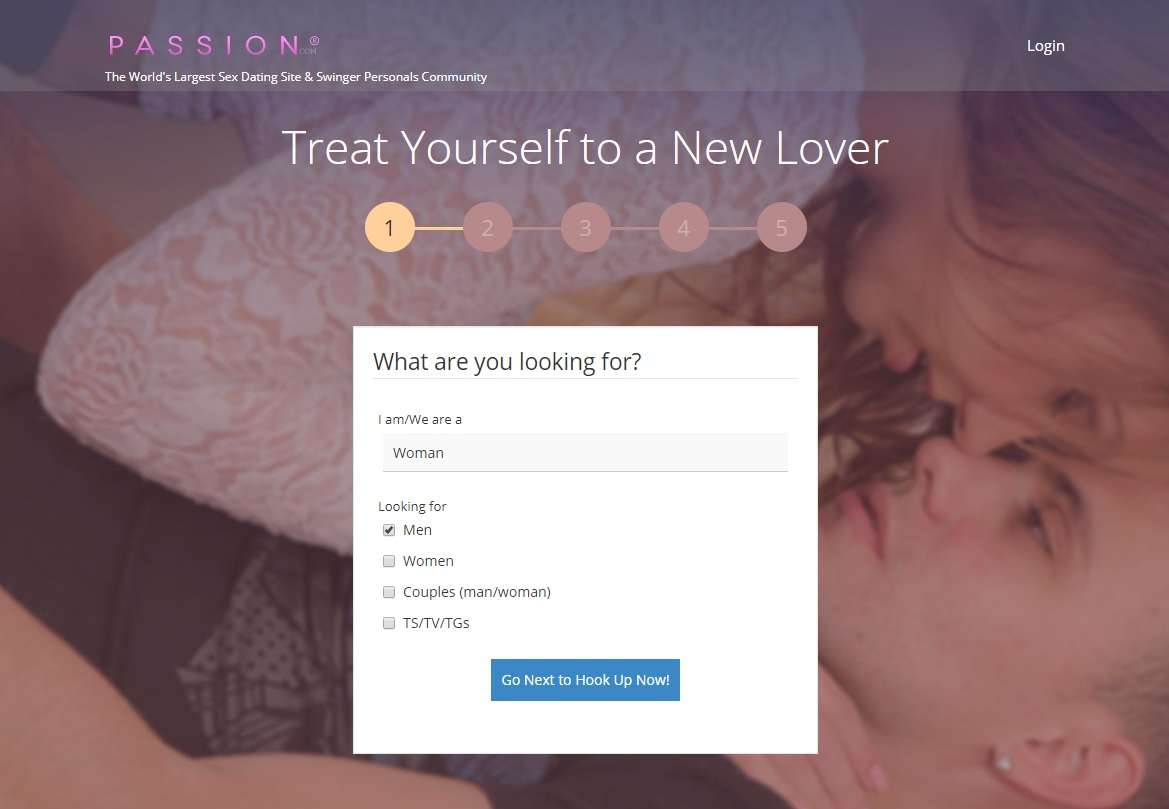 Passion pros
The Passion membership base continues to grow and along with it the chances to meet the guy of your dreams. We love that you can hang loose on this sultry dating platform without being hit by a constant barrage of adult content, and you connect with fun people for hookups or more serious relationships the way you want.
Passion cons:
The free version of Passion will take you only so far. The premium subscription is where it's at.
Grindr
If you've used Grindr, you know that it's so much more than a dating app. The world's biggest social networking app for gay, bi, trans and queer people has 4.5 million daily users in almost every country on earth, so you're spoilt for choice. And this can be a good or bad thing. What we like best about Grindr is you can send anyone you fancy a message and don't have to wait for a match to connect. And the free version lets you send audio and video messages. Sign up takes a minute, and you can share as much (from links to your social media accounts to date of your last HIV test) or as little information as you want.

Grindr pros
The free version of Grindr lets you play around with lots of features. It's hard to get bored browsing with millions of members and profiles to see. It's anonymous and you can be yourself. For those who identify as LGBTQI+, Grindr feels like home because of the culture and understanding.
Grindr cons
Grindr is known for high quality members, but many are bots or faceless profiles. The pop-up ads on the free version can also interrupt your experience. Another frequent gripe is the obsession with body image. You're going to see heaps of toned, chiselled physiques here, which can either get you to the gym or torpedo your self-esteem.
Badoo
Badoo's over 450 million members makes the dating app feel like a colossal social media website that is designed to connect singles with each other. The majority of Badoo users are here for casual fun, but it's possible to meet someone who's looking for a serious relationship or even marriage if you dig deep enough. Badoo is great to use if profile aesthetics is more important to you than content. Let your photos do the talking and attract potential matches. Badoo is location-based, so that first profiles you'll see are people near you, whether you're at home or travelling abroad.
Badoo pros
If you travel frequently, Badoo is a great app to meet new friends or lovers. Matches are based on your current location and you can tag favourite places to narrow down your match results. We also like the photo verification, video chat, celeb lookalike feature and inclusivity (you can choose from 50 genders).
Badoo cons
We find the matching system to be a little tricky because you have to use multiple filters to get relevant results. It's also not the best place for women looking for long-term relationships. But if you're down for something fun and casual, finding a match is effortless.
Sugarbook
Sugar daddying can be pretty lucrative on dating apps like Sugarbook. It's one of those places dedicated to connecting people looking for a mutually beneficial relationship, in this case women (often students and young women) who want money and treats in exchange for a sexual relationship, usually with an sugar daddies in their 20s to early 50s. Most of the members are female college students in their 20s and 30s and the rest are paying members. What we like best about Sugarbook is the fact that students get a premium membership for free and access to all paid features when they sign up with their ID or show proof of enrollment.

Sugarbook pros
We think it's great that female students get free access to premium features when they present their IDs or proof of enrolment. However, this means that most of the members are females competing for the attention of paying sugar daddies.
Sugarbook cons
You can only browse profiles and you can't send messages unless you're subscribed to premium. This can be expensive if you just want to connect with someone hot or you are not in the student program. Sugarbook is a fun place for singles who are into long-term transactional relationships, but it's pricey if you are plan to be a paying member.
Elite Singles
The Elite Singles dating app is for professional singles over 30 looking for serious and long-term relationships. Their membership base continues to grow with nearly 400K signups every month with the majority of members having above average education levels. You'll be right at home if you are a single professional looking for meaningful conversations, serious romantic relationships, or marriage. Although, we have to admit that we've never known anyone to meet their perfect match through this app. However, they recently added an upgrade in the form of a swiping style matching system called "Have you met," which is brilliant if like us, you love easy-to-navigate apps like Tinder and Bumble.
Elite Singles pros
Elite Singles keeps growing and has members in over 25 countries, so it's easy to connect with someone who shares your interests locally or abroad. We particularly like their virtual and in-person speed dating events in select cities.
Elite Singles cons
Like other marriage-focused dating sites, the free version is limited. If you really want to make the most of your time on Elite Singles, you need to upgrade to a paid subscription to unlock features like viewing photos and unlimited messaging. The UI can feel outdated if you're used to dating apps like Tinder, but it should be a non-issue if you prefer a website-based experience.
Hinge
If Facebook dating feels way too uncomfortable, try Hinge, the dating app that connects you to people in your chosen location. The dating app started as a location-based social network where you can also see Facebook friends that you have in common. For those who are wary of meeting strangers online, we like that Hinge shows people's information, from age to job to height. You can connect with a limited number of people by matching with a profile or commenting on their page. No worries if you get cold feet. Witty conversation starters are ready to send and break the ice with your match.
Hinge pros
Hinge is the dating app for people who are into meaningful conversations. It shows detailed bios, including last names and other demographic data, to make matching more accurate and weed out fake profiles. Most of the features are free to use, but you can upgrade to the premium version to unlock things like unlimited daily matches.
Hinge cons
Like other apps, you can only get a limited number of matches unless you pay for a subscription. The app's daily picks for matches tend to be off and unreliable, so the system wants you to pay for something called "roses" or profiles that more accurately match your interests and goals.
Zoosk
Zoosk is like a pared down version of eHarmony that offers something for everyone. Whether you're into casual dating or serious relationships, Zoosk has a large membership base (35 million members) and quality matches. Signup takes no time at all and the app is easy to use and navigate. But where Zoosk really shines is its matching system, based on technology that analyses 35 million profiles to give you more accurate matches. Overall, Zoosk is probably not the best app if you're looking for marriage, but there is a good mix of people to keep things interesting.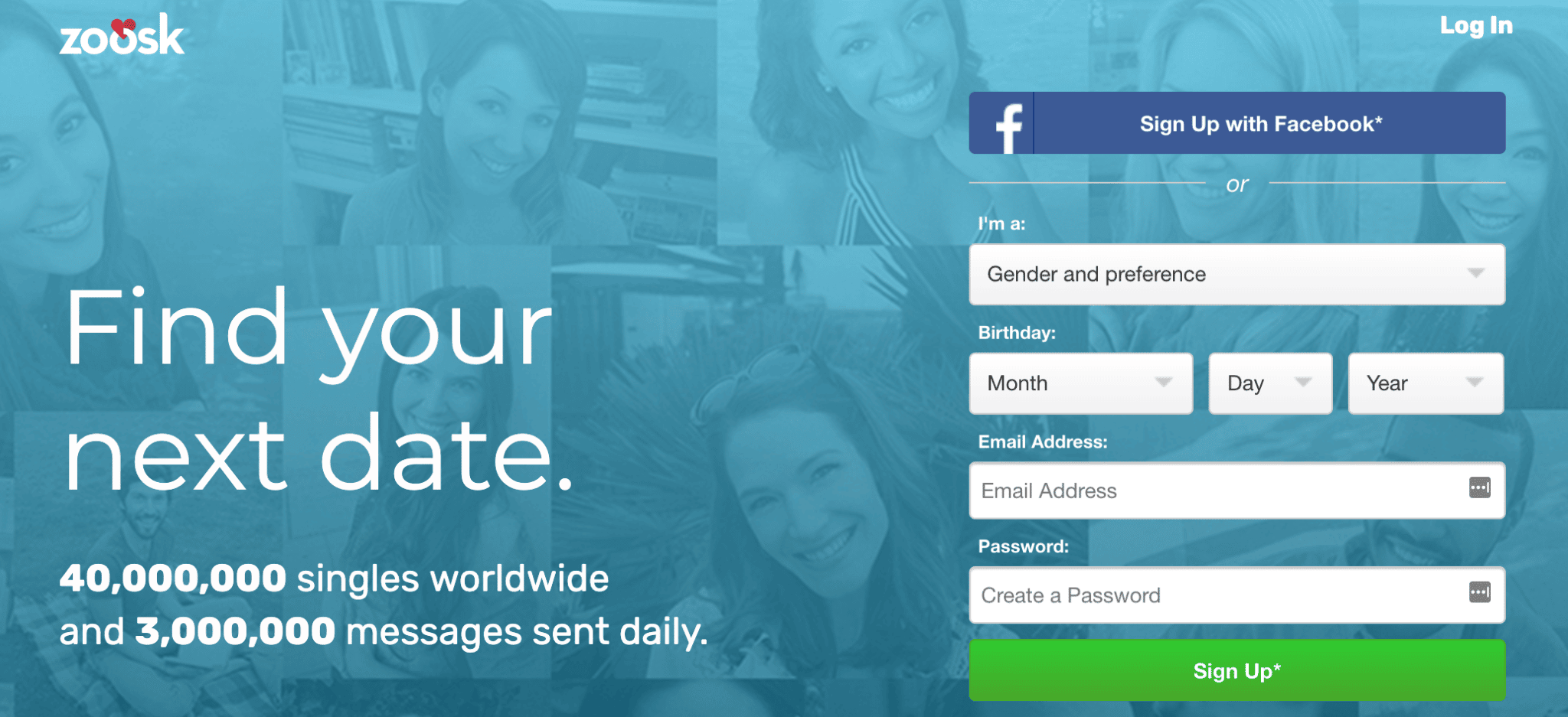 Zoosk pros
You're guaranteed to find a match with 35 million members on Zoosk. And if you like traditional online dating sites where you create detailed bios and answer questionnaires to make your profile stand out, you'll love Zoosk. There's also a Carousel, their swipe-based matching system to scratch that Tinder itch.
Zoosk cons
Zoosk is a paid app with a free limited trial, so you'll probably need to pay for premium features if you're hoping to find Mr. Right. You may also get more messages from people looking for hookups than from those who are into serious or long-term relationships.
POF (Plenty of Fish)
There's plenty of fish at Plenty of Fish, with around 3 million daily users. The biggest selling point for us is POF's popularity with the 30s, 40s and early 50s age groups. This is the place to find people looking for a second chance and older adults looking for love, friendship or something casual. The app is free (including unlimited messaging), there's no need to write a novel to boost your bio, and there's a good chance of hitting it off with someone even if you live outside the city or you're in a rural area. We love that POF has been around since 2003 and it's still going strong despite bigger competition.
POF pros
Being part of Match.com's group of companies lends credibility to POF. The free version of POF lets you do what other dating apps restrict, like messaging as many people as you like and seeing who's viewed your profile. It also has a live stream feature to easily connect with your matches.
POF cons
There are many things to like about POF, but the number of fake profiles may discourage those who want to connect quickly with a potential match. Like other free dating sites, you'll see ads and you'll need to filter the results to see better matches.
Raya
It can be hard to find love on mainstream dating apps if you're a social media influencer, celebrity, millionaire, or someone who's extremely picky about who you date. Like the League, Raya is an exclusive place for interesting, social-media savvy singles who don't mind waiting for the right person. Registration alone takes about ten minutes, and the wait time to be approved is a few months. Raya is great for singles who have a heavy social media presence and don't want to join popular dating apps. It's also great for highly educated professionals with lots of life experience, or anyone whose profile can sell itself.
Raya pros
Some of the best things about Raya are the high-quality members and high success rate for meeting people, whether for friendship, networking or romance/marriage. It's also relatively affordable at $9.99 per month, and you only pay if you get approved as a member.
Raya cons
Raya is for iOS only so no luck for Android users. The application process takes a ridiculously long time and they approve less than 10% of applicants. While the exclusivity and hype are big draws, and you lose nothing by applying, there are plenty of great alternatives out there if you're looking for a serious relationship.