Australia is a nation addicted to mobile phones, and that includes Aussie children. The Australian Communications and Media Authority's Kids and mobiles interactive report from November 2019 showed that almost half (48%) of children aged 6-13 now own or use a mobile phone, with 1 in 3 owning the phone they use.
So while thinking about getting a phone for their child this Christmas can feel like a big step for many parents, allowing your child the use of their own phone is pretty normal these days and can also be a great way to foster independence and responsibility in kids. 
Of course, it can also be expensive if you choose the wrong device but thankfully not every phone comes with a sky-high price tag, and not every child needs the latest and greatest in smartphone technology to stay connected. 
Here are a few suggestions on what to look for in a child-friendly phone and some devices you could consider getting that won't break the bank.
Affordability
This is the biggest priority for most parents. While you might spend big for your own phone, (think a cool grand or two if you want one of the new iPhone 12 family), you're unlikely to splash out on the newest device for the youngster in your family. Especially given how forgetful kids can be, you know it'll get left behind somewhere or other. 
Depending on what you're looking for in a phone, you can pick up good quality devices for as little as $200 and some can be bought on a plan if you want to spread out your payments.
Handset durability
Kids drop things, it's a simple fact. And as responsible as your child might be, it's a near certainty that their phone will end up dropped, wet, with a cracked screen or even lost or stolen. Installing an app such as Find my Phone can help in cases of missing devices, but you may also want to make sure your kid's phone is durable, waterproof, and not a big deal to replace. 
Phone battery life
Kids are forgetful, that's another simple fact and sometimes they're going to forget to charge their phone. The phones listed below have better-than-average battery life to help keep your child contactable for longer.
Parental controls
Most devices feature built-in control options for concerned parents, so you'll be able to keep an eye on your kid's app and data use.
Prepaid vs. postpaid phones
Prepaid is the way to go for your child's smartphone, as this prevents bill shock and gives your kid a hard cap for talk, text and data use.
Now, onto the phones
Motorola Moto E6 Plus
Moto phones are great budget smartphones, reliably exceeding expectations for the price. Costing $171 the E6 leads with huge battery life and follows up with a very solid all round package, making you feel like you've got more phone than you paid for. It looks clean and elegant, sports 13MP and 2MP cameras and will keep chugging along with a two-day battery life.
X Vista
Priced at $200 is the X Vista from Optus. It features a range of premium inclusions like facial recognition unlock, and an octa core processor so it's snappy and snazzy. It also comes with a dual rear camera and an 8MP front camera so your kid can take decent shots from every angle. The X Vista comes locked to the Optus network although you can opt to pay the fee and unlock it to use a plan from a different provider.
Alcatel 3L
Also around the $200 mark is the Alcatel 3L, which our team found to be both a surprise and a delight to review. Sporting the kind of camera array you'd expect to find with a  much more expensive device, it's the standout feature of this device. That said, it also sports a big battery for heavy use and is a solid performer in most areas.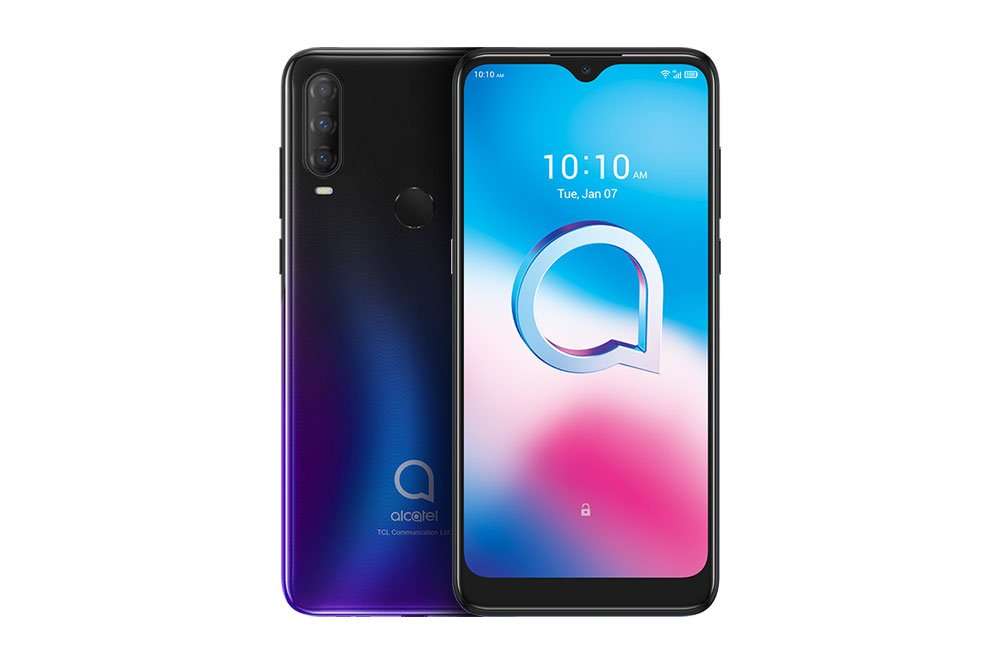 OPPO AX5s
The OPPO AX5s retails at $229 with JBHifi but if you shop around then you might be able to find a one a bit cheaper. However, at $229 this handset packs a big punch. Sporting standout features like an 89% screen-to-body ratio with a teardrop notch, and a large battery that should last for two to three days, the OPPO AX5s is a great value phone. A snappy processor and vibrant screen also allow for easy multitasking and great performance. In other words, the games your child plays will look good and feel good on the OPPO AX5s.
Help with getting your child a phone for Christmas (cont.)
More expensive alternatives
If your child says they won't be able to show their face in the playground unless they're toting an iPhone or Samsung, then consider a visit to numobile who sell quality refurbished phones. These devices do stretch beyond the $200 mark but not by too much and should keep complaints from the kids to a minimum.
Of course, another option to gift your child a phone this Christmas, is to hand down your old phone and get yourself an upgrade. Since the phone you've been using is probably a more expensive device we'd only suggest doing this with older children who are more likely to keep the phone in better condition for longer. 
Alternatively you could trade in your old phone and use the proceeds towards getting one for your son or daughter. Mazuma Mobile lets Australians buy and sell used handsets and can also be a great place to find a deal on a second hand phone. 
Obviously there can sometimes be social pressures amongst peer groups to sport a particular manufacturer's badge, but if your child can get over this then you won't have to spend big in order to find a phone that will do everything you and your child wants. 

For more support around getting your child a phone for Christmas keep reading here:
Should I get my child a phone, or not?
10 No-nonsense phone rules for kids and teens.