This article about weighted blankets was last updated in 2022.
Anxiety is on the increase in both adults and children … and understandably so. The question is: How can we manage anxiety and go about our daily lives?
One anxiety reducing tool that is rising in popularity is a weighted blanket, also known as a calming blanket. It seems that every man and his dog (quite literally) has one.
For this reason, we have decided to take closer at weighted blankets and answer these questions for you?
What is a weighted blanket?
How does a weighted blanket help reduce anxiety?
What should I look for when buying a calming blanket?
How heavy should it actually be?
What are some good weighted blankets to buy in Australia?
What actually is a weighted blanket?
A weighted blanket is a blanket that is heavier than normal. It has an inner lining that contains filling material to make it heavy. This can be micro plastic pellets, glass beads or steel shots. The blanket or cover itself is made of usual blanket materials like cotton or satin.
How does a weighted blanket help to reduce anxiety?
A weighted blanket basically mimics a hug or a cuddle using deep touch/deep pressure stimulation (DTPS). Some studies have linked the use of weighted blankets to an increase in the brain chemicals serotonin and melatonin which are associated with mood elevation and sleep regulation, respectively.
Like a tight, warm squeeze, a weighted blanket relaxes the nervous system. For many people, a weighted blanket creates a feel good or calming sensation that promotes better sleep and reduces stress. The DTPS effect of weighted blankets can also calm people with anxiety, ADHD, autism and sleep disorders.
Can my child use a weighted blanket?
Except for babies and toddlers, children can definitely benefit from using a weighted blanket. However, it's best to consult your paediatrician first as some kids with anxiety and self-regulation issues may need additional interventions. Before buying a weighted blanket, try covering your child with many layers of blankets to see if they are comfortable.
What should I look for when buying a weighted blanket?
Safety and comfort are top considerations when buying a weighted blanket. If you are buying a blanket for your child, check with your occupational therapist for the best weight and size. Your kid should feel snug and comfy under the blanket but not tangled up. For adults, test a variety of weights and materials before investing in a pricey premium blanket.
How heavy should my weighted blanket be?
It's important to compare weights before buying a weighted blanket. Experts recommended choosing a blanket that is 10% of your total body weight. For a child this can be as little as 2 kg.
What are some good calming blankets on the market right now?
This 9kg weighted blanket is perfect for adults. It is designed to be from 8 to 15% of your body weight and comes with a 100% microfibre cover for maximum comfort.
We found this at: Catch for $61.70
Buying a weighted blanket for yourself? This knitted blanket is probably the prettiest available (and super comfy, too). The chunky knit construction lets your body breathe whilst still providing deep touch stimulation.
We found this at: Neptune Blanket for $349
Buying a weighted blanket can be challenging for people who get too hot under the covers. This bamboo weighted blanket is made from bamboo lyocell fibre material with excellent thermal control to keep you cool and snug at night.
We found this at: Calming Blankets for $189
The Diocletia weighted blanket comes in four weights: 5kg, 7kg, 9kg and 11kg. It's anti-bacterial, breathable and great for use in winter with its double-sided covers made from fleece and flannel.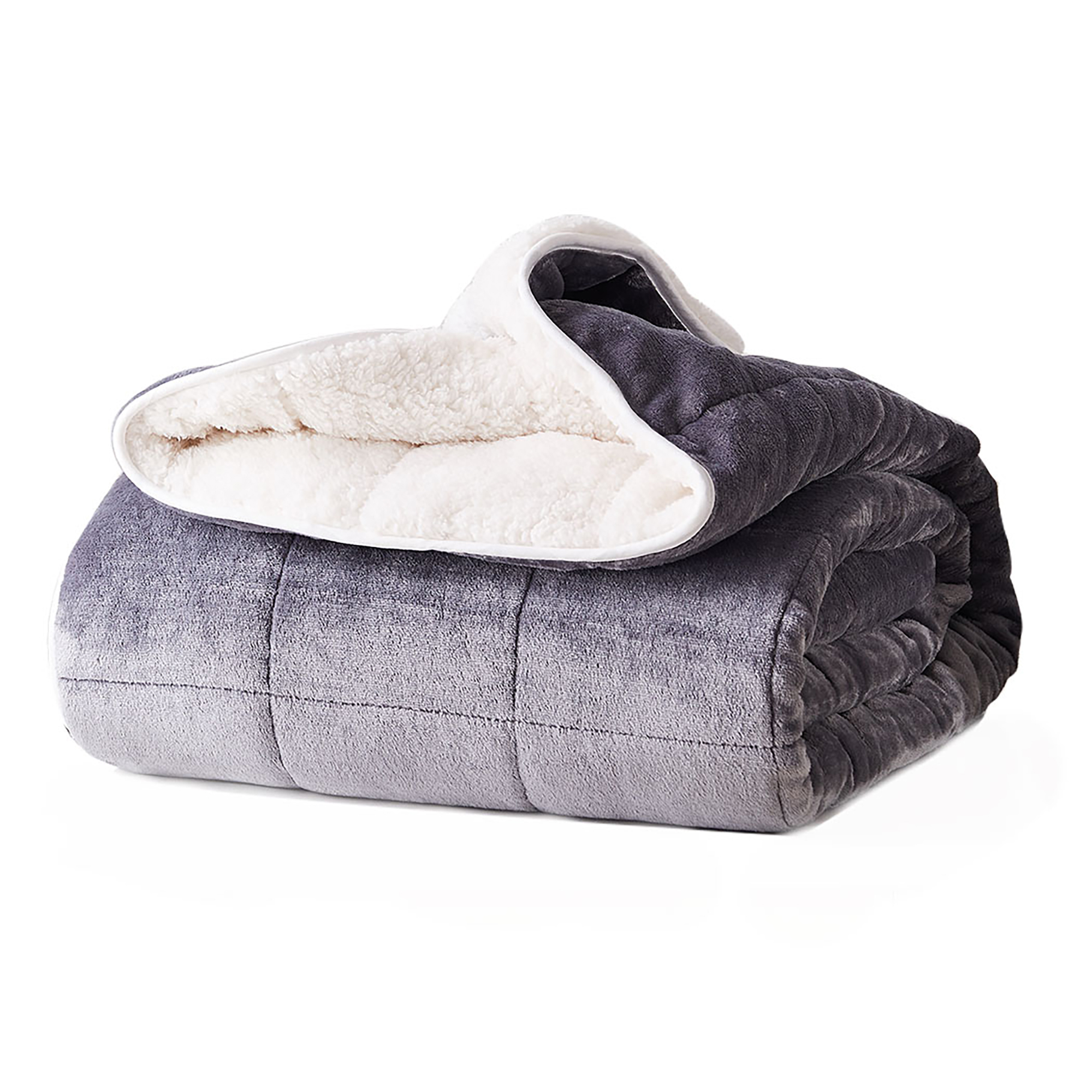 We found this at: Temple & Webster from $64.95
A variety of weight options is great when you're buying a weighted blanket for the first time. The Harrison charcoal blanket is available from 5.5 kg to 11 kg and made from 5 plush layers that adapts to your sleeping position.
We found this at: Adairs from $179.99
The DreamZ anti-anxiety blanket is made from 100% cotton with a luxurious blanket cover that is sewn with 10 ties to keep it in place while you sleep. Comes in adult and kid sizes.
We found this at: Rivers for $85.99
The Ovela bamboo weighted blanket (5kg) guarantees stress-free sleep with its premium 7-layer contruction and bamboo fabric material that regulates heat and moisture to keep you cool and comfy.
We found this at: Dick Smith for $49
The Lisbon 7kg weighted blanket is good for larger frames or anyone who likes a decent amount of weight under the covers. Super soft and comes with a removable duvet cover.
We found this at: Fantastic Furniture for $80
Buying a weighted blanket to use all year round? The Jason super soft blanket fits the bill with its super plush and cosy fleece cover that locks in heat and keeps you warm when it's cold outside. Comes with a 3-year warranty.
We found this at: Big W for $110