This article where we have hunted down the best gift hampers in Australia was last updated in 2022.
Do you want to send a gift to a friend, family or colleague, but are stuck for ideas? Well, look no further than a gift hamper.
There is no easier way to send a present!
Gift hampers cater for a whole range of tastes – foodies, wine lovers, beer geeks or pamper peeps – a gorgeous gift basket is sure to delight.
Here is our list of the best gift hampers for delivery in Australia.
Gift hampers from Gourmet Basket are perfect for gifting (to others and yourself) during quarantine. The company has been around since 1998 and has shipped over 100,000 gifts. Every gift hamper purchase comes with a 100% money back "happiness" guarantee, and you can choose to donate 10% of each hamper to your favourite charity.
Every basket is carefully curated and filled with scrumptious items guaranteed to please the pickiest palates. We love the Perfect Pantry hamper that has everything you need to for a housewarming party or just because. Includes three types of premium alcohol, storage canisters and labels, gourmet crackers with sesame seeds, dark chocolate liquorice, cotton tea towel, and diffuser flower.
Hamper types: Corporate, settlement, team and office, pamper, teacher, luxury, cooking, kitchen and baking, Australiana, international, special occasion
Payment options: Credit cards, Zip Pay, Afterpay, PayPal, EFT payments
Delivery details: Australia-wide delivery, starts at $14.95 for Sydney orders
Why we like these gift hampers: Gourmet gift hampers and 100% money-back guarantee on every basket.
Edible Blooms is our top choice whenever we need a gift hamper that's different and unexpected. It's a simple but genius idea. Instead of sending flowers that die within the week, send an edible bouquet! The With Love Posy is one of their bestsellers and recommended for the chocoholics in your life.
Contains two dozen Belgian chocolate hearts from Chocolatier in a pretty pastel arrangement (you can add chocolate refills and extras like alcohol and toys to make your gift extra special). Each Edible Bloom gift hamper comes packaged in a delivery box with cellophane and ice packs to make sure the candy is safe and intact during transit.
Hamper types: Chocolate bouquets, fruit and donuts bouquets, flowers and plants, pamper, beer and wine, cheese, special occasion hampers
Payment options: Credit cards, PayPal, Afterpay
Delivery details: Free standard delivery over $120.00, Australia-wide shipping
Why we like these gift hampers: Personalised edible gifts for the people in your life who love an unexpected surprise.
Charity Hampers is a little bit different from your usual hamper delivery store. When you purchase a hamper, 10% of the purchase price goes to the charity of your choice at the end of the financial year. The name of the charity appears on the gift card that is attached to your hamper and your receipt shows the donation amount. You're essentially giving a gift to your recipient and your favourite charity–the perfect feel-good present.
They have a wide variety of hampers for every occasion. Sort by price, occasion, and gender to easily find what you want. We like their 100% satisfaction guarantee that replaces a damaged basket or gives you a refund they can't resolve the problem.
Hamper types: Special occasion, corporate, specialty, food and wine hampers
Payment options: Credit cards, PayPal, Afterpay, Zip, Google Pay, Apple Pay, EFT
Delivery details: Starts from $14.95 in Sydney Metro
Why we like these gift hampers: 10% of the purchase price is sent to your selected charity, 100% satisfaction guarantee
Macarthur Baskets has been around for over 15 years and their selection of excellent gift hampers just keeps growing and growing. The company has everything from Mother's Day baskets to impressive corporate hampers filled with decadent goodies. We love their endless variety of wine and candy gifts that's perfect for gifting to that special someone or to yourself.
The Juicy Gourmet gift hamper contains a gourmet selection of sweet and savoury treats, including a Hunter Valley Shiraz, water crackers, chutney, mustard, blueberries dipped in chocolate, chocolate seashells and camembert cheese. Wrapped in a beautiful gift box with lid and ribbon. Check out their website for current specials!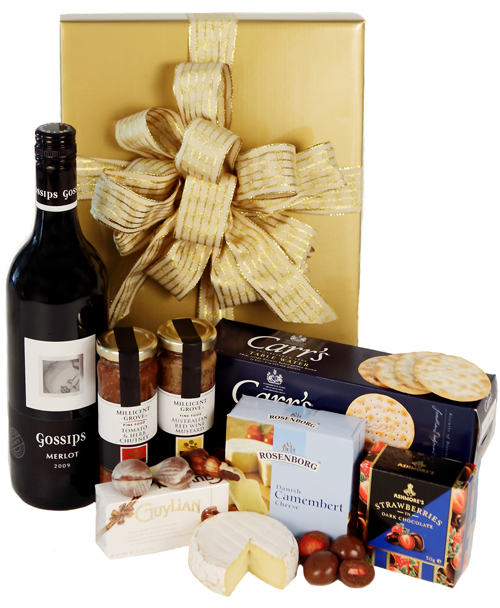 Hamper types: Gourmet, wine, bath and body, chocolate bouquets, business, kids, flowers, special occasion hampers
Payment options: Credit cards, PayPal
Delivery details: $16 delivery for the first hamper then $8 for each hamper to the same address, Australia-wide shipping
Why we like these gift hampers: Excellent selection of wine and candy gifts for all occasions.
You may know the Hamper Emporium for its fabulous Christmas hampers that taste as good as they look. The rest of their gift hamper selection is just as impressive. This is the place to shop if you want the finest gift baskets for corporate or special events. The company sources all products from the best Australian and international suppliers, so expect only premium brands here and no supermarket items.
Besides the high-quality products and beautiful presentation, we love that you can customize your hamper by choosing sweet or savoury items. Make sure to check their luxury hamper line if you really want to spoil and impress your giftee.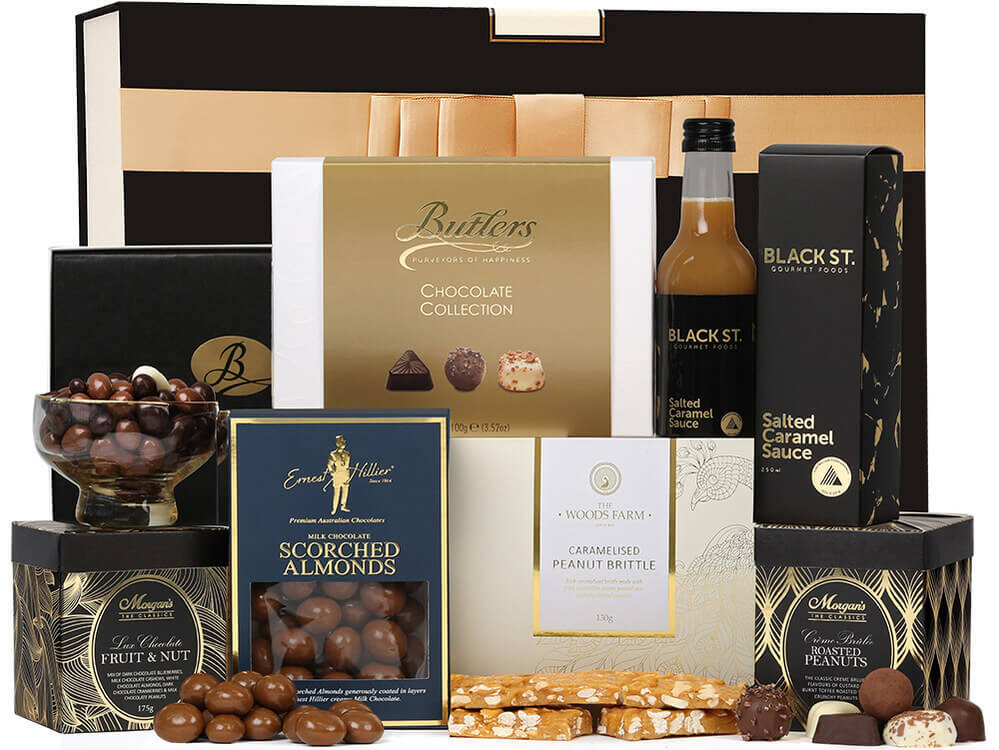 Hamper types: Gourmet food and wine, chocolate, beer and cider, pamper gifts, corporate, special occasion
Payment options: Credit cards, PayPal, Zip Pay, Afterpay, direct deposit
Delivery details: Free standard delivery Australia wide, shipping fee depends on location ($16.95 to $24.95 per hamper express delivery)
Why we like these gift hampers: Luxury gift hampers with the finest quality items and beautiful packaging.
Looking for a budget-friendly gift hamper? Head over to Catch.com and check out their selection of edibles and toy gifts at unbeatable prices. The Lindt Bear hamper below is just perfect to cheer up a friend or loved one during these trying times. Includes a cute teddy bear, Lindt chocolate block, chocolate flake tin, and mixed candies to satisfy a sweet tooth.
Also comes with complimentary gift wrapping and gift card. Catch is known for fast deliveries (excellent if you're shopping for last-minute gift hampers). Expect your order to arrive within 1-2 days or even the same day if you order in the morning.
Hamper types: Gift baskets, food, and wine, special occasion
Payment options: Credit cards, PayPal, Zip Pay, Afterpay, Latitude Pay
Delivery details: Free shipping on select hampers, standard shipping starts at $6.95 for metro areas
Why we like these gift hampers: Fast delivery and gift hampers at unbeatable prices.
For people who love flowers and tasty edibles, there's Interflora gift hampers. They have flowers-only gifts, flowers and edibles, and mixed hampers for any occasion. Some hampers are available in two sizes. Choose premium to bump up the size and content of your hamper—perfect for gifting to families and groups.
The Simply Delicious hamper is a great savoury treat for everyday and special celebrations. Contains wafer crackers, pretzels, organic spicy salsa, caramelised onion bites, salsa peanuts, and organic olives. Comes wrapped in a beautiful box with mesh wrap and ribbon. Add extras (balloons, wine, chocolate, soft toy and flowers) to make your gift even more impressive.
Hamper types: Gift baskets, food and wine, special occasion
Payment options: Credit cards, Zip Pay, Afterpay
Delivery details: $13 standard shipping Australia-wide
Why we like these gift hampers: Flowers and edible treats in one hamper.
Brewquets is our shopping destination for the ultimate alcoholic gift hampers. It's the beer equivalent of flowers and guaranteed to please husbands, dads, boyfriends, and bros. Give the gift of beer and say thank you, sorry, happy birthday or congrats. They also have beer hampers for staff at Christmas. You really can't go wrong no matter the occasion.
Their bestselling Big Brewquet contains six Australian craft beers, blade bottle opener, beer glass, and personalised gift card. Add gourmet beef jerky and deluxe Wondersnack nuts for only $15. Most hampers are available for delivery with express or preferred day to make sure your gift arrives on time.
Hamper types: Beer, wine, cider, special occasion gifts
Payment options: Credit cards, Zip Pay
Delivery details: Flat rate Australia wide shipping at $10 per case to NSW/ACT and $15 per case to all other states
Why we like these gift hampers: Tasty and reasonably-priced alcoholic hampers for any occasion.
Bellabox gives you a box of 5+ beauty, skincare and haircare samples each month based on the beauty profile that you create when signing up. It's the perfect gift for anyone in your life who's obsessed with the latest products and wants to try them before buying standard sizes.
The standard box is $19.95 per month including shipping and you can choose between a 3 or 6-month subscription plan. Your plan ends automatically and you can cancel at any time. You're bound to get a dud once in a while. Make sure to leave feedback so they know what works and what doesn't.
Hamper types: Beauty, wellness, gift, limited edition
Payment options: Credit cards, PayPal
Delivery details: Free standard delivery on orders $100 and over, $8.95 flat rate for orders under $100
Why we like these gift hampers: Beauty samples shipped to your door every month.

Want a hamper gift that just keeps giving? Check out this article: 30+ Subscription boxes to gift friends and family.