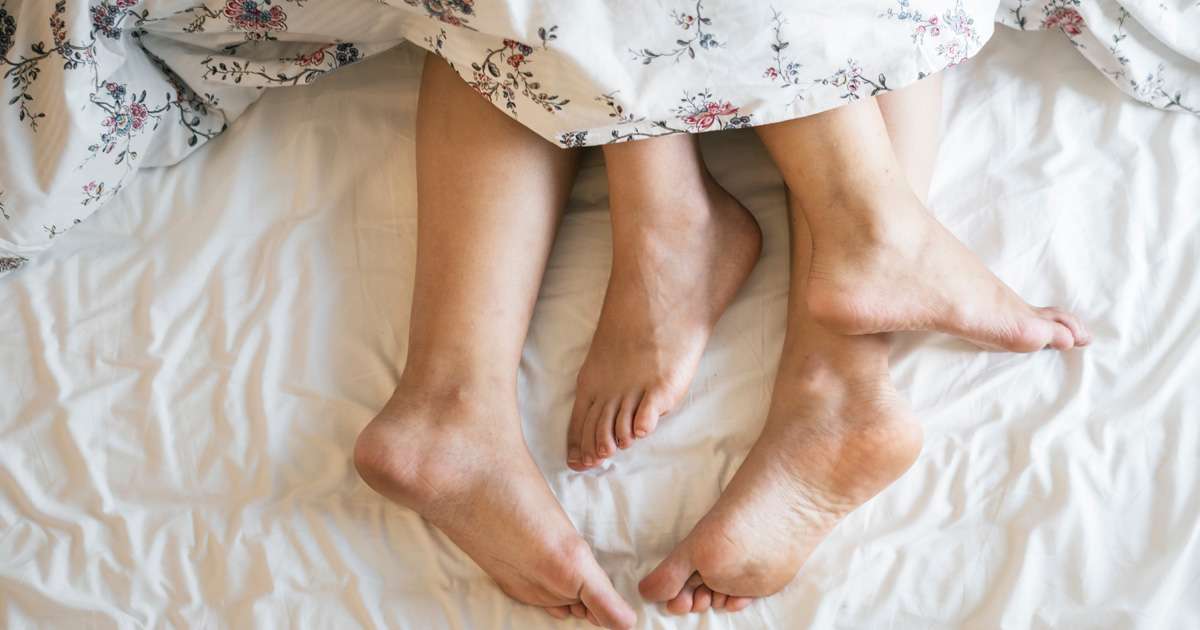 Sex after divorce is nerve-wracking at any age, let alone over 40!
Maybe your body isn't quite what it used to be and the thought of getting naked with someone new is petrifying!
This was exactly the position I found myself in when I left my husband. I met him when I was 18 and we were married for 21 years. I was 42 years old when I left him. The thought of being with someone new was scary and exciting after being with the same person for so long.
There were so many terrifying thoughts going through my mind as my body wasn't the same as it was when I got married or after having three kids! I mean, I'd had sex with the same person who saw me at my skinniest and loved me as time went on.
I know for other women they have had men leave them for a younger model and it has seriously rocked their confidence. We can even worry if it all still works down there!
With all these thoughts, worries and insecurities how on earth do you manage to relax and enjoy sex with someone new? Is it even possible to enjoy sex over 40?
I'M GONNA REASSURE YOU THAT SEX OVER 40 IS GREAT
I want to reassure you that it is possible and, from my own experience, it just got better and better.
Eleven years on I can honestly say I only have great memories of that first experience!
And I am not alone, so many of my clients tell me if they hadn't divorced they wouldn't have had some of the best sexual experiences of their lives! Which means you can replace dread with anticipation and excitement!
The good news is that for women the older you get the better sex gets. I remember hearing that we hit our sexual peak in our mid 30's but I can honestly say that the older I am the better sex is.
I am now over 50 and having the best sex of my life. I believe this comes down to me knowing what I like and feeling comfortable in my own body (regardless of being bigger than I ever have been).
Here are my top five tips for great sex over 40.
HOW TO HAVE BRILLIANT SEX IN YOUR 40'S
1. Don't point out your faults
It is all too easy to focus on what is wrong with your body. To obsess over every real or perceived fault, especially the older you get.
But my advice is simple … STOP IT.
Men love women's bodies and are happy when they have a naked woman in front of them … it's that simple. I want to reassure you that most men are not nearly as harsh as you are with yourself!
Oh, and if you do come across an overly critical man … get rid of him. Life is too short to waste time on men who don't value you.
Whatever you do, do NOT point out your faults or your insecurities because when you do this, it will highlight them to the man you are with as well as show you as insecure. Insecurity is never an attractive quality!
So many women spend years hating their bodies and it is a waste of time and energy. It is important to accept and love your body as it is.
2. Have sex when you are ready
It is important to only have sex when you are ready, not just because you are newly single. If you put yourself under too much pressure you won't be relaxed enough to enjoy the experience.
Just because everyone else is fine with casual sex doesn't mean you have to be. Everyone has a different view of sex and it is important to be true to yours and take the time to discover what feels right for you.
I can highly recommend pashing like a teenager. It is so much fun especially after being in a long-term relationship. Some of those early stages of kissing and touching are so delightful. Enjoy every single kiss, touch and moment. The anticipation, the feeling wanted and desired is truly wonderful.
Savour it and take the time to make the most of it. They all build the anticipation and help you feel comfortable with the person you are with.
3. The first time doesn't have to be the best sex of your life
If your partner has left you, you may feel like you want to get back at your ex for hurting you by having the best sex of your life. This puts way too much pressure on the experience.  This type of expectation won't give you the fun experience you are looking for.
My advice is to see it as a new experience and let your instincts take over.
Oh, and if you have spent a lot of time 'making out' it comes naturally.
4. Don't compare to your ex
It may seem natural to compare the new experience to your ex. But I suggest being totally in the moment.
You may be used to having sex the same way but now it is time to try new things. Experiment, be playful, get out of your head and simply don't overthink! It gives you a wonderful opportunity to discover what you like and what you really want.
The bonus of being with someone new is they will want to please and satisfy you and won't be stuck on what you used to like.
5. Practice safe sex (even when having sex in your 40's!)
Have fun, but make sure that you practice safe sex. The single world has changed and there are many sexually transmitted diseases you don't want to get.
It is a sad fact that the over 40's, 50's, 60's and 70's have the highest rates of STD's! The reason for this is it didn't used to be such an issue, along with the fact that older singles are no longer worried about getting pregnant so they overlook protection and contraception.
Don't be paranoid, simply be safe.