This article about how to download text messages was last updated in 2022.
It's a wonder how we managed without text messaging! We use it daily for literally everything.
Since texting it is such a popular form of communication, there may be times you need to share a message thread with a third party. A common reason is to prove abuse, or if you are seeking conflict resolution.
So, short of taking a million screenshots, how can you download text messages to share or print?
Here are some apps that will obligingly do the job for you.
Some co-parenting apps will also allow you to do this, see this article for more details: 9 Best co-parenting apps for shared parenting.
How to download text messages from your phone
iMazing is a file manager app that lets you download text messages from your phone and so much more. This popular software supports safe transfer of music, documents, photos and other data from your iPhone and iOS devices. Save, export and even print your text, MMS, iMessages and attachments with iMazing. You can also access messages from your Mac or PC and use them for court proceedings.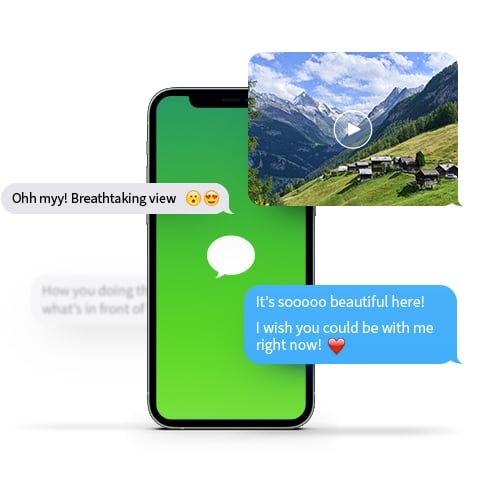 Works on: Apple, Android
Cost: $49.99 (3 devices) to $44.99 (unlimited)
Pros: All-in-one file manager, save messages as PDF, Excel/CSV and txt and print
Cons: Can be pricey
Keepster is another handy app to download text messages from your phone and devices. This 'messaging bank' saves and organises your messages, chats and texts. Easily backup your favourite messages or save everything, then sort them into folders. It's easy to find the messages you want with the date and keyword filter. Super useful when you have thousands of messages on your iPhone!
Works on: Apple, Android
Cost: Free with in-app purchases
Pros: Lets you organise messages from different devices into folders, search filters for messages, turn your messages into a printed book
Cons: Messages cannot be exported to a new device or computer.
Back up your messages and entire iTunes library with CopyTrans. Simply download, install and start transferring messages, contacts, calendars, notes, music, videos, bookmarks and other files in a single click. The basic version is completely free, but the number of files you can download is limited. Still very useful if you need to urgently backup messages for use in court.
Works on: Apple, Android
Cost: Free basic version with in-app purchases
Pros: One-click backup for your messages and other files
Cons: You have to pay to download more than 100 files.
Need to quickly download text messages and print them out in court-friendly PDF format? Legal Text Collector is the app for you. It collects your phone's SMS, MMS and other messaging formats (plus attachments) and organises them by conversation or date. Export the messages as a zip file with PDFs for each conversation. Paying a one-time fee lets you share the PDFs via email and online.
Works on: Android, Windows
Cost: Free basic version, $2 to unlock the Share feature
Pros: Quick and easy message to PDF feature for legal proceedings
Cons: Emojis can't be exported, not a backup or restore app, you can't transfer messages to a new device
If you are looking for an app to download text messages and recover deleted messages, give Decipher a try. This powerful app works with iMessage, SMS and MMS and supports attachments. Export text messages in multiple formats and print them out for documentation. Pro tip: Before buying, read their guide and use the free trial to find out if your deleted messages can be restored.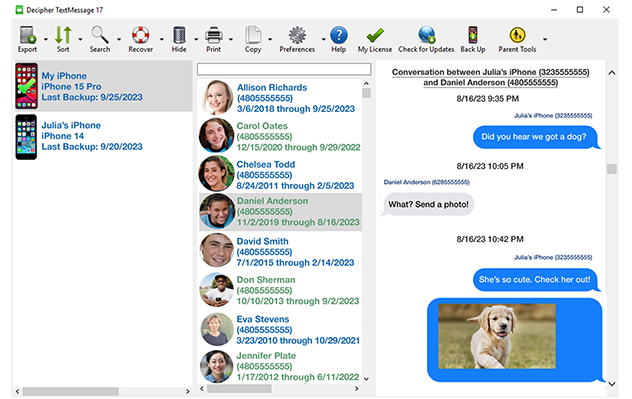 Works on: Apple, Android
Cost: $29.99 (free trial + 30-day money back guarantee)
Pros: No jail breaking required, install on unlimited devices
Cons: You need to buy a separate app to download WhatsApp messages.
EXPORT TEXT MESSAGES FROM PHONE (CONT.)
iExplorer is a lightweight iPhone manager that backups your data to any Mac or PC device. This is the perfect app if you are looking to save storage space and need lightning fast file transfers (up to 70x faster than similar apps). The SMS client feature works with group messages, images and message attachments. No need to jail break your device.
Works on: Apple, Windows
Cost: From $39
Pros: Quick installation, lighweight app, fast file transfers
Cons: Can be pricey if you have multiple devices
Save the data you love with Phoneview. This app lets you download text messages, including SMS, WhatsApp and iMessages. You can also access call logs and voicemail messages. Once exported as PDF files, you can print the messages directly on your Mac or PC. View messages and attachments even when your phone is not connected to your computer.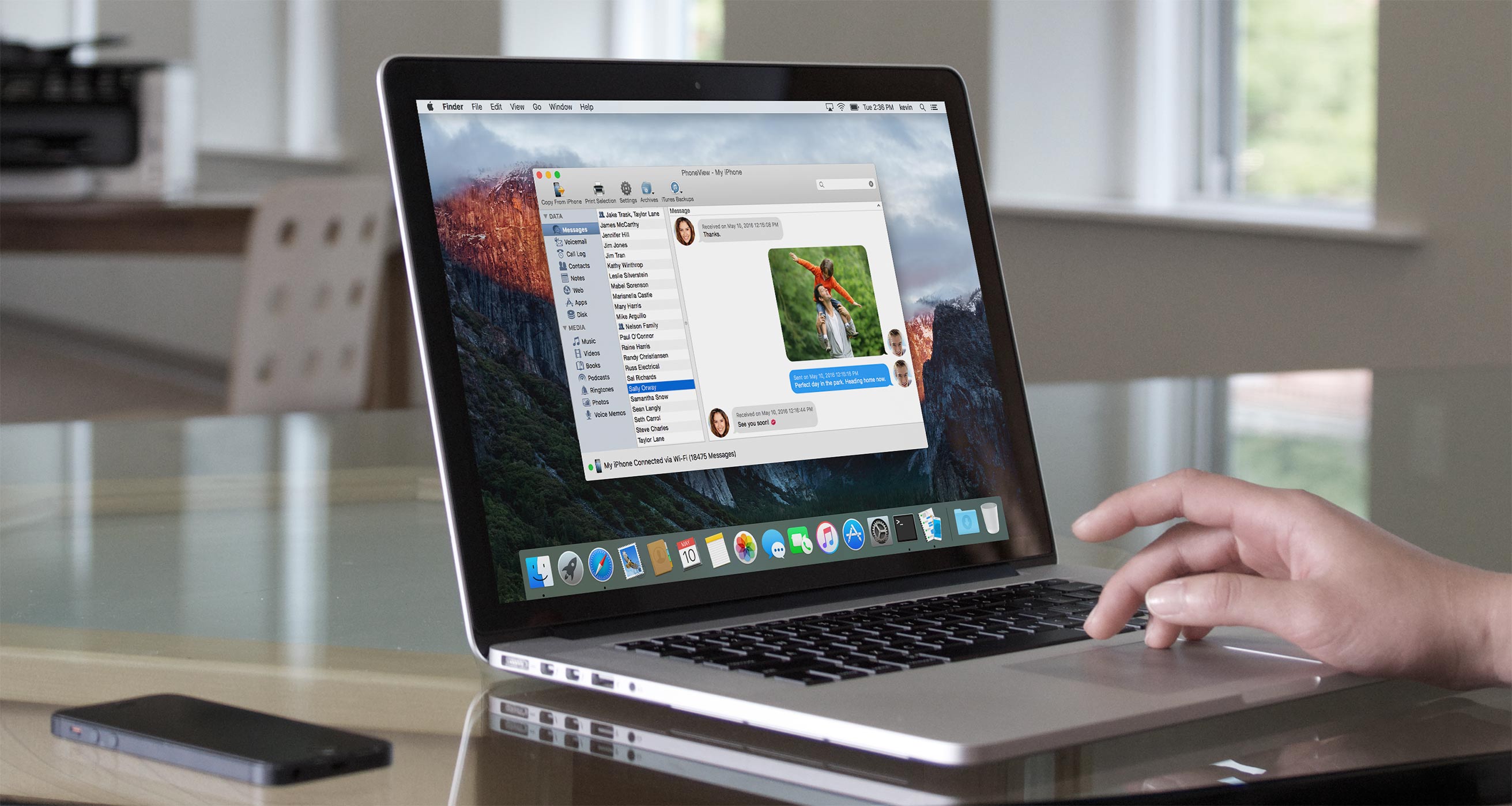 Works on: Apple
Cost: $29.95 (free trial)
Pros: Automatic backup, can download and save WhatsApp messages
Cons: No Android or Windows version
For Android users with multiple devices, easily download text messages with SMS Backup and Restore. It backups all call logs, SMS and MMS messages in XML format. It supports local device backups and automatic upload to Google Drive, Dropbox or OneDrive. Pick and choose the messages you want to save or download everything in one go. You can also transfer messages to another phone via WiFi direct.
Works on: Android
Cost: Free with ads, $4.49 (Pro version)
Pros: Easy file transfer between Android devices, encrypt your backups with the Pro app
Cons: No iOS version
i-Funbox is a complete file management app for your Apple devices. Manage messages, photos, music, apps, games and all your files from one window. Easily export your files to another computer without jail breaking your device. i-Funbox turns your iPhone into a USB drive for file storage and fuss-free drag and drop transfer.
Works on: Apple, Windows
Cost: Free
Pros: Powerful file manager for Apple devices
Cons: Problems connecting to the latest iTunes version, security concerns
3uTools is a file management and jail breaking app for iOS devices. Many people use it to flash or jailbreak their devices in one click, but it also lets you download and transfer messages to another phone or computer. Plus, it can backup all data, convert photos and videos, make ringtones, install IPA files and customise the look of your iPhone.
Works on: Apple, Windows
Cost: Free
Pros: File management and jailbreak tool in one app
Cons: Does not work on devices that are activation locked.