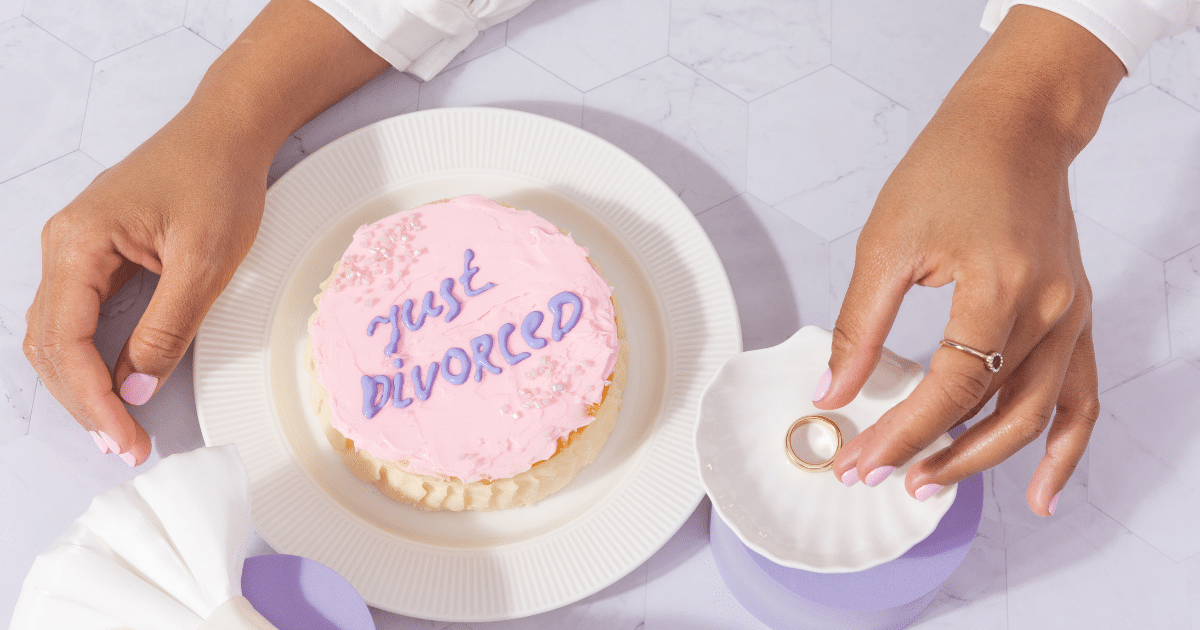 While divorce may seem like a sad occasion, it's also a time of transformation and new beginnings. What better way to support and uplift a newly-fledged divorcee than by surprising them with a thoughtful divorce party gift?
I've had lots of fun creating this list of divorce party gift ideas bearing in mind that everyone feels different when their divorce comes through. You may need a lighthearted token to lift their spirits or a practical item to help them navigate their new life chapter.
Let's reframe divorce and see it as a time to celebrate resilience, growth, and the start of a brand-new chapter.
Get inspiration from my divorce party gift ideas list and show your friend or family member you're there to support them with the journey ahead.
Further reading: My divorce has come through. I don't know if I'm happy or sad.
Relaxing candle
Not to imply that your newly divorced friend or family member needs a flame in their life right now, but candles as a gift have long symbolised the warmth of friendship and love. Today's candles come in pleasant scents that provide relief from anxiety, depression, and stress. Regardless of their spiritual beliefs, a relaxing candle is a thoughtful gift to a person undergoing emotional times. A jar with a lighthearted, funny message like this one fits the party vibe!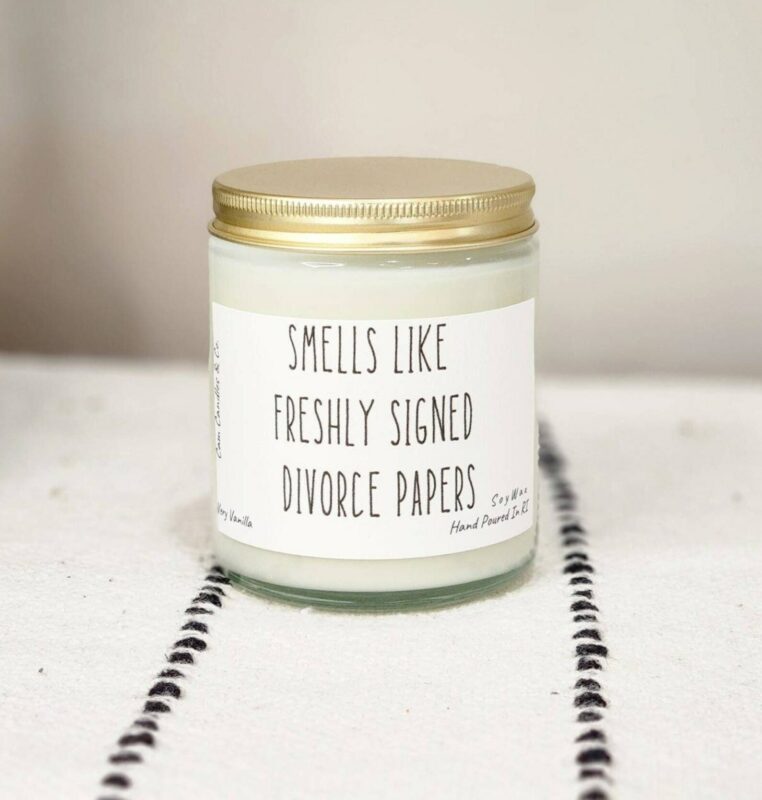 Buy here: Etsy
Pairs with divorce wine
Whether you mean, "This calls for a celebration!" or "Sorry about your breakup," it's nice to share a glass or an entire bottle of good wine with your newly divorced friend or family member. Apparently, there's booze for every kind of breakup, so you can try asking the seller to customise the flavour accordingly. Get something high-quality and tasty because you don't want their new-found freedom tasting insipid.
Buy here: Etsy
Always wear protection apron
A motorcycle helmet with a note that says "Protect your head" is still the most hilarious gift I got post-divorce. Although it's been years, I still remember that helmet whenever I'm about to dive head-first into something dangerous. This apron is a witty reminder to your freshly unattached homie to guard their, er, heart - as every parent knows how a child can complicate a breakup. This funny apron will surely put a smile on their face in the kitchen … or anytime it's getting hot.
Buy here: Yellow Octopus
New beginnings necklace
Every goodbye is really just a new beginning. Here's a sweet and thoughtful gift to remind a new divorcee that starting all over again is a beautiful thing. I love all gift ideas in this list, but this necklace is something that would have made me shed a bittersweet tear or two. It's a gift that the receiver can look at and get strength from once the party guests are gone.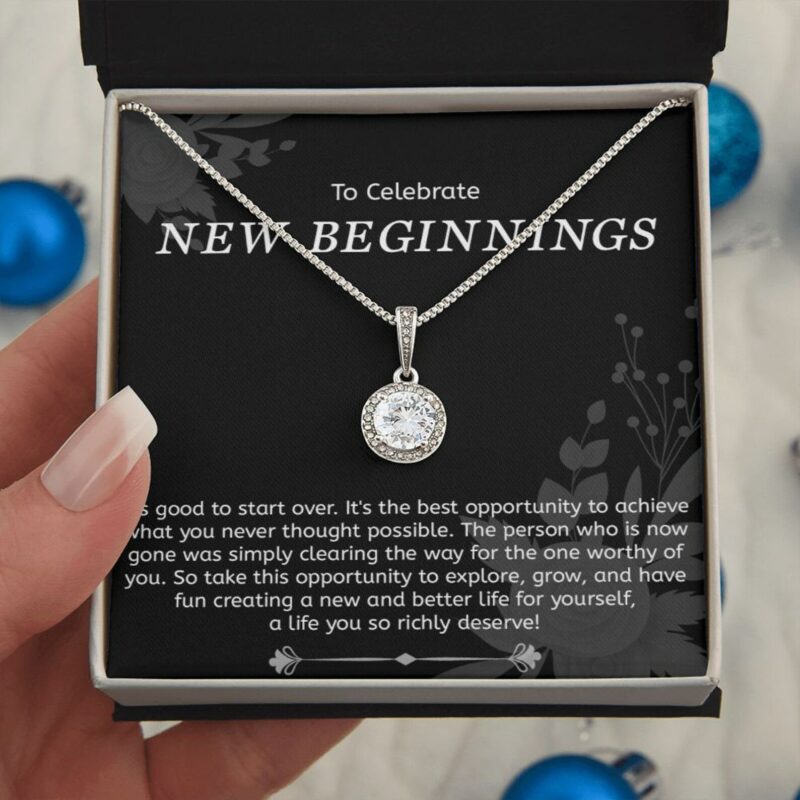 Buy here: Etsy
Good Vibes cocktail party pack
What's a party without booze? Grab a party pack or two of these cocktails to lift everyone's spirits. Whether the divorce has been amicable or nasty, it's finally time to let loose and have fun. If they used to be a party-goer, your gift can even remind your newly single friend or family member of all the fun they had before and let them know they're allowed to have fun again.
Buy here: Mr. Consistent
Self-care and tea hamper
Divorce proceedings are physically and emotionally stressful, which can lead to both parties neglecting themselves. Now that the divorce is finalised, it's time for pampering and relaxation with this self-care and tea hamper. This set has everything they need for quiet time: an eye mask, bath soak, a journal, tea, and snacks. Even the colour scheme exudes peace and calm. I recommend slipping a jar of relaxing candle into the box to make everything perfect.
Buy here: The Hamper Emporium
Restaurant Choice gift card
A gift card to a restaurant of their choice is irresistible, and the operative word here is "choice." It's food, but it's also a gift of options. As someone who always relied on my ex to make even the simplest decisions during our marriage, I would have appreciated the thoughtfulness of a gift card that allowed me to decide for myself for the first time. For a divorcee who didn't experience this, receiving a gift card to any restaurant can be an excellent motivation to go on a solo date.
Buy here: The Restaurant Choice
A sky dive (or similar cool experience)
And then there are times when you just need to scream your lungs out. Giving them something new and thrilling can be helpful to release the tension and stress of the divorce. Of course, don't forget to check your friend or family member's health conditions before booking this experience for them. If they're not physically fit for outdoor skydiving, look for other options like scuba diving, sailing, or hot air balloon.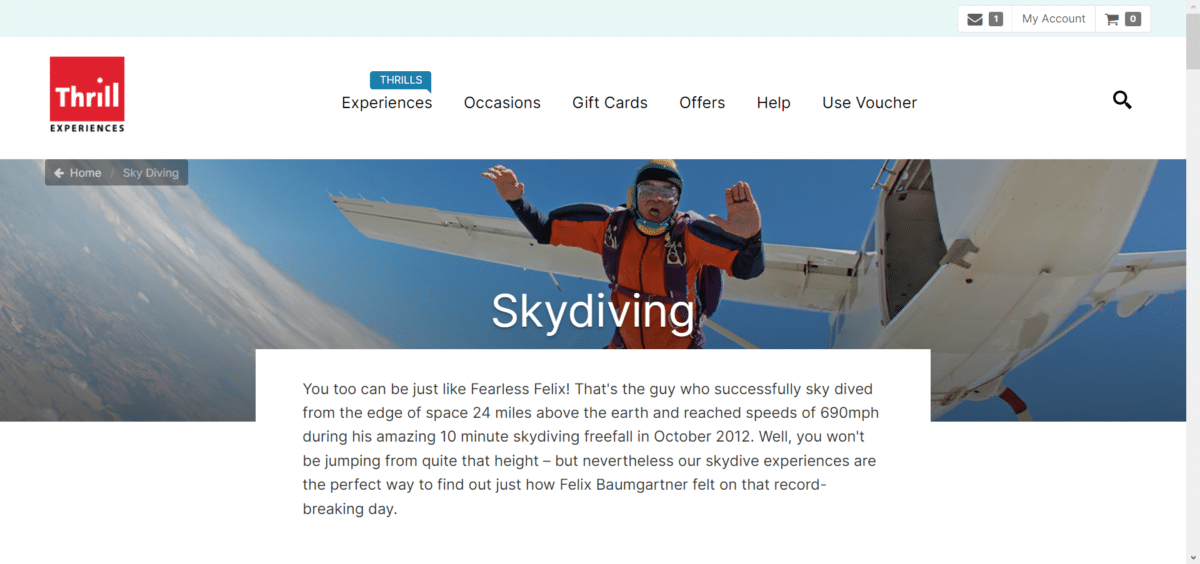 Buy here: Thrill Experiences
Divorced AF cushion
Now that the new member of the divorcee club doesn't have "someone to hold" (at least for the meantime), why not give them a soft and squishy pillow instead? And while we're at it, this Divorced AF cushion is such a statement. It can serve as a pillow to cry on and a punching bag, depending on what our divorcee feels.
Buy here: Red Bubble
Finally divorced t-shirt,
Finally, this Finally Divorced t-shirt reminds me of a favourite quote from Tori Morrison: Freeing yourself was one thing; claiming ownership of that freed self was another. Indeed, with the jumping silhouette and the confetti, this shirt says there's nothing to be ashamed of about a marriage that ended. Statement shirts have historically given their wearers a voice, power, and a community, which a new divorcee might need.
Buy here: Teepublic
Final words: Divorce party gift ideas
The end of a marriage is sad, but it can also mean strength, freedom, and the start of a new and better life.
A well-thought-out divorce party gift can help a friend or family during these challenging times. When choosing divorce party gifts, try to think of things that will make them smile, lighten the mood, and remind them of the good things about the divorce.
Whichever gift you give a new divorcee, remember to be sensitive and kind, and remember that divorce feels different for everyone.