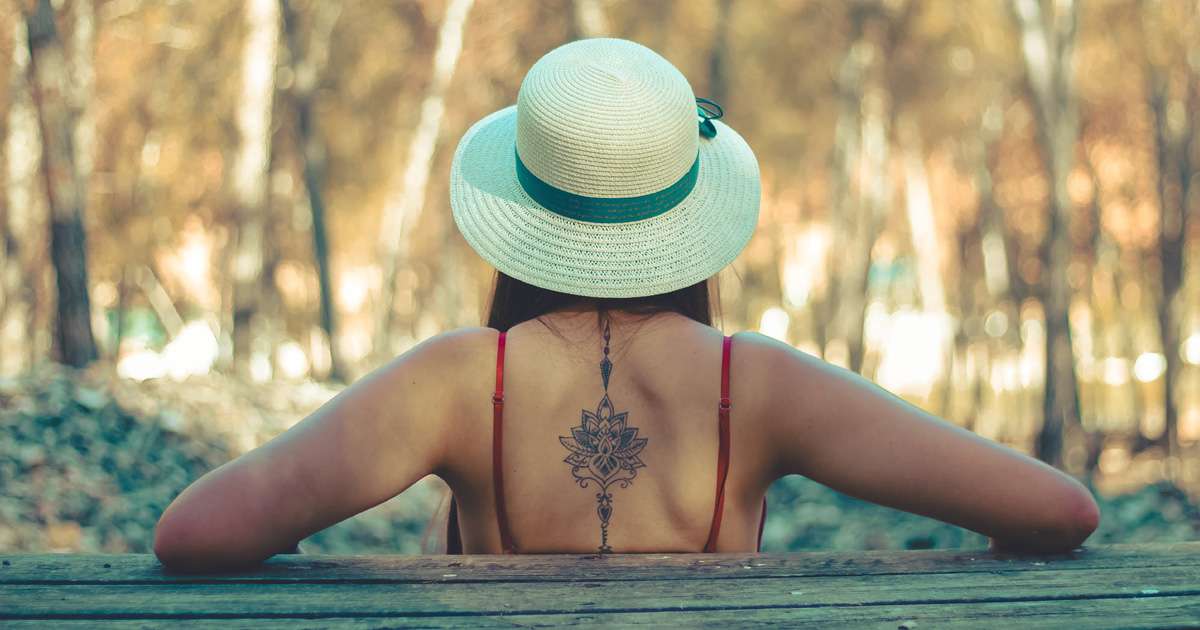 Are you thinking of getting a tattoo? They can be a beautifully symbolic way to celebrate a new phase in your life. And more and more women are rocking tats as a way to celebrate single motherhood. Hence this article about tattoos for single mums.
I recently included "getting a tattoo" on this list of 10 Crazy things to break up the monotony of mum life. But unlike activities like skydiving (if you dare!), a tattoo is a lasting symbol of something meaningful, intermingled with a tiny bit of craziness.
Before you get your tattoo
Where to have your tattoo
Think carefully about this one ladies. I had a tattoo on my ankle thinking it was a safe place until got a job that required a skirt suit (we're talking 20+ years ago, can you believe that was allowed?) and it meant hiding the tattoo under a plaster every-bloody-day. Don't only think of the present but the future too so there are no regrets with your placement choice.
The reason for your tattoo
If you want a tattoo just because it looks nice, go for it! However, if you want a tattoo to symbolise something, make sure you get it right. Try this: Imagine if someone says to you "I love your tattoo, does it have a meaning?". What will you say? Can you explain it easily. By thinking like this, it can help you choose a tattoo which represents exactly what you want … in this case … a celebration of single motherhood.
The right tattoo artist for you
Choosing a tattoo artist is up there with choosing a life partner … you need to completely trust them. Check out tattoo parlours in your local area and look at samples of their artwork and past body inks. Chat to them about what you want. If you still can't find anyone, ask around. The school playground, friends, the guy in the coffee shop whose tatt you've been admiring for ages. Or even ask on a local FB group. Recommendations are best when it comes to finding a tattoo artist for your permanent body paint.
The future of your tattoo
We don't all get it right with our tattoos. I've had one removed and more people are doing it as laser machines make the process less expensive and less painful than it was, say, ten years ago. I urge you to choose a design that will pass the test of time but if you choose to remove it, there are ways. You may want to check out the cost of tattoo removal in Melbourne or anywhere near your area, as well as the procedures related to tattoo removal.
If you need ink inspiration, here are some cute tattoos perfect for single mums loving life.
Further reading: 10 Tattoo ideas for legs that are classy and cool.
30 Tattoos for single mums
1. Beautiful blooms
First-up on my list of tattoos for single mums we have the beautiful blooms. Anything to do with growth and flowers is a pretty and significant way to show how far you've come, and we love the way this one fits perfectly around the ankle bone.
Source: Pinterest
2. With pain comes strength
Simple words with such potent meaning. You can have play around with the layout of this powerful sentence depending where on your body you are planning put it.
Source: Pinterest
3. Sparkling stars
Not only do stars make a pretty tattoo but they symbolise truth. Stars shine brightly in the night sky, for this reason they are thought to give hope of a better path in life. I think this is one of the most app tattoos to celebrate single motherhood.
Source: Popstart Tats
4. Angel wings
Feeling brave? These wings certainly make a statement. Angel wings are wonderfully spiritual and stand for protection and guidance. This angelic tattoo can be way less stubble too, with small wings in more discreet areas.
Source: Pinterest
5. Free
Such a gorgeous little tattoo that could go almost anywhere … too cute! If you've come out of an unhappy, controlling relationship, this simple word says it all. I saw a mum at school with this the other day and was super jealous.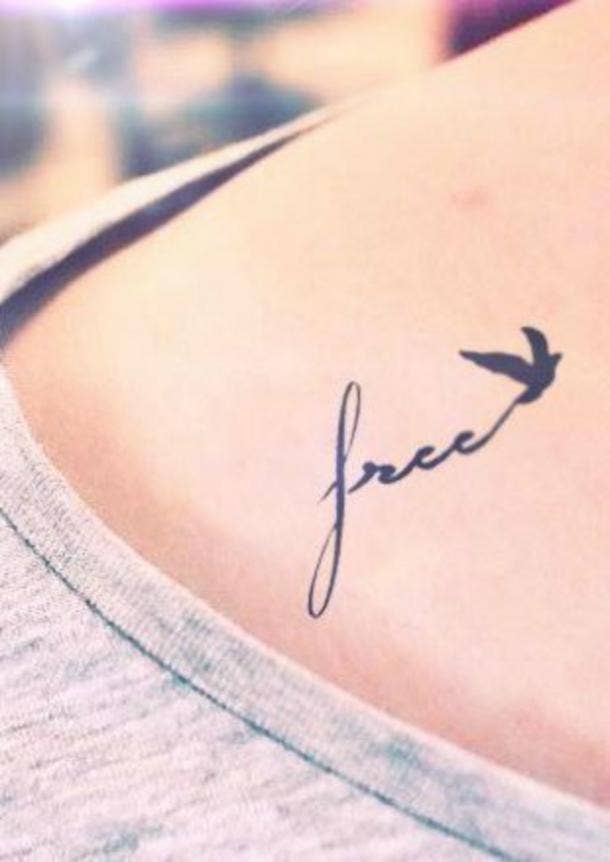 Source: Free Tattoo Ideas Designs
6. Mum and child
Show the eternal bond between you and your kid with this super-duper cute mum and child tattoo. Add their name, a sweet phrase or a significant date (like your child's birthday) to make it even more meaningful.
Source: Pinterest
7. My body my rules
Empowering tattoos like this one are awesome if you want to make a bold statement about who is ultimately in control of your body … you.
Source: Tattooing is an Art
8. Birds
Birds make for a classic statement tattoo. A couple of birds on your ankle, wrist or back are graceful, elegant and timeless. They symbolise vitality, freedom, spirituality and peace. I remember seeing a cool chick (younger than me) with a tattoo like this one on her neck and it really worked … must have hurt though!
Source: Pinterest
9. Phoenix rising
Phoenix rising from the ashes represents a complete rebirth and renewal of body and soul. If you've ever gone through a particularly difficult time (and who hasn't), a rising phoenix tattoo is a statement to the world that you have overcome and emerged the winner.
Source: Pinterest
10. Lotus flower
The open lotus flower is a symbol of enlightenment, calmness, peace and focus, while a half-closed lotus means growth of spirit and mind. A beautiful lotus flower tattoo is just the thing if you want to attract clarity and peace of mind.
Source: Pinterest
11. Enough
I've said this word to my kids enough times! This one-word tattoo is a powerful and succinct way to tell yourself and the world that you've had enough, or that you are enough and you can achieve your goals just as you are. I didn't realise how much power there was behind this word until I saw this tattoo.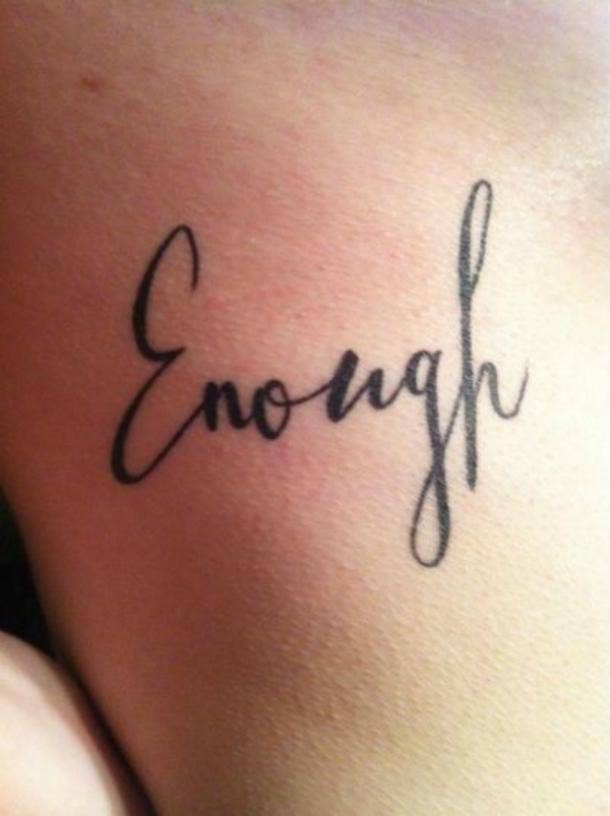 Source: FYeah Tattoos
12. Tree of life
This beautiful tree of life tattoo in all its leafy glory symbolises immortality, knowledge, wisdom, strength and protection, as well as growth, abundance and salvation. The design below is a temporary tattoo but you could use it as a guide for your tattoo artist. I love it as a back tattoo, but you can also put a more discreet version on your wrist or ankle.
Source: Etsy AU
13. Dreamcatcher
The lovely dreamcatcher makes a great tattoo as it represents the circle of life, safety and protection (dreamcatchers catch bad dreams during the night). Choose this tattoo as a talisman against negativity and a symbol of hope for the future. Not sure how good it would look around my 47yo boobs!
Source: Pinterest
14. Still I rise
Another empowering, positive phrase for women and single mums, 'Still I Rise' is recognisable from a Maya Angelou poem about rising above the struggles and difficulties of life. This tattoo is a great reminder that you have defeated hard times and can beat anything.
Source: Conscious Ink
15. Family
We know family is all important, and you can show it on your body with this simple but gorgeous tattoo. Whatever family means to you (it can be the one you came from or the one you create), this tattoo will remind you daily of your 'why' … even on the days your kids are driving you mad.
Source: TattoosBag
30 Tattoos for single mums (cont.)
16. Mum and children
This simple tattoo lets you ink on your body an image of the people you love the most. It will remind you why you work hard and push through when the going gets tough.
Source: WJBQ
17. Crown
Nothing's better than a crown tattoo to keep you empowered and positive. A crown symbolises leadership, authority and also good luck. As single mums, we wear our crowns everyday, and with this tattoo, you really will!
Source: Tatuajes Geniales
18. This too shall pass
When you're in the midst of overwhelming difficulty, the 'This too shall pass' tattoo reminds you that there's nowhere to go but up. So dust yourself off and pick yourself up because this will pass and the sun will shine again. Two people at my exercise class have this, but don't let the popularity put you off as there are an infinite amount of ways to ink them.
Source: Pinterest
19. Celtic new beginnings
This popular Celtic tattoo is actually on a list of tattoos for men but don't let that stop you. Apparently it symbolises new beginnings, and the original artist claimed to have received it from the angels. Feel free to attach your own meaning and let it inspire you to create the life of your dreams.
Source: Pinterest
20. Bow and arrow
This pretty bow and arrow tattoo is both trendy and deeply meaningful. Arrow designs are connected to the Sagittarius zodiac sign that represents love, power, strength and a good sense of direction. One of my faves.
Source: Ranker
21. Feather and birds
As you can see, I love bird tattoos! This feather and birds one looks so beautiful on the arm, symbolising truth, courage, bravery, freedom and travel. Feathers can also mean messages from the spirit world as well as spiritual protection.
Source: Pinterest
22. I am not afraid to walk this world alone
Single mums and single women who need reassurance that they are enough should get this empowering tattoo. 'I am not afraid to walk this world alone' is a statement from the soul, a mantra for living bravely and fearlessly.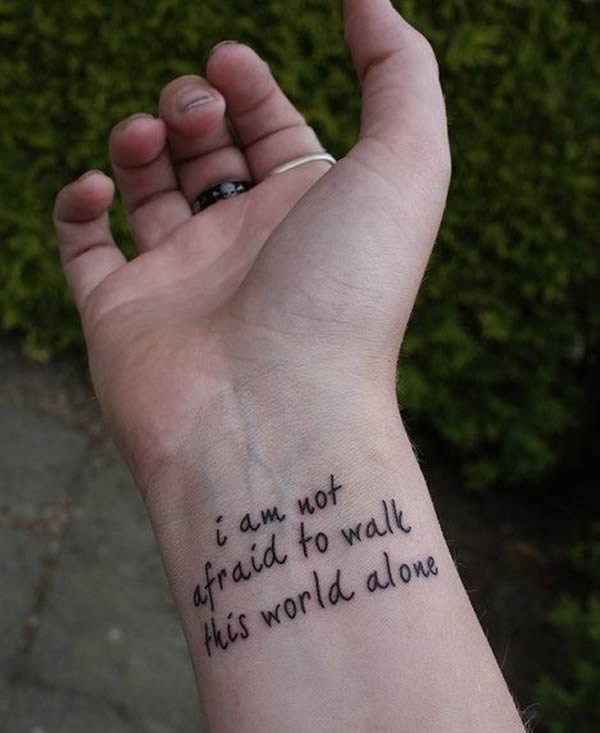 Source: PrettyDesigns
23. Butterfly
The butterfly is known as a symbol of growth and rebirth. As human beings we are always in flux, and this wonderful butterfly tattoo reminds us that personal transformation is a process, sometimes long, but worth it in the end.
Source: Pinterest
24. Take these broken wings and learn to fly
If you're a Beetles fan like me, this one is for you. From the famous song "Blackbird" these pretty words have huge power of meaning behind them, especially if you are picking yourself back up after heartache or hurt.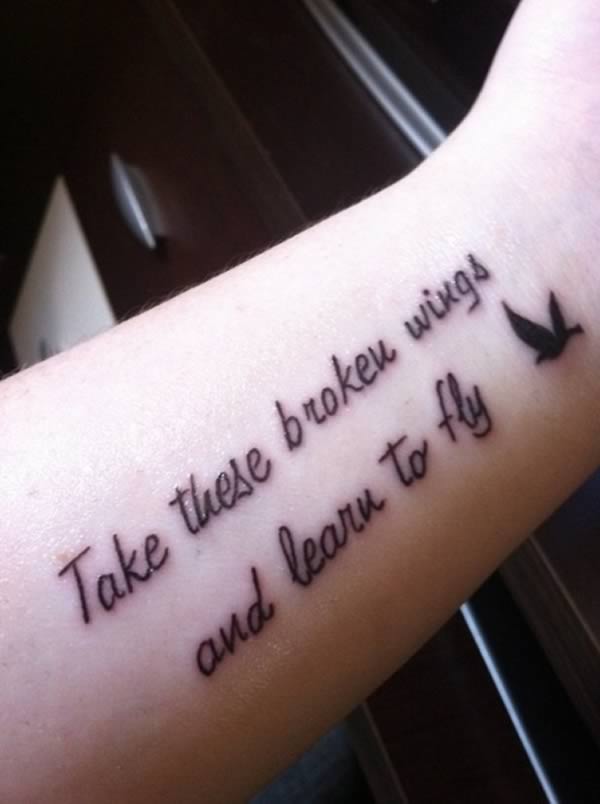 Source: Oddee
Our final Tattoos for single mums
25. Dragonfly
The dragonfly is the butterfly's less popular but equally symbolic and beautiful cousin. Dragonflies symbolise deep thoughts and a higher subconscious, and a dragonfly tattoo reminds us of the importance of the spirit world and things we cannot touch. Why not go for the dragonfly instead of the butterfly? It is far more fearless.
Source: Pinterest
26. Love me for who I am
The words in this tattoo are simple but powerful: Love me for who I am. For anyone who's ever questioned their worth because of someone else's callousness or cruelty, this tells the world that you are worthy of love just as you are.
Source: Candystarz
27. Mandala
A pretty mandala tattoo can mean anything depending on your culture, religion or personal beliefs. The mandala in Hinduism and Buddhism represent the universe and a search for completeness and self-unity. Personally, I just love the pattern.
Source: Bokainktattoo
28. Sometimes you need to let things go
This tattoo is perfect for people who tend to hold on to things they should let go of, whether it's a bad relationship or a soulless career. Get this tattoo and let it go.
Source: Pinterest
29. Peace dove
More peace is something I could seriously do with in my life. The peace dove tattoo represents calm, tranquility and all things that comfort you when things go awry. The graceful peace dove is a reminder that some things are not worth it if they destroy your inner peace.
Source: Shannon Wages
30. Everything happens for a reason
Everything really does happen for a reason. I say that all the time! If you are like me and seriously believe this, then why not get the words in tattoo form? You can get this inked big and bold or small and discreet. Test it out with a temporary tattoo like the one below.
Source: Etsy AU