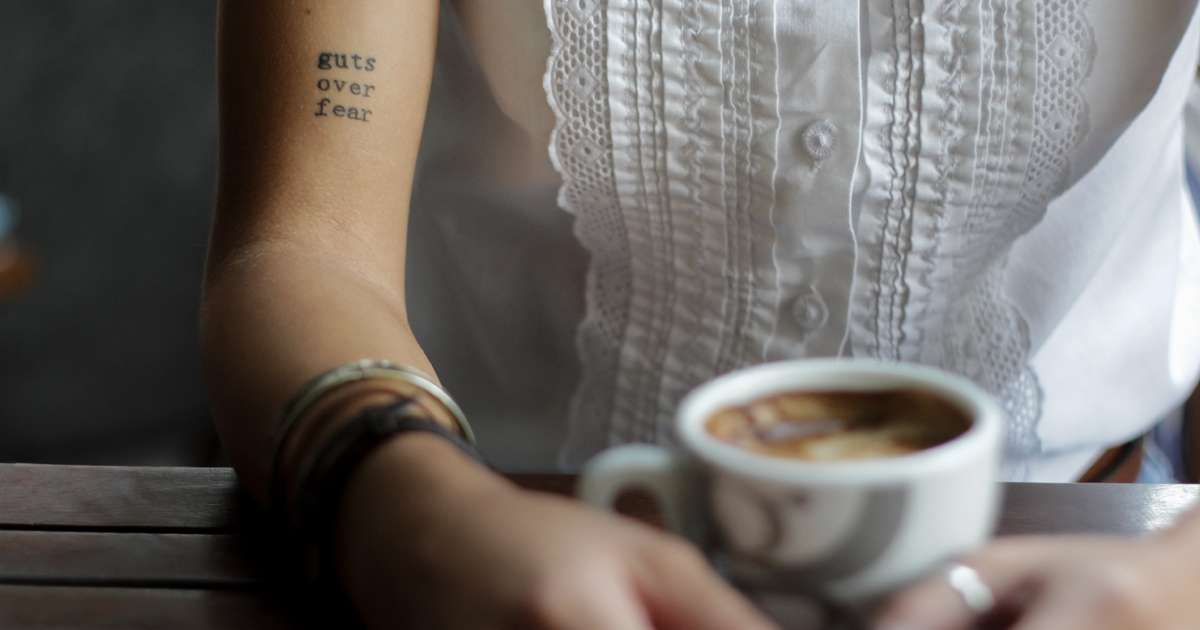 I speak from experience when I say that getting divorced is pretty significant. Once the crisis is over, you might want to mark the occasion in a positive yet permanent way … yes, I'm talking divorce tattoos!
And why the hell not?
Going through a family separation changed me. I feel stronger and more independent. I have learned life lessons that will stay with me forever. Do you feel this way too?
A tattoo is a perfect reminder of how far you've travelled to become the incredible woman reading this today.
If you are tempted to get a tattoo, get inspired with my list of brilliant divorce tattoos that say it all.
Further reading: 30 Tattoos to celebrate your children.
20 Brilliant divorce tattoos that say it all
1. The Only Way Out is Through
I love divorce tattoos that remind you to stay strong when you are going through hell. Because you know that you will get through this.
Source: Pinterest
2. Flying Free
Here's another tattoo that I personally recommend. The birds flying from an open cage symbolise freedom and serves as a reminder that sometimes, it is the right decision to leave.
Source: Ask Ideas
3. The Past is Practice
This brilliant quote is the perfect divorce tattoo for women looking to start fresh. Yes, the past is just practice and it does not define you.
Source: Pinterest
4. Always a Lesson
This lovely tattoo with a key heart is symbolic of lessons from the past. I love this tattoo because every mistake, even failed relationships, is transformed into a learning experience.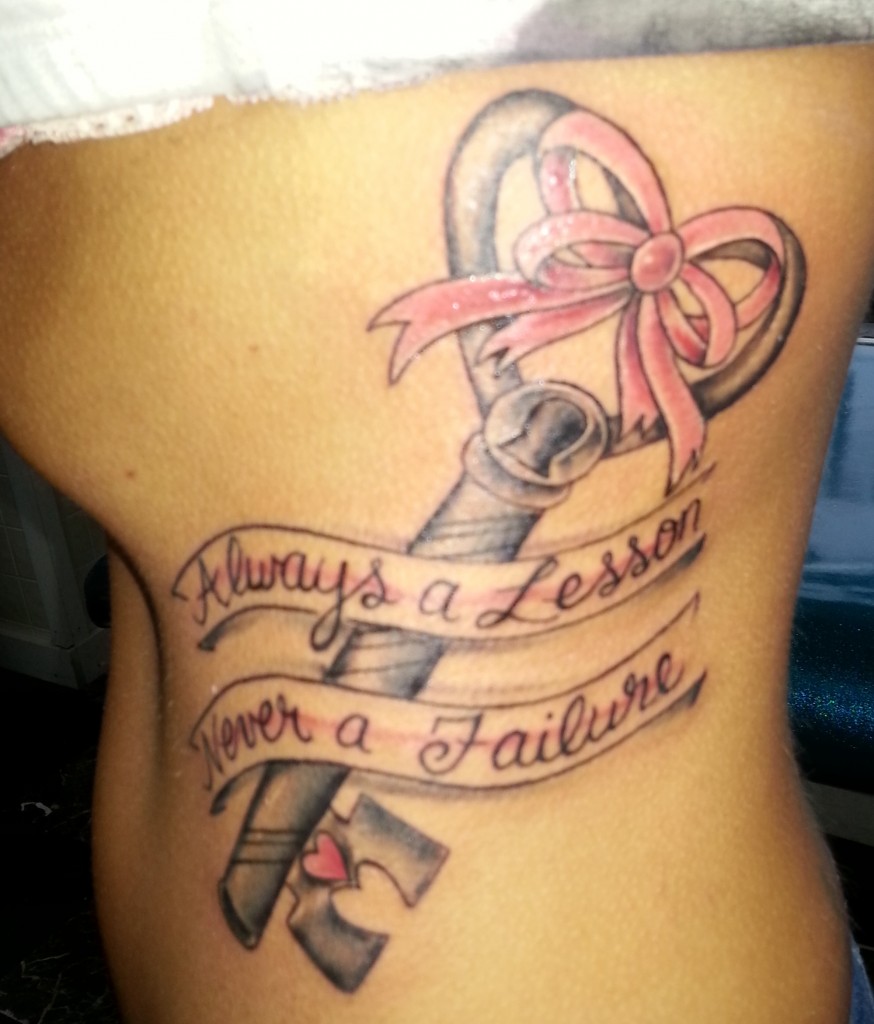 Source: Huffington Post
5. She Flies with Her Own Wings
This divorce tattoo empowers women to fly with their own wings. Nothing could be more appropriate for people who had been dependent on another person for years.
Source: Pinterest
6. Sometimes You Fly
Sometimes when you fall, you fly. A divorce tattoo quote reminds us that a failed marriage or relationship can bring out the best in us. It certainly did with me.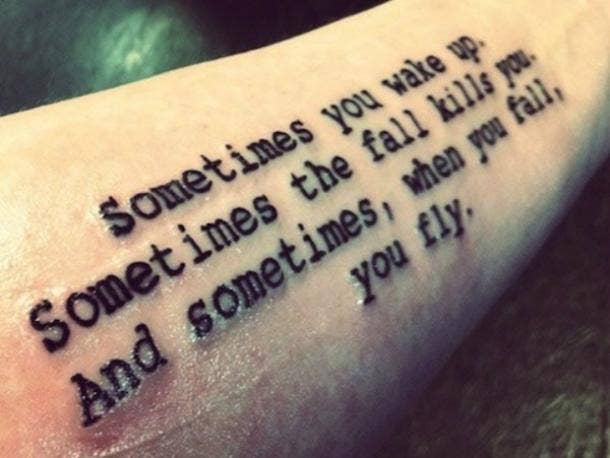 Source: Your Tango
7. Boat in a Storm
Calm waters teach us nothing, but storms always leave a lesson even after the devastation. My friend has this tattoo and she wears it proudly on her back.
Source: She Knows
8. Free Yourself
Still stuck in a dead-end or abusive relationship? Get this tattoo and free yourself, so you can finally become the best version of yourself and live the life of your dreams.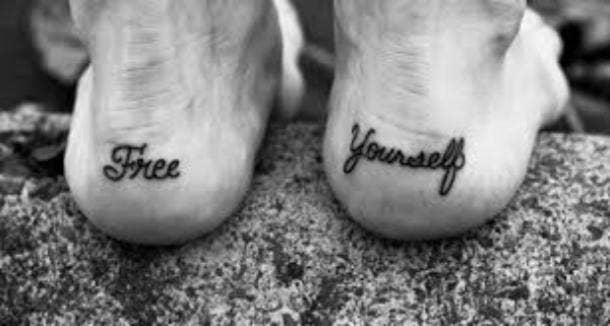 Source: Your Tango
Tattoos to mark a separation
9. Celtic Symbol
The Celtic symbol for new beginnings is a beautiful and elegant divorce tattoo that looks fab anywhere on your body. The original artist claimed to have received the symbol from the angels.
Source: Pinterest
10. Let Your Past Make You Better
A painful past is usually a ticket to a bright future. This heart-shaped quote makes for an optimistic divorce tattoo that nudges you towards hope and healing, not bitterness.
Source: Pinterest
11. Nothing's Forever
I have a friend who got this tattoo after her divorce and I think it's brilliant. Because let's face it, nothing is forever but change.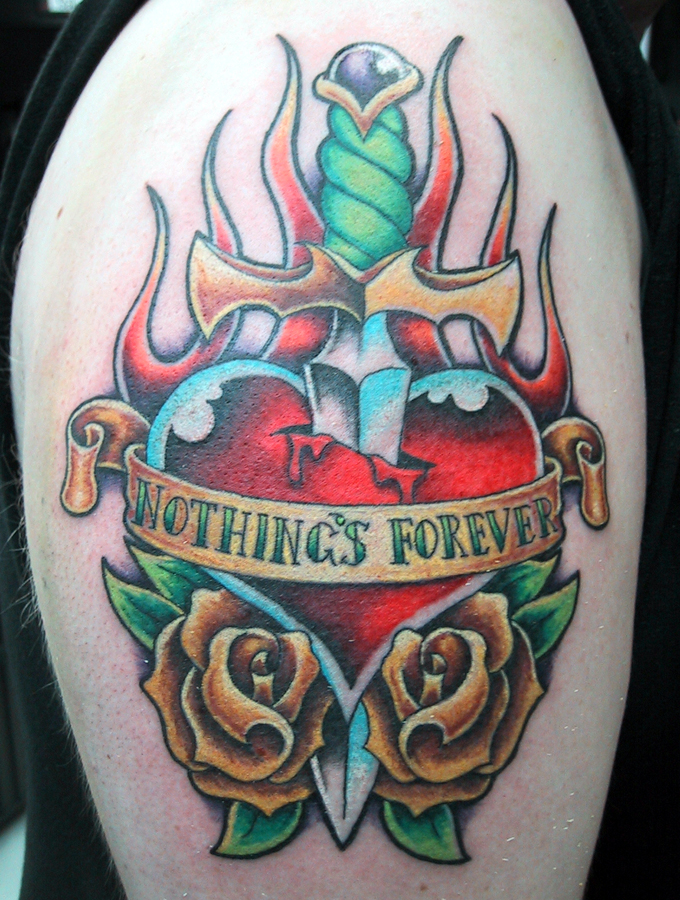 Source: Deviant Art
12. Sometimes You Need to Let Things Go
A simple string of words with a red balloon can be a powerful affirmation to let things go. I love this one because it's not only elegant, it looks great on any part of your body.
Source: Macleans
More brilliant divorce tattoos
13. Tree of Life
The tree of life is a symbol for many things: growth, wisdom, abundance, strength, protection and salvation. All the things you need to rebuild your life after a breakup.
Source: Instagram
14. Phoenix Rising
I prefer minimalist tattoos and this one is beautiful with the curved lines suggesting a rising phoenix. It makes a lovely tattoo for the shoulder or arm.
Source: Pinterest
15. Lotus Symbol
The beautiful lotus flower is an ancient Eastern symbol for calm, serenity, peacefulness and spiritual enlightenment. It makes an excellent post-divorce tattoo for women who are on the path to healing.
Source: Self Tattoo
16. Live Free
Freedom is one of the best things in life, especially if you've been chained to the wrong person for far too long. Celebrate your freedom with these two affirming words and a flock of flying birds.
Source: Pinterest
More brilliant divorce tattoos
17. Sometimes You Need to Let Things Go
I like this other version of the "let it go" tattoo but with a green balloon. This one is just as elegant and the words can be cursive or in print.
Source: Pinterest
18. Stand Tall
Time for some cute divorce tattoos to lift your spirits. This giraffe symbol with the words "Stand Tall" is as empowering as it is adorable.
Source: Pinterest
19. I am What I Choose to Become
A painful past does not define us, our actions in the here-and-now do. This awesome quote works beautifully on its own or with an image to inspire you to be the best person you can be.
Source: Pinterest
20. Freedom Birds
I love birds (if you can't already tell!). This tattoo of a flock flying in a subtle S formation is perfect if you prefer just an image without words.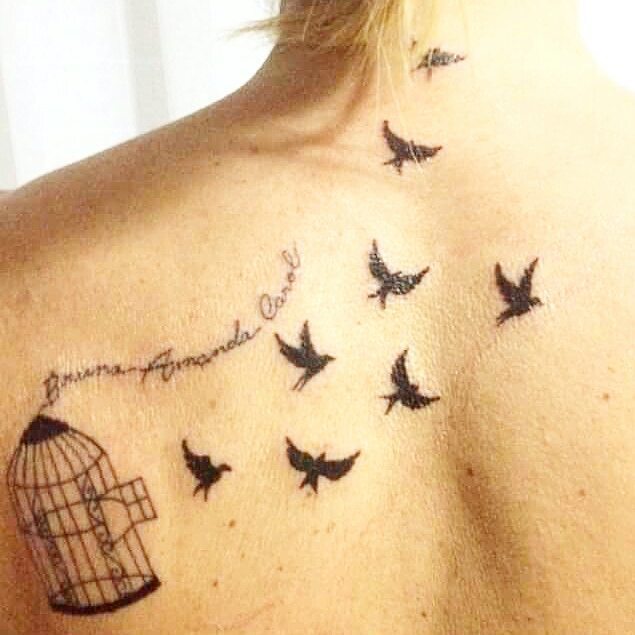 Source: Ideas and Meaning
W

hat to think about before getting a tattoo
G

et a tattoo that stands the test of time

First things first: Do your homework. A tattoo will be with you for a long time unless you have it removed, so it's important to research and do more research. I have had a tattoo removed and can tell you it is a lot harder and more painful than having it put on!

Get a tattoo that stands the test of time or something small and simple especially if you are a complete beginner. I have plenty of elegant and understated divorce tattoos on this list if that's your cup of tea. Whatever design you choose (minimalist or maximalist, full colour or not), make sure you can be happy with the commitment for the long term.
Where to put a tattoo
Another important thing to consider when getting a divorce tattoo is where to put it.
Tattoo artists say that this has an impact on how painful the process is going to be. For example, tattoos directly over the bone tend to hurt more than tattoos over your thigh or other fleshy parts of the body. Size also affects pain. Smaller, fine-line tattoos are less painful than bigger tattoos in full colour. If you are a beginner, the forearm or the wrist is a good place to start. You know your own body and which parts are the most sensitive, so keep that in mind when choosing.
As well as the pain level, when choosing where to put your tattoo think about how visible you want it to be. If you want to display it all the time, think hands and forearms. However, there are more discreet places to ink, such as the upper thigh or torso. A lady at my local coffee shop has a small tattoo behind her ear which is super cute and nicely hidden most of the time.
Designing your own tattoo
Have an image of a divorce tattoo that you can't get out of your head? Why not go for it and design your very own tattoo? I would definitely do this if I was any good at art.
Your design will be completely unique and it's not as complicated as you might think. A simple and timeless design (like many of the ones on my list) are perfect if this is your first time. Or you can make a rough sketch of the design and let your tattoo artist refine it to your specifications. Grab some similar designs on Pinterest to help make your vision clearer.
Choosing a tattoo artist
Don't do what I did and get your first tattoo from a boyfriend's mate!
A tattoo artist can play a big role in determining whether you have a great experience and end up loving (instead of hating) your tattoo. If you don't have one yet, social media is one of the best places to find great tattoo artists in your area. Most tattoo shops have Instagram accounts that you can follow to see more of their work and find out if they specialise in the design you want.
Besides expertise, you want a tattoo artist that you can trust, feel comfortable and have fun with.