There are many reasons why, as an adult, you might need new friends. Luckily, with friend finder apps, there are lots of ways to find them.
I'll start.
I am a single mum of two teenage daughters. I lost some of my friends when I divorced and life has been so hectic for the last ten years that I've not had time for a social life or to find new friends. Now, as my girls are becoming more independent, I'd love to find new friends to enjoy the next phase of my life with.
Whatever your personal reason to find new friends in adulthood, you are not alone because there are lots of friendship apps with millions of people using them, all looking for new friends.
I've had a whirl of the most popular friend-finder apps and hope to assist in your mate matchmaking by sharing my findings with you.
Further reading: The science of friendship: Proven strategies for making friends.
What to think about before choosing a friend finder app
Friendships apps for specific needs
There are apps specifically for finding friends. They will match you with people who have the same interests as you.
However, there are also more specific friendship apps. For example, they connect single parents, over 50's, or friends with benefits.
If you fall into one of these categories choose a niche app. I find that being amongst like-minded individuals from the get-go makes the search easier.
Check the stats for the app
It took me a while to realise that, in general, friend-finder apps are less populated than dating apps. They are also more area specific.
For example, some only service urban areas while others are worldwide. Don't make the same mistake as me and join an app that doesn't cover where you live. I seriously felt like Billy No Mates until I noticed my error. Also, being in a regional area didn't help my cause.
Join an app that has lots of people to choose from in your area by checking the stats and demographics.
Is the app free or paid, and how much
Like all apps nowadays, you will find that friendship apps come in free and paid varieties that feature a free trial.
If you are on a serious assignment to find friends, I recommend you go paid. Even better go on a pay-only app so you know that everyone else there is serious about their mission for a mate.
Having said that, stick within your budget and play around with free apps before you commit to purchase.
What do other people think of the app
The best way to get a feel for an app before diving in and pursuing a new bezzie is to see what other people are saying about it.
Check reviews (such as this) alongside the all-important app features.
My favourite friend finder apps
For mums, especially single mums, who work at home and find it hard connecting with other mums, Peanut is a brilliant app.
It's like Tinder (complete with the swiping system) but for mothers and pregnant women who want to mingle and socialise.
I'd heard of this app from a friend who moved to the other side of the world and used it to build her tribe. As she raved about it so much, I gave it a go.
It was the first friend finder app I tried and is still may favourite, mainly because of the user base of lots of lovely mums but it's super easy to use too, which is a green tick for me.
Free version: Free, with in-app purchases
Demographics of Peanut: Female ages 25-34
I've included Peanut in this list because: It's a safe space for mums and mums-to-be where we are all facing similar challenges making friends
What I didn't like: Like all apps, fewer members in smaller areas
I've looked at several friend finder apps and another that I recommend is Clic a new social networking app for Aussies to make friends and meet people in their area. It only takes few minutes to sign up and start chatting. You can use your existing Facebook or Instagram account, or your Apple ID if you don't have social media. I made sure to complete my bio and the interests section to get more accurate matches. For example, if you're after a travel or workout buddy, make sure to include that.
Free version: Free with in-app purchase
Demographics of Clic: It's all Aussies, 17+
I've included Clic in this list because: Easy sign up and navigation, good user reviews
What I didn't like: Not available in all areas of Australia, some users report bugs
I'd previously used Bumble for dating so I was super excited to try Bumble BFF.
It has good reviews so I though, why the hell not? I was trying out multiple friend finder apps to see which one fit my goals best, and this one seemed like a winner.
Sign up is easy and there were lots of potential BFFs in my area (it's a fairly large city so the number of matches wasn't the problem) who shared many of my interests. Surprisingly, however, I didn't end up connecting much with those I matched with.
Don't let my experience put you off though, your experience might be different!
Free version: Yes
Demographics of Bumble BFF: Majority male, 26 years old on average
I've included Bumble BFF in this list because: If you've used Bumble it's easy to jump into Bumble BFF and hunt for mates straight-away
What I didn't like: I feel the app is more committed to the dating side of it's offering which is what most people use it for.
When you're feeling frisky and want to meetup IRL or just hang out online with like-minded people, check out Adult Friend Finder.
I signed up to see what AFF is like, and it met my expectations based on the reviews I've read. It's basically a racy Facebook (porn + social networking) filled with people looking for hookups. You can also watch livestreams/vlogs and join chatrooms.
I say go for it if this is your thing and you don't mind paying the subscription fee. Because the free version is very basic and won't let you send or read messages.
Free version: Yes, very limited
Demographics of Adult Friend Finder: More males (67%), ages 25-34 years
I've included Adult Friend Finder in this list because: Best place to find friends with benefits in your area
What I didn't like: X-rated spam can be an issue, go with an open mind!
Next Door is all about connecting with your neighbours.
I like this app because I was able to communicate quickly with people nearest me during the lockdown and pandemic. A real life- saver when keeping up with community quarantine news!
I highly recommend this app if you're new to town and want to get to know your neighbourhood. It's also great if you are promoting your business or looking for clients.
My town is pretty big so I had no problems, but I can see how it may be difficult to connect if you live in a remote, rural or small area.
Free version: Free
Demographics of Next Door: Male and female ages 25-34 years old in the US, Canada, France, Australia, and UK
I've included Next Door in this list because: Next Door is great for individuals who want to connect with the community and businesses looking for clients.
What I didn't like: Can be difficult to network if you live in a remote area
Stitch is a social companionship/networking app that connects adults aged 50 and over.
I recommended the Stitch app to my friend who's an older adult when she moved to a new area last year. She thought it was a sewing app at first which as hilarious but eventually gave it a go as a means to make new friends and find local activities she enjoyed (not sewing!).
There are heaps of different activities and groups you can join, depending on your area.
My friend did mention that she got hit on by some members, but it wasn't a serious issue. That said, feel free to use Stitch to find a date if that's your goal!
Free version: Yes
Demographics of Stitch: 50s and over
I've included Stitch in this list because: It's an exclusive app for the over 50's and has a good focus on local activities and events where you can meet people as a group
What I didn't like: Few members and activities in smaller areas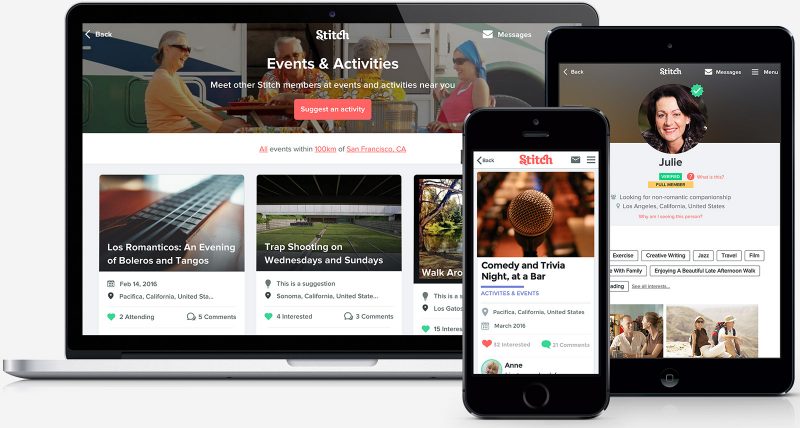 My friend who is a member of the LGBTQQIA+ community was complaining to me recently about how difficult it was to find someone to hang out with. I heard of this app called Lex and told her to give it a go.
Lex started out as a dating app and quickly evolved into a social networking platform to connect members of the community.
I was thrilled when she told me she'd met a workout buddy. Yay!
It's super easy to find local LGBTQ+ events here, too, especially in cities.
She was also very happy that she can use Lex to find a date if she wants … I am waiting for lots of exciting gossip from her.
Free version: Yes
Demographics of Lex: LGBTQIA+ community aged 20-37
I've included Lex in this list because: Free social networking app and safe space for the LGBTQIA+ community
What I didn't like: No matching system, few members in some areas
Another way I have used to meet new people and make friends is Meet Up.
Sign-up is free and quick (you can use your SM account) and you can immediately find meetups or events near you. You can filter by category, calendar, or group.
This last one is pretty handy when you are a member of an FB group for example that you want to connect with in your new location. You simply click "Join" when you find the meetup you want.
Oh, and make sure to add a photo to your profile. I was initially declined when I tried to join a hiking group because I had no photo.
Free version: Yes
Demographics of Meet Up: Almost perfect balance of men and women, 34 and under
I've included Meet Up in this list because: It's fairly well-known with a large user base
What I didn't like: There's a fee if you want to be a host or start your own Meetup, few activities in some areas
My final thoughts on friend finder apps
And there you have it – a whirlwind tour through the realm of friend-finder apps in Australia. From my own escapades in the world of digital friendship to the gems recommended by my adventurous comrades, these top-tier apps offer a shortcut to forging connections in this fast-paced world.
As we bring this journey to a close, I can't help but think of the countless stories, laughs, and unexpected encounters that await those who dare to venture into these app-enabled social spheres.
So, whether you're a newbie in town seeking camaraderie or a social butterfly looking to expand your circle, these apps hold the potential to transform the way we connect.
Embrace the swipes, the messages that start with a tentative "Hello," and the shared interests that lay the foundation for friendships to blossom.
Remember, behind every profile is a person with a unique story and the desire to connect. So, go forth, open those virtual doors, and who knows – your future best friend might just be a tap away. Here's to new friendships and the exciting journeys they bring!