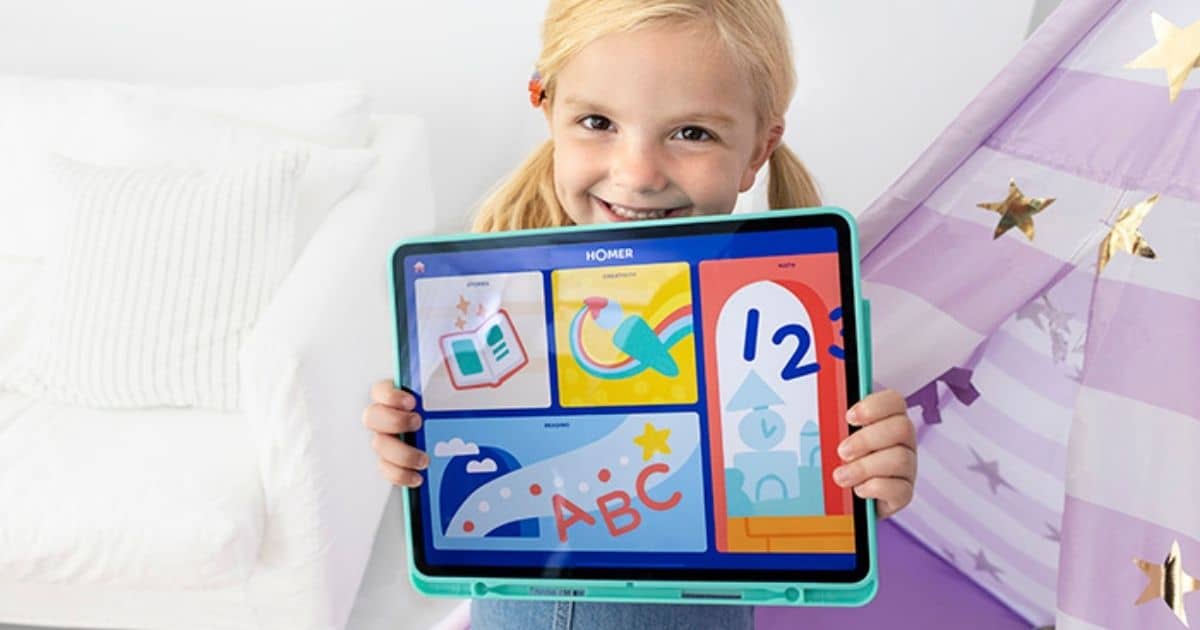 With so many education apps out there (a quick Google search tells me that there's over 455,000 in the App Store!), it's hard to know which one is going to work for your kid. More importantly, which ones are worth the money. I want to share my experience with our favourite app and our go-to learning companion, HOMER.
HOMER is an amazing learning app that has become a game-changer for my little one. This award-winning, expert-designed app is like having a personal tutor and an adventure-packed playdate rolled into one.
So grab a cup of coffee and let's dive into the wonderful world of HOMER!
Discovering the HOMER magic
As a parent, I'm always on the lookout for engaging and educational activities that my child can enjoy.
When I stumbled upon the HOMER app, I was immediately drawn in by its vibrant interface and the promise of personalised learning. It didn't take long for my kiddo to fall head over heels for it too!
There are tons of educational games in the app, like a fun learn-to-count game featuring pepperoni pizza. There are also more creative sections, like songs and drawing, that still feature a learning angle. I'll usually tell Peyton to start in the reading or math section, and then when he's done 5-10 minutes of that, he can play in the songs section ("Princess Skateboarder" is his favourite!).
I'm so glad Peyton seems to be liking the HOMER app so far. It captures his imagination while fostering essential skills.
Getting set up on the HOMER app
The first thing that happens when you create a profile is a quiz that asks about your child's current learning level, and I was surprised how accurate it was.
The activities that it suggested based on the quiz were the same types of things he was also learning in kindergarten, so he can sharpen his skills outside of school. From selecting their age and preferred topics to tracking progress, HOMER has all the things I was looking for. You also get up to 4 profiles per subscription, which is perfect for families with multiple littles.
We haven't used it long enough to see if the app will serve more challenging games to match his growing skill level, but HOMER does say that it grows with your child.
It's a treasure trove of fun and learning
HOMER offers a diverse range of interactive stories, games, and activities that cover various subjects, from reading and math to emotions and creativity.
The app says it has over 1,000 activities and I believe it, because he's always playing something new!
I love parent-friendly features
As a parent, I appreciate the thoughtfulness that went into designing the HOMER app.
The parent dashboard (called Activity Insights) has become my go-to hub for monitoring Peyton's progress. I can see how much time he spends on each subject, and it even shows me which activities are his favourites! It provides detailed insights into my child's learning journey, highlighting areas of strength and areas that may need more focus.
I love that HOMER also offers suggestions for things to do together in real life, helping me extend his learning beyond the app. When you sign up for texts and emails, they send you really cute printables with fun offline activities.
HOMER actually works!
The true test of any educational app is the impact it has on a child's development.
I'm thrilled to say that HOMER has exceeded my expectations.
I've noticed that Peyton's skills are more fluent; his vocabulary has expanded, his love for reading and eagerness to read has improved, and he's a little less apprehensive about school. Beyond the academic benefits, I've noticed a boost in his creativity and critical thinking skills. HOMER has truly become a catalyst for his growth and love for learning.
Safety First
One concern we all have as parents is the safety of our children when using apps.
With HOMER, I can rest easy. The app ensures a safe and ad-free environment, shielding my child from unwanted content or distracting advertisements.
I was a bit nervous at first, because usually I like to screen his content, watch it myself first to make sure it's okay for him. On HOMER, there is too much content for me to vet. But I have yet to hear anything I wouldn't want Peyton interacting with; the content all seems age-appropriate, engaging and lighthearted. They have cute animal characters featured in the activities as well to keep things fun and friendly.
It's a relief knowing that Peyton can explore and learn without stumbling upon anything inappropriate. To me, that is what makes the cost worth it. It's just $5 a month and paying a small amount for an ad-free experience is worth the peace of mind.
If you get on their email list, they occasionally have great sales—that's how I got one year for a big discount.
If you're not sure, you can try it for free; they stand by their product so much that they often have free trials, some as long as 30 days!
My final thoughts as a user
In a world full of digital distractions, finding an app that strikes the perfect balance between education and entertainment can be challenging.
HOMER has become our family's go-to learning companion, sparking curiosity, fostering essential skills, and turning learning into an adventure. With its personalised approach, huge content library, and parent-friendly features, HOMER has truly been an invaluable tool in my child's educational journey.
So, if you're looking to make learning fun and engaging for your little one, I wholeheartedly recommend giving HOMER a try.
Learning should be a joyous journey filled with exploration and discovery. And with the HOMER app, you can unlock a world of fun and learning for your child right at your fingertips and in your pocket.
Happy learning!
Further reading: 25 Free educational websites to support your kids learning.