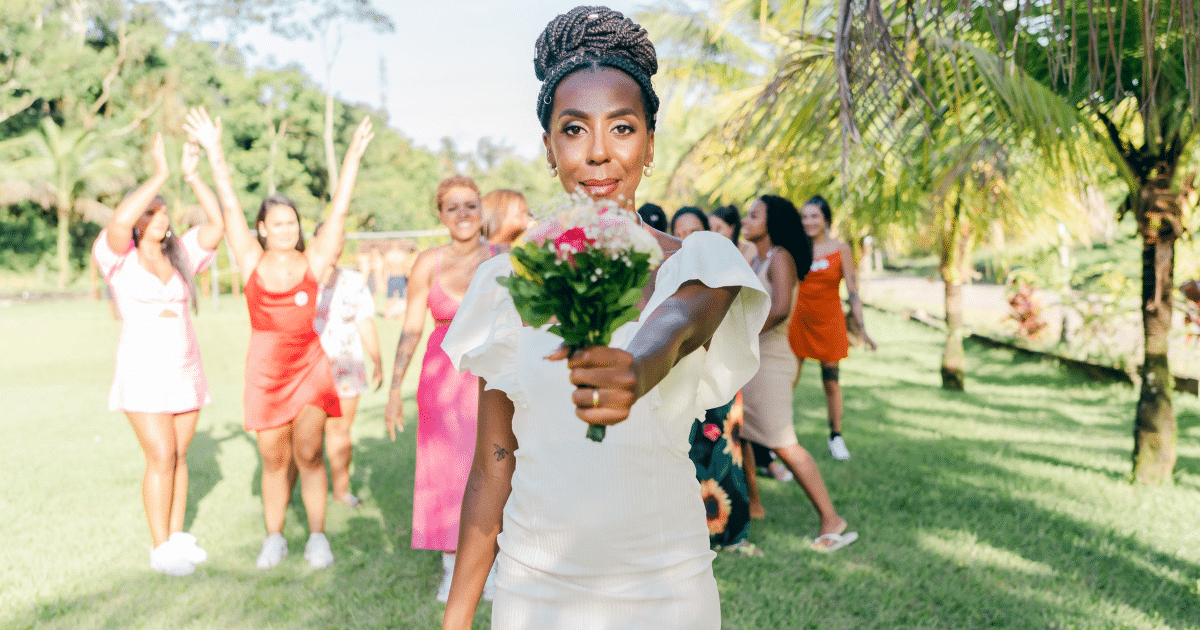 Getting married for the second time can be just as exciting and meaningful as the first time, if not more so. However, there are some unique challenges and considerations to keep in mind.
Whether you are remarrying after a divorce or the death of a spouse, planning a second wedding comes with its own set of etiquette rules, family dynamics and possible financial constraints.
In this article, we explore some helpful tips and advice to ensure that your second wedding is a memorable and joyful occasion that reflects your personal style and values. From considering legal implications to navigating blended families and talking through expectations, we will provide practical guidance to help you plan the perfect second wedding.
Second Wedding Etiquette: What You Need to Know
Sharing the news
While your second wedding is your big day, you must remember that not everyone will share your excitement and happiness. Therefore, being sensitive and thoughtful when you share the news of your second wedding with your loved ones is a crucial first step.
When sharing the big news, approach your family and friends with empathy and understanding. You must acknowledge that this could surprise some!
If you have kids from your first marriage, assure them that your love for them hasn't changed and will not change. Be open to sharing what you love about your new fiancé/fiancée and your excitement about starting this new chapter with them.
Planning your second wedding guest list
Oh, the guest list!
It is the portion of the wedding planning process most couples dread. How do you choose who to invite and who to skip?
The guest list for your second wedding should include the people you and your partner would love to witness your celebration. While you want everyone you love to be there, remember that not everyone will be happy for you.
If you know someone who would most definitely spoil your day – the cousin who remains loyal to the ex, maybe? – feel free to slash them on the guest list!
Selecting the venue
How do you choose a venue? The great thing about your second wedding is that you've already tried at least one venue, which you can cross off your list.
You're now free to choose from a selection of unconventional venues, like a forest, a museum, or even a bar! Choose a place that means something special for you and your other half. Or not! Somewhere you've never been to will also do.
Other important things you'd like to consider when selecting your venue are accessibility for your guests, seating capacity, the weather, the dress code, and the motif you have in mind. If you have selected an outdoor venue with intermittent weather conditions, consider having a Plan B.
What to wear at a second wedding
The wedding dress is one of the most exciting yet possibly stressful parts of planning for your special day. Traditionally, first-time brides wear white – and you can still wear white if you want. But for your second time walking down the aisle, you can experiment with what to wear. Something short, colourful, a pantsuit – the sky's the limit. The only condition is to feel comfortable and beautiful in it.
The dress code should go hand-in-hand with the venue, so it's crucial to keep your chosen location in mind when planning what you and your guests want to wear.
If you haven't already, check out this article for everything you need to know about wedding dress codes.
Second wedding vows
For me, at least, exchanging wedding vows was the most moving part of the ceremony. But what's great about writing your vows for your second wedding is that you already have a realistic view of married life. Most likely, you already know what in sickness and in health and for richer or for poorer mean in real life. So, this time, when you recite those words, you have the wisdom to back them up.
Or, you can make an original, wacky wedding vow to make your guests crack up. But, remember, the most important thing is you mean what you say and keep it once the party is over.
The perfect ceremony
The perfect ceremony isn't one that goes silk-smooth from start to finish. Unless you hire the best wedding coordinator who controls traffic, the weather, and every possible disaster, chances are there will be a mishap one way or another.
As an example, my sister's wedding was a total disaster. The toddlers wouldn't walk down the aisle to fulfil their duties as flower girls and ring bearers. The band for the reception arrived late. Because there was no guest list, there needed to be more tables, chairs, or food for everyone who came. We, her family, were so stressed and disappointed. But my sister was so happy that she literally doesn't remember the inconveniences until now. It seems like she didn't even notice.
So, the perfect ceremony is one where both of you come out happy and excited to finally start your married life for the second time.
(But of course, carefully planning your wedding will minimise the mishaps and stop you from turning into Bridezilla.)
Legalities of a second wedding
Obviously, a second wedding will have more challenges compared to the first, legally speaking. Because bigamy or polygamy is illegal in many places worldwide, you'd have to ensure that your authentic documents are ready and that you are both completely cleared when you file for your marriage license.
You should carefully study the laws in the place where you want to get married. If you or your partner isn't Australian, first secure permission from the Embassy. Also, some countries still don't legally marry LGBTQ+ couples, so do your due diligence before deciding on your venue.
For complete requirements for getting married in Australia, check out this article.
The wedding budget
Of course, remember the budget. In fact, the budget should be one of the first things you must consider before going full throttle on your wedding preparations. Your budget will dictate if you can hire a wedding planner or if you'd need to go the DIY route.
Whether this is your first or second wedding, one important tip is to be strict on your wedding budget. Sometimes, wedding planners would "suggest" small additions here and there that sound perfect for the celebration, so always keep an eye on your budget. You don't want to exceed your budget and be a stressed bride later.
Involving in a second wedding
A second wedding has its unique challenges. After all, for some couples, marriage is not just about the two of you. Sometimes, there are children involved, which could mean bringing together two sets of kids who barely know each other.
Your family (or families) can be part of your wedding ceremonies in many ways. They can walk you down the aisle. They can be your entourage. Or, they can sing. Giving them an important role can be an excellent way for them to feel that they belong in the new family you're creating.
But of course, don't force your kids to be part of the celebration, as this could be an emotional time for them. So, be sensitive, respect their feelings, and tell them your love for them will never change.
Managing conflict
Wedding planning is sometimes stressful, and second weddings have additional challenges. Conflict is almost unavoidable when planning a wedding, whether between you and your significant other, the two families, or with a third party. Differences in opinion regarding the wedding details, financial problems, kids struggling to accept this new phase, and stress are just some forms of conflict.
When conflict arises, ensure you and your partner remain open for communication. Listen with compassion, be available for adjustments, and be willing to step back from wedding planning and hand the reins to someone else if necessary.