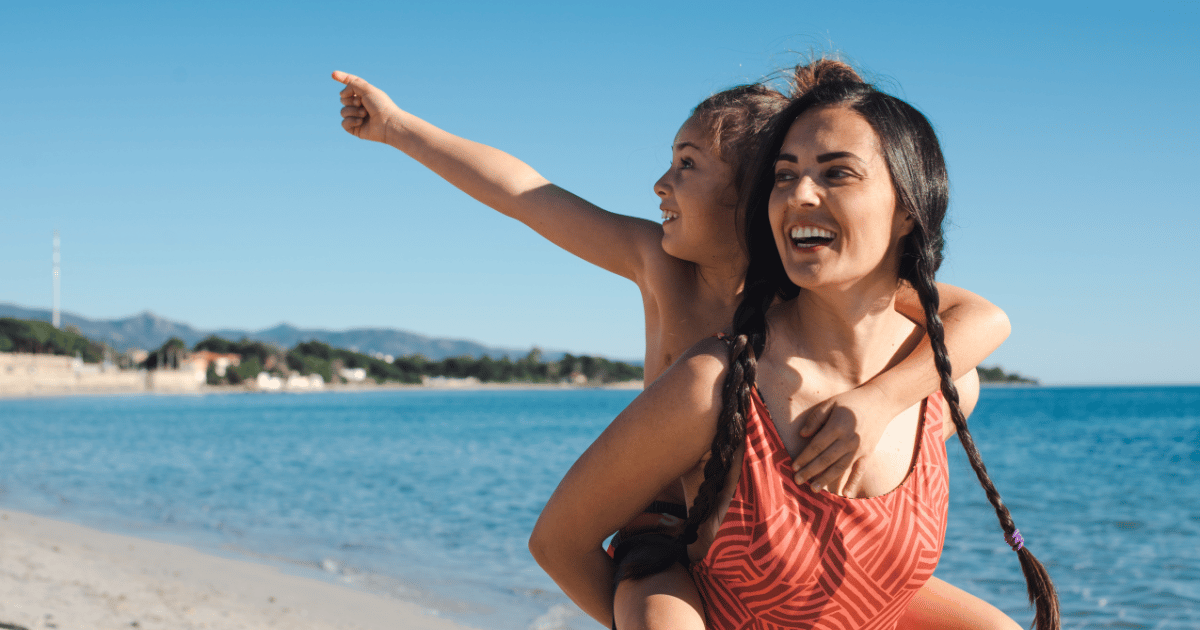 If you are a single parent you can be forgiven for thinking that going on holiday is more trouble than it's worth. But please don't. Us single parents deserve a decent holiday more than most. Not only that, single parent holidays can be cheap, easy and lots of fun.
I am a single mum, ex travel agent and seasoned holiday taker! It doesn't matter how hard a family holiday might seem, I always find a way. If we are living on a tight budget and restricted by a worldwide health pandemic, my girls and I still manage to get away and make memories together.
The trick is finding the right holiday for your single parent family. This includes:
Booking a holiday you can afford without going into debt
Easy logistics to get your family from A to B, possibly C
Not too much organisation before or during the holiday
Special needs and requirements all taken into account and catered for
Staying within court orders or travel requirements from your child's father
A chance for you to relax and take a break so you don't need another holiday to recover
It might seem like a big ask but luckily there is lots of choice so you're bound to find something that works. Here are my holiday ideas for single parent families.
PACKAGE HOLIDAYS
The good old package holiday still exists and is a great option for a single parent holiday as everything is organised for you. This includes transport, accommodation and transfers, but in some cases food and tours too.
Package bookings usually offer competitive prices as the travel agent gets a better rate than you if you booked travel and accommodation separately. I always do a calculation before booking to ensure I'm not being ripped off and paying heaps more than I would if I booked directly. Remember, the package holiday might have a slight premium because you pay for the convenience of having it all booked for you.
Bali is the number one package holiday destination for Australian families. Not only does it tick all the boxes such as great beaches, beautiful resorts and lots of activities, but Bali is great for kids too.
The main advantage of a package holiday is that you don't have to do the logistical work yourself and you can rest assured that everything will be organised correctly to get from your home to your holiday resort and back again.
You don't have to physically go into a travel agent to book a package holiday. The best deals are found online at the big travel websites such as:
My favourite destinations for easy package holidays from Australia are Bali, New Zealand, Fiji and Singapore. They all have direct flights, reasonable travel times, manageable time differences and great places to explore with the kids.
ISLAND GETAWAYS
Nothing screams "holiday" like an island getaway. And here in Australia, we have lots of islands that are perfect for a holidaying single mum and her kids.
One of our best family holidays was on Daydream Island (part of the Whitsunday Islands) before it was devastated by the cyclone. Since then it has been revamped and re-opened. It is small enough to feel like you are on an island but large enough to have all the amenities you need for a great holiday with your kids.
Other great islands to stay on with your kids are:
CRUISING
We are slowly welcoming cruise holidays back into our post-covid world and this is a good thing for single parents looking for a relaxing holiday.
You only have to get your family to the ship and you're done … time to relax.
Whether it's cruising up the east coast of Australia, heading to the South Pacific Islands or delighting your kids with the new Disney cruise, there are lots of kid-friendly options to choose from.
Cruise ships are floating cities packed to the rafters with entertainment for kids and adults. They have family-friendly accommodation options, easy food choices, onboard medical centres and kids clubs galore.
Further reading: What I love most about cruising with kids.
Try these cruise lines that cater brilliantly for families:
CAMPING OR CAMPERVANNING
Depending on your family, camping is either the best or worse holiday idea.
We did it for years because it is literally the cheapest way to get away and there are so many places to camp in Australia. We could decide to go one day and be packed and on the road the next.
Most campsites are kid-friendly but always check first.
If you have lots of children or a child with special needs, camping can be hectic. Setting-up tents, blowing up beds and providing suitable shelter from the elements is not conducive to a relaxing break for mum. And the novelty of preparing family meals on a single-ring gas stove and washing up in the camp kitchen can wear off pretty quickly.
For families who love the outdoors experience but need some home comforts, book a campsite cabin or hire a campervan. We hired a small campervan when there was a special and haven't used the tents since!
THEME PARKS
If you want to be in the running for the "Best Mum" award, then a holiday centred on theme parks is the way to go.
You don't need to leave Australian shores as we have world-class theme parks right here on the Gold Coast (QLD). They are:
If money allows and you want to take the experience to the next level, go overseas to one of the six Disney parks in either Florida, California, Tokyo, Hong Kong, China or Paris. Check out Expedia and Wotif for package deals that you might be pleasantly surprised by.
ADVENTURE TRAVEL
Adventure holidays are like package holidays but with heaps of tours for a more active, experience-based holiday.
I love adventure holidays as you see lots of the country you are travelling around while learning about their history and cultures. For adults and kids, adventure holidays are a fascinating learning experience. They are the kind of holidays I can justify taking my kids out of school for.
If you book an adventure holiday, you will be placed with a group who are doing the same experience as you. It's a great way to meet people and enjoy the company of others on your trip. Although you are on the move a lot, everything is organised for you, so you can relax and enjoy the adventure with your kids.
Adventure tours are usually geared at specific age groups or interests so you are travelling with like-minded companions. There are family-friendly tours and some operators, such as Intrepid even cater for single parent families, yay.