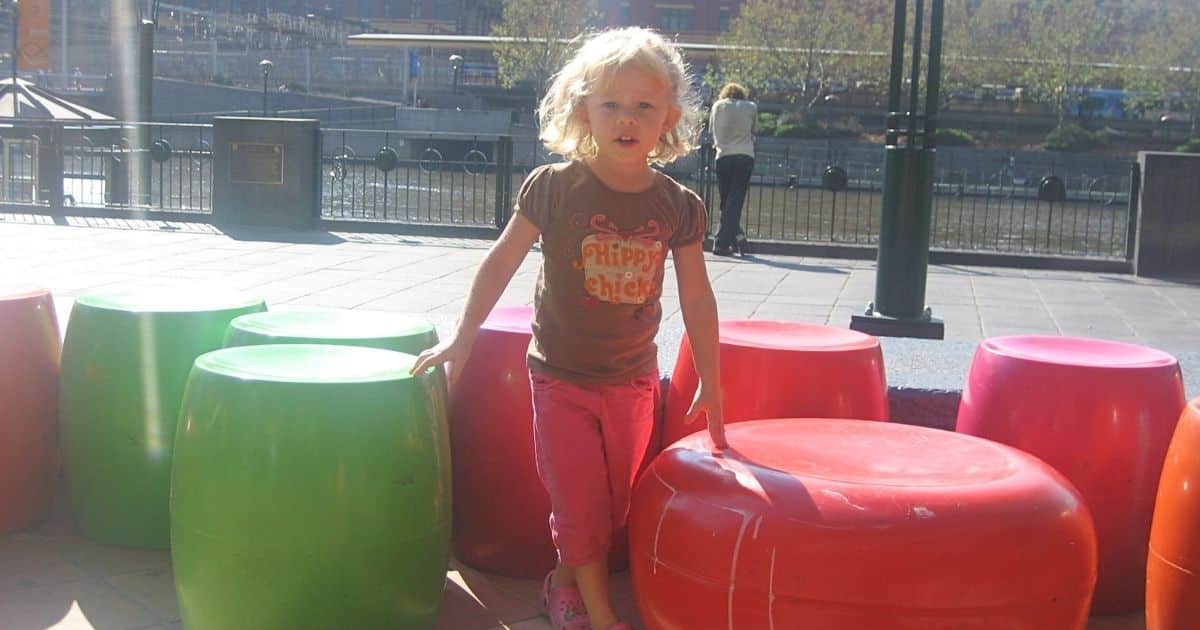 If you've ever dreamed of uncovering Melbourne's best-kept secrets for kids' entertainment on a budget, then this guide is tailor-made for you. As a thrifty mum who recently explored this great city, I can't wait to spill the beans on the incredible array of free kids activities in Melbourne.
With its vibrant cultural scene and captivating attractions, Melbourne offers a wealth of opportunities for frugal family fun. From picturesque parks brimming with laughter to engaging museums that ignite curiosity, you'll be amazed by the wealth of cost-free experiences.
Join me in this article as we embark on a budget-friendly adventure, unraveling the city's hidden gems and creating unforgettable memories with our children. Let's dive into a world of boundless excitement, where the magic of Melbourne unfolds without spending a single cent.
Further reading: 8 Great reasons to house swap for a cheap family holiday.
Pack some bathers and dirt-friendly clothes to get down and dirty so you and your kid can play and learn at the Gardens!
Just when you thought gardens were only great for adults who have a passion for horticulture, the Royal Botanic Gardens is filled with opportunities for exploration which include the Children's Garden, the desert cacti garden, and the fern gully among many.
Your child can also learn about planting and cultivating soil, hands on!
This, for me, is definitely one of the best free kids activities in Melbourne.
Fitzroy Gardens is a possibly one of the most stunning places to visit in Melbourne, period. Its tropical conservatory, historic Scarred Tree, and cottages are just beautiful to behold especially during autumn. I have enjoyed their free guided walking tour once, and I believe they still offer it every Saturday at 10am.
For your little ones, the best feature of Fitzroy will most likely be its Adventure Playground, also known as "Cubbies". Massive structures of animals and fantasy creatures, sometimes ingeniously made with recycled materials, serve as play spaces.
If you're early and lucky, you and your kids might also chance upon the staff facilitating free activities for kids.
There is no need to go to a pricey resort when you've got a beautiful beach that offers the best venue for free kids' activities in Melbourne.
Whether you want to have a gorgeous picnic with your child, and tick off every activity you want to try with your kid on a beautiful summer day. You can have a fun swim and even try out the different water activities being offered by hobby shops, such as kitesurfing and windsurfing.
Is the water not your kid's thing? Just bring a bike or rollerblades and some yummy snacks, and your child will still have a blast at the beach.
Inculcate in your kids the love for reading and books without having to build a collection yourself.
There is something magical and healing about libraries. I will never forget the wide-eyed amazement on my kid's face when we visited the library. All sorts of people reading. The endless rows of books. The smell of paper.
Your kids will enjoy the wide variety of books that they can read and enjoy for hours in the golden silence and comfort of this city's treasure.
Cool down the best way possible during those hot days from September to April.
The sound of squealing and laughing kids are constant in this water play park, and you'll understand why. There are open spaces, share areas, and a playground where your kid can make new friends, play to their heart's content, just enjoy being in the water, and collect fun memories.
One of my own happy memories as a teen was getting on this zero-fare tram on special school holidays to take in the Melbourne CBD sights and to hop off stops near my favourite shops.
Showing the beauty of Melbourne from the vintage beauty of a tram is a fun way to bond with your kids and save up on fuel and parking fees.
You can hop on and off stops near parks or food spots and make an adventure out of a school holiday with your kids, just like I did!
Free kids activities in Melbourne (cont.)
Saturday plans don't have to be complicated. A lot of times, all your kids need is sunlight, a sweaty couple of hours spent playing and making new friends, and a relaxing picnic with their amazing mum.
Visit the Curtain Square and watch your kids play with other kids at the playground or read books with them on the lawns. It will not cost you anything as it is open to the public.
It also has historic drinking fountains that will help you and the family stay hydrated.
You can pack a couple of sandwiches or lunches from home and spend precious time with your kids at Curtain Square.
I still have a cute photo of my youngest posing in the gorgeous wooden fairytale castle playground at Phoenix Park. That was a great day which I am pretty sure my kids enjoyed a biiiit more than I did.
Certainly a picturesque and free kid activity in Melbourne, this playground is built for the enjoyment for kids of all ages. Every turn and level of this playground have been utilised to provide various sensory and physical activities. Adjacent to the playground is a grassed area with picic tables.
Our kids' childhood have become incredibly digitalised; it would be great to bring your kids out to Phoenix Park every now and then to get some physical exercise, learn and socialise through play, enjoy fresh air, and eat and bond with the family under the sun.
As Australian mums, it's also important for us to expose our kids to the rich heritage of our country. In Melbourne, Birrarung Marr is a beautiful place full of artwork and designed with so much symbolism that honours the Aboriginal culture, especially of the Wurundjeri people.
The park is a popular venue for so many public events and bazaars which you and your kids can attend now and then.
Familiarity with the history and design of Birrarung Marr will help your kid develop a sense of community and appreciation for the diverse and indigenous culture of Melbourne.
On a no-school Monday, you should take your kids to Queen Victoria Market for a really cool activity: the Kids Passport!
Starting at 9am every Monday, kids can pick up a their Kid Passport from the Information Hub. They can use their passports to collect stamps from different traders and vendors around Queen Vic Market. They will be able to meet different kinds of entrepreneurs and artisans, and learn plenty about crafts, products, and trade items.
At the end of their little market adventure, they can return to the Information Hub and present their stamped passports to claim special prizes.
I remember, one of my favourite memories with my mum is strolling and window-shopping at the Royal Arcade.
We didn't necessarily have to buy anything but it was a beautiful place with a history that amazed me. The different shops sparkled with their wares just like they do today. The Victorian building's pathways leading to different streets are fun to explore.
You can also tell your kid how many generations have walked and shopped here since it opened in 1870 as you browse around and appreciate the arcade's architecture.
Being cultured and having an appreciation for art should start from a young age.
And lucky us, we've got Heide to bring our kids to for creative inspiration and education. With free entrance for all kids below 16, this astonishing museum is must-visit for mums like you who are looking for free kids' activities in Melbourne.
Aside from outstanding paintings and artworks in various media, Heide also has a mind-blowing sculptural park and gardens that are especially perfect on sunny days. The museum regularly offers art programs targeted towards kids and families.
Your kids can join a workshop or group activity where they can create and learn about artistic techniques.
How can I keep my kids entertained for free in Melbourne?
The Docklands might remind you of nights spent in inebriated fun back during your younger years. Nowadays, the area has developed into a more family-friendly area perfect for spontaneous day trips with your kids.
For example, the Docklands Park is open to the public at no charge. It has a playground and beautiful green space that are perfect for kids to stretch their legs, spend some pent-up energy and play around in after eating at the different culinary spots nearby.
The country's national museum for film, video games, digital culture, and art. Mums of multimedia-loving kids, need I say more?
With highly developed and curated exhibition areas and film showcases and no entrance fee, this museum is a free kids' activity in Melbourne that you shouldn't pass up. Once you see how cool, immersive, and educational everything is inside, you will be glad to have taken your kids who will surely enjoy "watching" the museum.
CERES have 4 locations that are all fantastic places to visit where your kids can learn about different kinds of plants and interact with nature. My particular favourite is their East Brunswick location; let me tell you why.
This community environment park has a nursery and bookstore where so many kids (and adults!) have discovered the fun process of cultivating plants. It also has a creative play-space for kids, a stunning shed made out of recycled bikes where you can relax, an organic grocery, and a cafe where your kids can refuel with healthy and delicious meals after a full morning of exploring the park.
Is your child showing signs of great interest in history? You have the perfect opportunity to nurture that curiosity at no extra cost.
Bring your kids to the Cooks' Cottage where they can learn about the incredible story of the cottage which was transported brick by brick to Australia from England in the 18th century! The interior setup was also preserved in its 1700's fashion as well as the attire of the guides who will be imparting their knowledge of the cottage and Melbourne during that time.
Cooks' Cottage is a fun and inexpensive way to travel to the past.
Last but not the least is a spot I love visiting during the cooler days of summer with my kids.
Edinburgh Gardens is a beautiful venue for several free kids' activities in Melbourne such as biking, relaxing under the shade of majestic trees, walking your family dog, having a barbie, and enjoying the company of other kids at the playground.
You and your kids can easily spend a full day at Edinburgh Gardens with all the space and fun opportunities you can explore as a family.
Further reading: 15 Essential tips for planning a stress-free single parent holiday.