This article about massage guns was last updated in 2022.
If you don't have the time or money to get out for regular massages, then a massage gun could be the answer.
They take the effort and skill out of giving a massage. In fact, with this handy tool, you'll even get a decent massage from your kids!
In this article we take you through:
What is a massage gun?
What can a massage gun help with?
What to look for when buying a massager?
Our top pick of massage guns on the market now?
Further reading: 17 Self-care practices you can do at home.
What is a massage gun?
A massage gun is a handheld device that uses pressure, specifically percussion and vibration, to help relax sore and tight muscles. It's like a mini jackhammer that works areas of your body to increase blood flow, reduce tension and relieve pain.
The effect is similar to that of a foam roller, exercise or massage, but a massage gun can target specific areas and soothe muscles in just a few minutes. Plus, you can use it on the go and don't have to tip anyone!
What can a massage gun help with?
Massage guns are great to use before and after workouts, or when you're sore after standing on your feet all day. Studies suggest that when used before exercise, a massage gun is as effective as a traditional massage to prevent soreness. Massage guns can also reduce delayed onset muscle soreness (DOMS) that occurs following an intense workout.
Experts agree that this type of massage therapy can increase the flow of blood, nutrients and fluid to local areas and flush out toxins that build up post-workout and cause muscle fatigue.
Increased circulation is important to remove pooled blood in the muscles (and the resulting swelling and soreness) after periods of inactivity. The mini bursts of continuous pressure from the massager help relax tight muscles and relieve pain by stimulating nerve fibers.
Try a massage gun wherever you feel tightness, like the neck, back and legs. Just don't overdo it, because overstimulation and overuse can reduce its effectiveness. Therapists say that 1-2 minutes on a low setting should be enough for large muscle groups.
What to look for in a massager
With the host of options available, it can be difficult to choose the right massager. Here are some features to consider when you're comparing models:
Comfort
It's important that the massager is comfortable to hold and use. It shouldn't be too heavy that you get arm fatigue or too light that it ricochets off your hands when you're using it.
Attachments
Most massage guns come with different attachments to target different muscle groups and provide different types of stimulation. The most common attachment is the sphere, which is used for deep tissue massage and overall therapy.
Speed
Multiple speeds mean you can dial up the stimulation, although therapists suggest that two or three speeds should be adequate. Besides speed, also check the depth of the percussion; a deeper vibration is suited for deep tissue massage while gentle percussion is best for superficial areas.
Battery
Long battery life and quick recharge are great features to have if you're always on the move and need backup power.
Noise
Don't forget to check the noise level as some models can sound like a jackhammer.
Price
Massage guns can cost from $40 to over $500, depending on the features. You'll want to get the most out of what you can afford.
Our top pick of massage guns on the market now?
We've chosen the following massage guns based on expert recommendations:
This Homedic massage gun is a contender for our top massagers. With 4 speed settings, 4 head attachments and hot (up to 50 degrees)/cold features to soothe aching muscles, it covers all the basics and more.

We found this on: Harris Scarfe
The top-rated Booster M2 is our best overall pick. For just $82, you get six massage heads, a smart touch screen, triple noise reduction, a battery indicator, and an 18-month warranty.
We found this on: Ali Express
The Everfit looks like a high-powered drill, but don't be fooled. Its quiet glide technology ensures you won't wake the household while you're soothing those sore muscles. It features six head attachments, 30 speed levels, 4000 strokes/min high-frequency vibration and up to 8 hours of battery time.
We found this on: My Deal
The Action Impact is a bit pricier at $99, but the lightweight, cordless unit is perfect for travel. It has three power levels and three massage heads, taking stimulation from relaxing to a more intense level.
We found this on: Big W
The Spector Massage gun ticks all the boxes: 4 massage heads, 20 adjustable intensities, quiet motor, and auto power-off features. Whether you're looking for gentle deep tissue massage or precise trigger point therapy, this one has you covered.
We found this on: Kogan
The Silver & Black 4-head massager is rechargeable and features 4 massage heads and an LCD touch screen. It's also pretty lightweight at 1.6 kg so your arms won't get tired after using.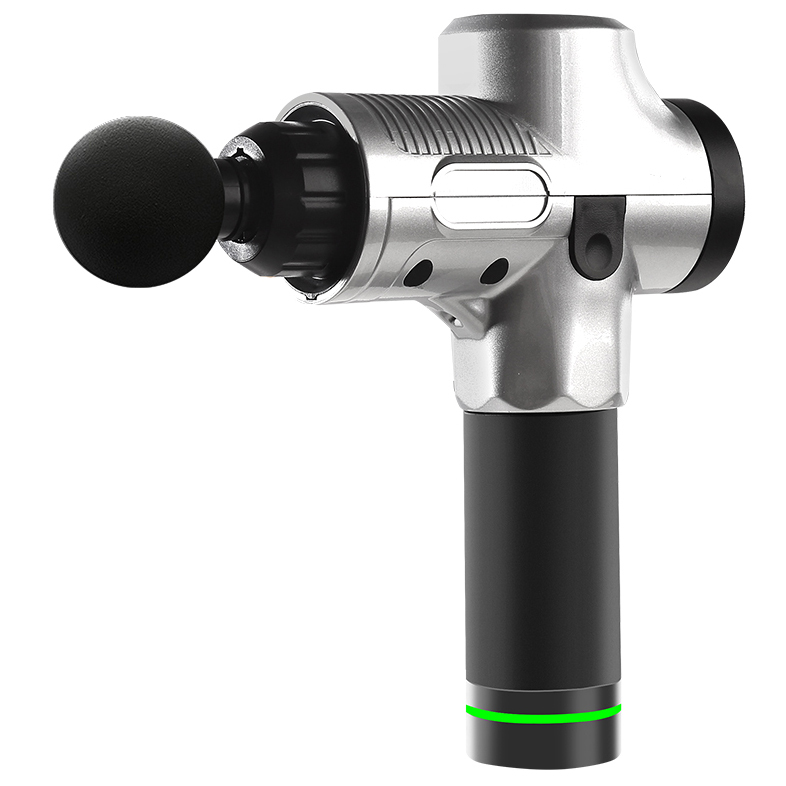 We found this on: Temple and Webster
We love this pink mini massage gun that has all the basics (6 massage heads, 30 speed levels, up to 15 days battery time), plus whisper-quiet operation, a non-slip grip and a lightweight body (only 1.1 kg).
We found this on: Dick Smith