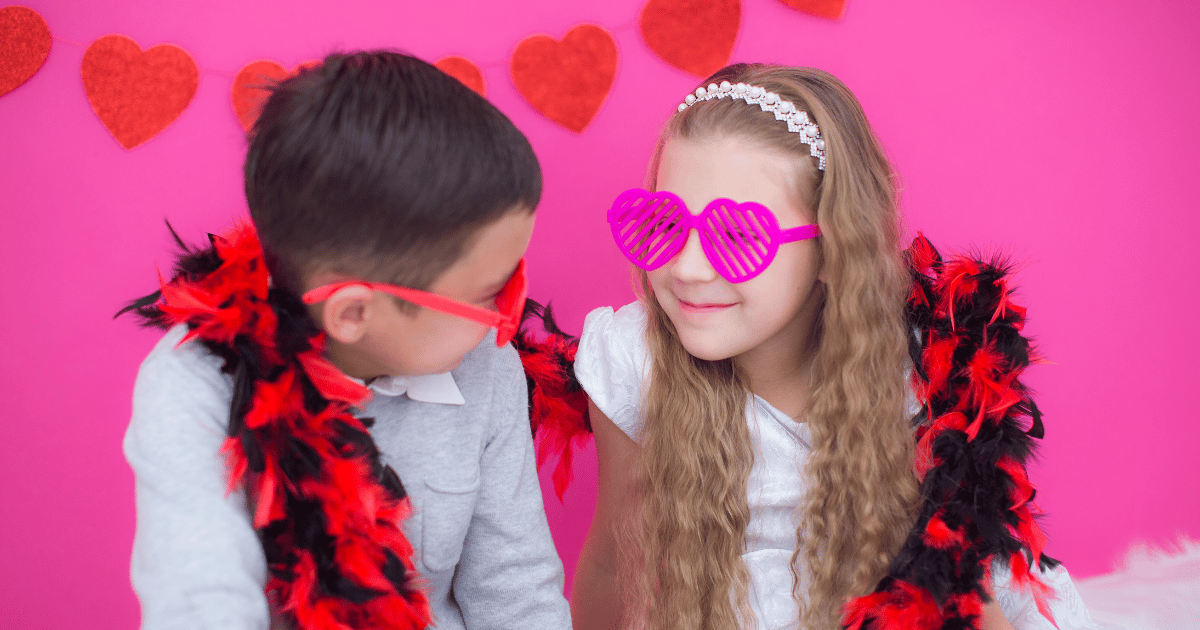 Valentine's Day is all about love. And I love my children more than anything or anyone else in the world so it only seems right that I spend time with them on the 14th of February.
My girls are older now and we are like ships in the night with one working and one in senior school so it's great to have an excuse to spend time together doing something we all enjoy. When they were younger, Valentine's Day was an excuse to do special things together with a focus on hearts, cuddles, kisses and love.
Below I have listed what we used to do in the past as well as the things we do now. Whatever age your kids are, put aside some time on Valentine's Day to celebrate your love for one another.
14 Things to do with your kids this Valentine's Day
1. MAKE UP A DANCE
It's always good to get active with our kids and making up dances is so much fun. We laugh till we cry every time.
Use a dance app (your kids will know what I'm talking about) that teaches the moves, records you, and then adds music and special effects.
Keep with the Valentine's theme by choosing a love song you all know and like.
2. ADOPT AN ANIMAL TO LOVE
When was the last time you went to the zoo?
Use this Valentine's Day to share some love with the animals. Some zoos allow you to get close up with cuddly creatures. What could be more app than cuddling a koala on Valentine's Day?
You might even be able to adopt an animal which means you can keep on loving well after the zoo visit.
3. HAVE A CHOCOLATE FOUNTAIN
We love our bright pink chocolate fountain. It isn't Valentine's Day if we don't dust it down and use it.
There is something about decadent chocolate that matches perfectly with a day focused on love.
Don't worry if you don't have a chocolate fountain, instead make hot chocolate and dip in pieces of chocolate so they go all gooey and delicious.
4. SUNRISE OR SUNSET
It doesn't matter which!
Both sunrise and sunset are beautiful times of the day that symbolise love, life and beauty.
Snuggle up and watch the sun do its performance while you talk about what and who you love most in the world and why.
5. BREAKFAST IN BED
Breakfast in bed makes the perfect start to the day.
For years my girls loved preparing brekkie in bed for me. It was a bit hit and miss I can tell you. The most memorable year was when they put baby beetroot in the fruit salad instead of grapes.
Now though, my teens and I snuggle up with a pot of coffee and toast. It is much easier and you know what you're putting in your mouth!
6. PICK WILDFLOWERS
It all sounds a bit Anne With An E, but we love picking wildflowers and it's a perfect thing to do with your kids this Valentine's Day.
You can walk down a road and not notice one flower until you look for them.
For better pickings (excuse the pun) head to a leafy area such as a park or woodlands.
7. COOKING AND BAKING
How about spending a few happy hours in the kitchen with your kids on Valentine's Day?
Make sure you stick to Theme Love and incorporate lots of hearts, pretty pinks and yumminess into your cooking.
If you time it right, you can eat what you make for dinner which means one less meal to make. Winner.
Get ideas and easy recipes here: 10 Valentine's Day treats to make with the kids.
What to do with my kids this Valentine's Day?
8. WALK UP A MOUNTAIN
There is something about walking up a mountain that is really wonderful compared to a flat walk.
It's the climb that gets the adrenalin pumping, the achievement of reaching the top, and then the reward of spectacular views.
This is a super healthy Valentine's pursuit if you have active kids and a local mountain walk they will do without too many moans and groans. Don't forget to give them a big, fat cuddle and tell them you love them when you reach the top.
9. HIGH TEA
High tea is a very elegant and romantic affair. Those delicate sandwiches and the cute little cakes.
If you want to go out for high tea, book early as lots of people might have the same idea for Valentine's day. Or you can make your own at home as we do. Head to your local op shop for a cheap tea stand and old-fashioned tea cups. Then just add sandwiches with the crust cut-off and some shop-bought cakes and you're ready to go.
Pinkies out everyone.
10. VALENTINE'S CRAFT
Valentine's is an ideal time to get crafty with your kids.
Suggestions from me include decorations to adorn your house, homemade jewellery or Valentine's cards for secret loves.
I still have art we made on Valentine's Day years ago, it makes my heart melt.
For more love-focused art ideas see: Kid's Valentine's craft ideas to make with love.
11. MAKE MOCKTAILS
You can't beat a mocktail to celebrate a special occasion. As someone who has been proudly sober for two years, I am the master of this alcohol-free decorative drink.
You'll find lots of ideas for mocktails online but add your own twist for Valentine's. Think fizzing sherbert, fairy floss, strawberries and love heart lollies.
12. LOVED-UP MOVIES
Life is hectic so I jump at any opportunity of a movie marathon with my kids. It's a great way to get your cuddle quota on Valentine's Day.
Here are my suggestions for great kid's movies with a love/Valentine's theme:
Gnomeo and Juliet

Enchanted

The Lady and the Tramp

Shrek

Up

See here for suggestions from others
Round it off with a big box of chocolates to share. It's Lindt Lindor all the way for us but get whatever takes your fancy … it is Valentine's Day after all.
13. A SPA SESSION
Nails for the girls and a massage for the boys? You can't beat a bit of pampering on Valentine's Day.
Treat yourself to an in-store service or, if money is tight, pamper yourself at home for almost nothing.
My girls and I went through a phase of doing face packs. Just trying not to laugh while they are on is enough to make you cry with laughter. My nephew loves them too, so don't leave the boys out.
14. GO THROUGH OLD PHOTOS
Spend a few lazy hours on Valentine's Day going through old photos with your kids.
They love seeing pics of themselves from when they were little. Tell them all about times gone by with a focus on how loved they have always been.
We thoroughly enjoy going through our old albums and my girls love me re-telling the same stories. There is something very nostalgic and love-filled about reminiscing on times gone by.