Housework. No one really likes it do they? And, with kids, the fruits of your labour can be so short-lived.
What if we were to tell you that you could clean your home to a sparkling standard in a fraction of the time?
Not only would it be less work for you but it would free up valuable time for other more important pastimes, like playing with the kids or chilling with a cuppa and good book.
So, if you're keen to cut the stress, the time and the mind numbingly boring effort of cleaning your home, keep reading. Here are ten hacks to get the housework done faster.
Further reading: Online fabric stores Australia: Our pick of the best.
1. Vacuum your cabinets.
That's right. A vacuum cleaner is not just for floors. It's a genius gadget if you want housework done faster. Can't reach corners and other areas in your cabinet? Use your vacuum's brush attachment to scoop up loose debris, crumbs and dust easily. Then use a damp cloth with oil soap to clean the outside of the cabinet.
2. Banish pet hair with duct tape and dryer sheets.
Clean pet hair fast by using paint roller and duct tape. Wrap the duct tape (sticky side out) around the roller and work it over the area. For furniture and solid surfaces, use a dryer sheet to pick up loose hair quickly.
Skip the vacuum and a use microfiber dust mop to keep your hardwood floors fur-free. Clothes, towels and blankets covered in pet hair can go in the spin dryer for a few minutes. This will collect the hair in the lint trap. A super sticky lint roller does a great job of removing any remaining hair.
Keep on top of pet hair around your home by learning everyday tips to remove pet hair easily, preventing it from becoming a big, time-consuming cleaning job.
3. Clean your ceiling fans with a pillowcase.
This one is similar to the sock hack. Use a pillowcase (a bigger version of a sock) to clean your ceiling fans quickly and get housework done faster. Slip a pillowcase over one fan blade at a time and wipe. The best bit is that this will keep dust in the pillowcase and off the floor.
4. Steam your tiles.
A steam cleaner is one of the best cleaning gadgets you can invest in. Steam cleaners are the power tools of tile cleaning: they remove dirt AND disinfect surfaces without the use of harsh chemicals, which can damage your beautiful tiles. Unlike a regular mop, a steam cleaner absorbs dirt much more quickly and is handy for touchups when you're in a rush.
For the best result do your research on the best way to steam clean tiles. This includes making sure the brush attachment of your steamer fits the type of tile and grout that you have. Start by cleaning the area to get rid of excess surface scum and residue. Work on a small section at a time (clean top-down for walls) and rinse away dirty water before it settles back into the grout.
5. Bust dust with baby wipes.
One of the secrets to housework done faster is baby wipes. Baby wipes are just damp enough to dry very quickly … perfect for when you're in a hurry to remove a fabric stain. And what's gentle on a baby's bum is also gentle on surfaces! Try baby wipes next time you are spot cleaning rugs, fabric, upholstery and walls.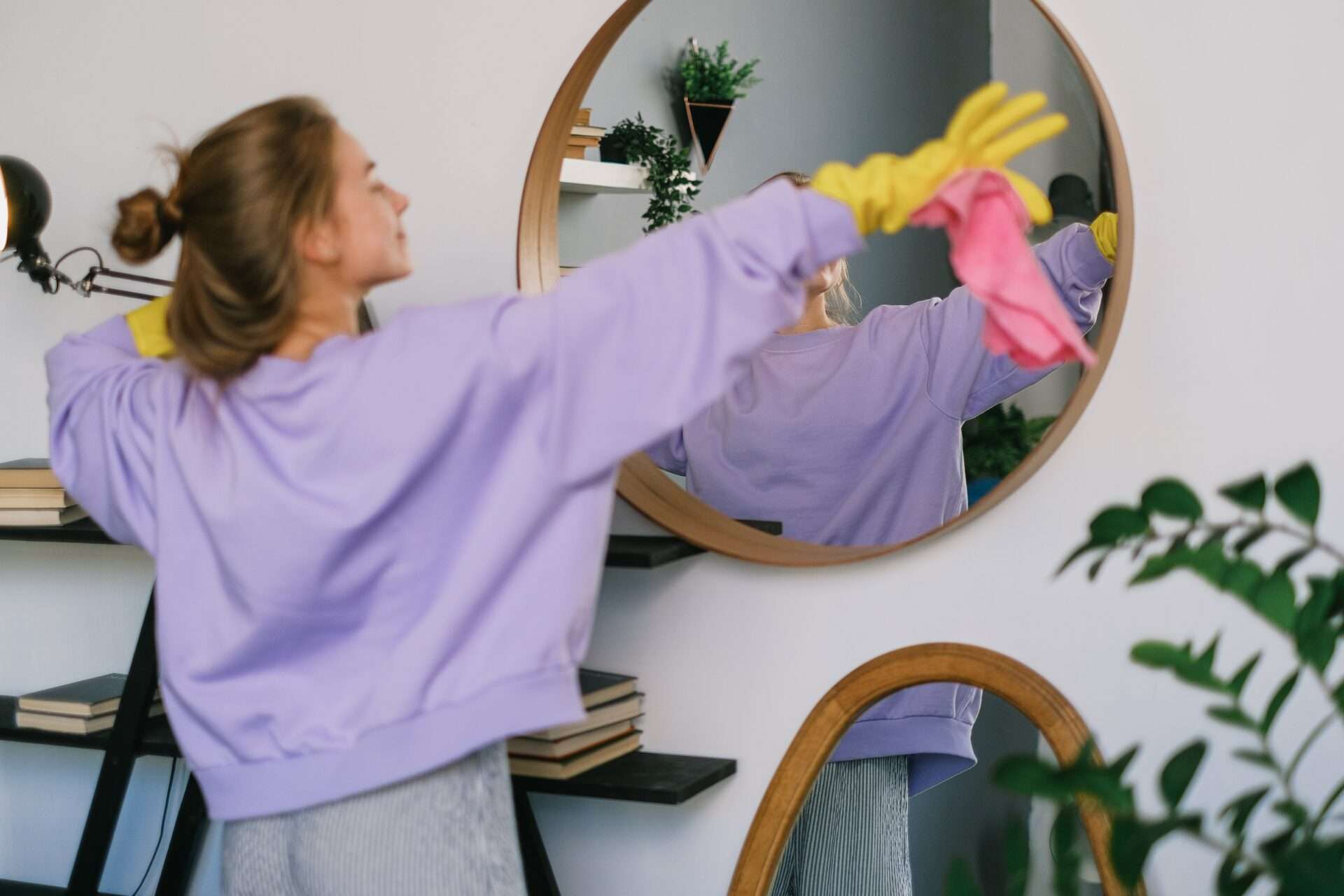 6. Jump on the mattress!
Or have your kids jump on it. This will dislodge dirt inside the mattress that clings to the coils and fabric, dirt that's normally difficult to shake out. After a good bounce, vacuum the top of the mattress. If you have time for a deep clean, use the upholstery tool on your vacuum to go over the sides and box spring, and the crevice tool to draw out dust from seams and corners.
7. Use rice to clean cloudy glass.
Glass vases and jars can become grimy over time. Bring back the shine with the help of uncooked rice. Fill the vase with warm water and uncooked rice and give it a vigorous shake to remove dirt. Then fill with hot water and drop a dishwasher tablet in the vase. Leave to soak overnight before rinsing.
8. Clean it with Coke.
Coca-Cola is versatile when it comes to helping you get housework done faster. Coke contains phosphoric acid, a substance that gives coke its characteristic flavour. It's also strong enough to remove rust! Use coke to clean your kettle, toilet and rusty tools.
Simply fill the kettle with coke, bring to a boil, and leave for 5 minutes. For rusty tools, soak the item in Coke for between 20 minutes and 24 hours, then rinse. To remove toilet bowl stains, pour cola on the surface and leave for 5-6 hours before flushing.
9. Clean your blinds with socks.
Instead of the trusty duster, use socks to clean horizontal slats on blinds in no time at all. Put a damp sock in your hand and grip one slat at a time. Slide your sock-covered hand over each panel, from one end to another, to remove dust and dirt. Socks are smart because you remove dirt from both sides of the panel at the same time. Talk about housework done faster!
10. Use a paint roller on your ceiling.
Ceilings can be tricky. Those textured ones look amazing but take forever to clean. The usual way—using a long-handled broom—does the job but it can damage the ceiling material and dislodge pieces if you push too hard. Swap your broom for a paint roller instead. Swipe a damp paint roller (choose one with a tall nap for efficient cleaning) over the ceiling to remove dust and cobwebs.