If you are in the process of researching best value washing machines, there are many factors to consider, including price, efficiency, capacity, and durability. You want good value, but you also need a quality machine that won't let you down under pressure!
It's great that there are so many options available on the market. However, knowing which washing machine offers the best value for money in the long term can make it challenging.
This article provides a comprehensive guide to the best value washing machines in Australia 2023, both top-loaders and front-loaders. Keep reading to find the perfect machine for your budget and washing requirements.
The difference between top loaders and front loaders
Drum capacity
Top loaders have an edge when it comes to drum capacity. Front-loaders tend to perform worse with heavy loads, and you should take extra care not to overload your machine. For front-loaders, you should wash lighter loads instead. This would take more time compared to washing using a top-loader.
Cleaning performance
Front-loaders take the cake when it comes to cleaning performance. Consumers, reviewers, technicians, manufacturers and retailers agree that front-load washing machines tend to be better when it comes to both stain removal and water removal. This is because the wash motion is better than top-loaders, making the mechanical action more effective.
Loading and unloading
When it comes to loading and unloading, top-load washing machines are better than front-loaders. For many people, especially the elderly, find top-load washing machines more comfortable, since they don't have to bend over to unload the wash. Manufacturers do make pedestals to make loading and loading better for top-load users, but these incur additional costs.
Noise
Front-loader washing machines tend to be quieter. They also cause less vibration compared to top-loaders. The agitator used in top-load washing machines is often louder than the mechanism used in their counterpart. If your laundry area is near bedrooms or living areas, look for the anti-vibration feature, which would make your top-loader quieter, or opt for a front loader.
How to assess if a washing machine is good value for money
Price comparison
A primary factor to consider when searching for the best washing machine is the price. Of course, as a mum, you want to choose the best value for your hard-earned money. Look at different models within your budget and study their features. You will find that many features are similar across brands (e.g. wash programs, eco modes, child lock), so look for one that have the features you need but without breaking the bank.
Eco features
Different washing machines have different eco features. If carbon reduction benefits are important for you, consider what it is you want to priorise. Using less detergent? Less water? Or finishing the load quickly to consume less electricity?
However, note that eco mode can have disadvantages when it comes to performance. You might want to take a look at both pros and cons of eco settings.
Energy efficiency
Related to eco features is energy efficiency.
Simply put, your appliance should get the job done while conserving electricity.
Many appliances nowadays come with Energy Star rating, which you can use to check the energy efficiency of your washing machine. Basically, an Energy Star certified washing machine will be better for finishing your laundry in less time or at a lower temperature. This means it is better for avoiding higher electricity bills.
Water usage
Another important factor to look into is how much water your machine needs to finish a cycle. This is important if you want to save money in your water bills.
An easy way to check the water efficiency of your machine is if it is Energy Star certified. An Energy Star certified washing machine consumes 14 gallons of water per load, compared to standard washing machines which need 20 gallons per cycle.
Durability
Durability, or the average lifespan of a washing machine, is another important consideration, especially in terms of reducing resource consumption and waste production.
The average life of a washing machine today is 10 to 13 years. You want a washing machine that will live up to its expected life span or even more so you don't have to buy a new one every few years.
Maintenance
The final factor to look out for when researching best value washing machines is the availability of servicers and parts suppliers in case there are issues in your washing machine.
Make sure that critical parts are available locally so it can be easily replaced when necessary. Most of the washing machines listed in this article have a warranty of at least two years, so check if the merchant is in your locality and able to help if issues arise.
Our pick of best value washing machines in Australia 2023
Front loader washing machines
With a washing capacity of 7.5kg, an energy and water rating of 4.5 stars, and energy consumption of 230 kwh/year, Hisense 7.5kg Front Load Washer is a dream washing machine. Aside from being aesthetically beautiful, this stainless steel washing machine has 15 incredible programs to choose from and steaming function. I personally love its Baby Care Steam feature, giving new mums peace of mind when it comes to washing their kids' clothes.
Buy from BING LEE
This beauty – which comes in black and white – has a capacity of 8kg, with 16 wash programs with LED display, a built-in timer for up to 24 hours, and a water and energy rating of 4 stars. I love the smart-pausing feature, which allows me to add clothes in the middle of the cycle. It also has a child lock and anti-flood devices.
Buy from Kogan.com
The key features of this washing machine include Anti-Bacterial Treated door seal and detergent dispenser, buttons in LED display, and spin speed of 1200 rpm. With 4 star energy rating and 4.5 star water rating, its 16 program cycles make sure you're able to properly care for different types of fabric. It also has child lock and speed up wash option for when something urgent pops up.
Buy from JB HI-FI
If minimising your impact on the environment is your top priority, then Esatto 5kg Front-Load Washing Machine could be a great choice for you. Although its capacity is relatively low, it still has 15 wash programs to help you take care of different types of fabric. For heavily soiled garments, there's also Pre-Wash and Extra Rinse functions to make sure your laundry is extra clean.
Buy from APPLIANCESONLINE
When it comes to washing machine, Euromaid has been an industry leaders for years. Because of this, this model is on the pricier side, at least in comparison to others in this list. If you have the money to spare, it has a capacity of 8.5kg, with 15 programs to take care of different types of fabric and 6 auxiliary functions. It has a maximum spin speed of 1400 rpm, making the machine super quiet.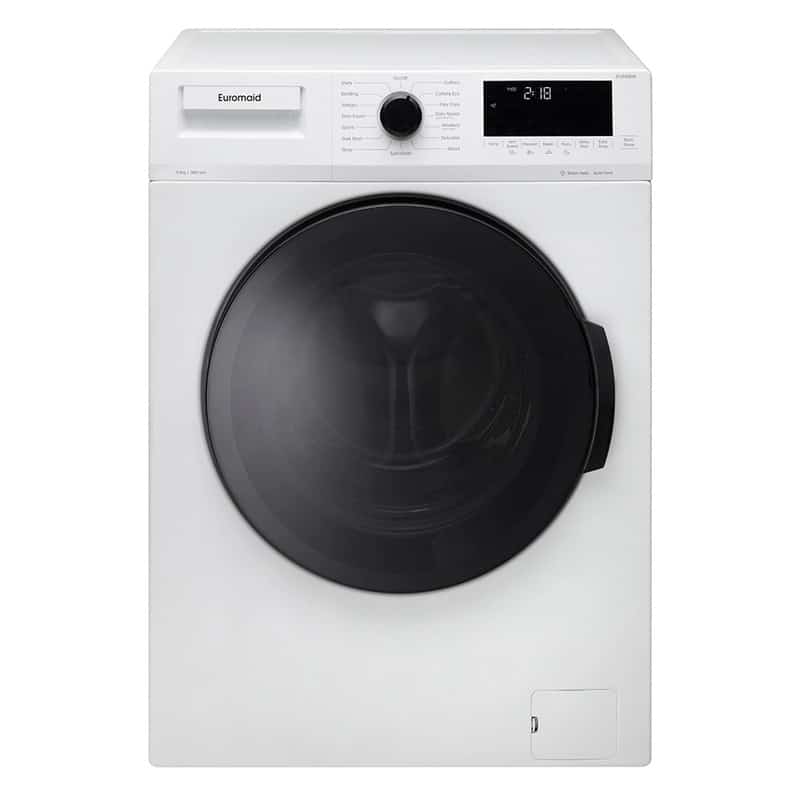 Buy from MYDEAL
Top loader best value washing machines
Need a washer with a massive capacity? Look no further than Kogan 10kg Top Load Washing Machine. It has 6 wash programs, 8 water level settings plus 9 water power levels. I personally love the memory function and fuzzy logic control. It also has child lock protection from the curious little ones.
Buy from KOGAN.COM for $479
Samsung's 9kg Top-Loader is on the more expensive side, yes, but Samsung is also one of the most trusted companies when it comes to appliances (and more!). Along with its large capacity – a whopping 9 kg! – it has a magic dispenser, magic filter, and quick wash cycle. I especially love the quick wash cycle, which finishes 2kg of laundry in a matter of 39 minutes! It also has vibration reduction technology that makes it a super quiet machine – perfect when your laundry room is near a bedroom or living room.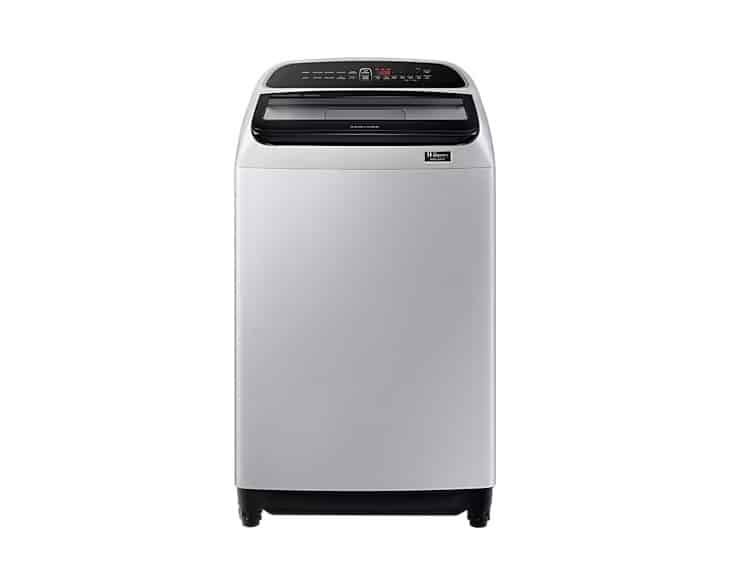 Buy from BING LEE
You would love the automatic load-size and water-sensing function of Haier 6kg Top Loader. The model boasts of being gentle for clothes, with its gentle pulsating wash action that uses less water than conventional machines and reduces abrasions and tangling. But what I love the most is its advanced auto-balancing technology which corrects unbalanced wash loads.
Buy from BING LEE
One common issue when it comes to washing machine is door size. Euromaid 8kg Top Load Washing Machine solves that with its extra large opening, making it faster to finish your laundry in one go and easier to load bulkier items. Although the model is also a bit more expensive than other washing machines, it successfully merges traditional design with modern convenience. Euromaid is also incredibly quiet, compared to most top-load machines.
Buy from APPLIANCES ONLINE
Last on our list of best value washing machines, this top-loader from Carson has a massive capacity of 9kg, easy to set up, and has great wash features. It has 8 wash programs, including a mode for children's clothing and anti-crease. My favourite thing about this washing machine compared to others in the list is that, despite its large capacity, it's still sleek, so it will fit even in smaller laundry rooms.
Buy from DICKSMITH