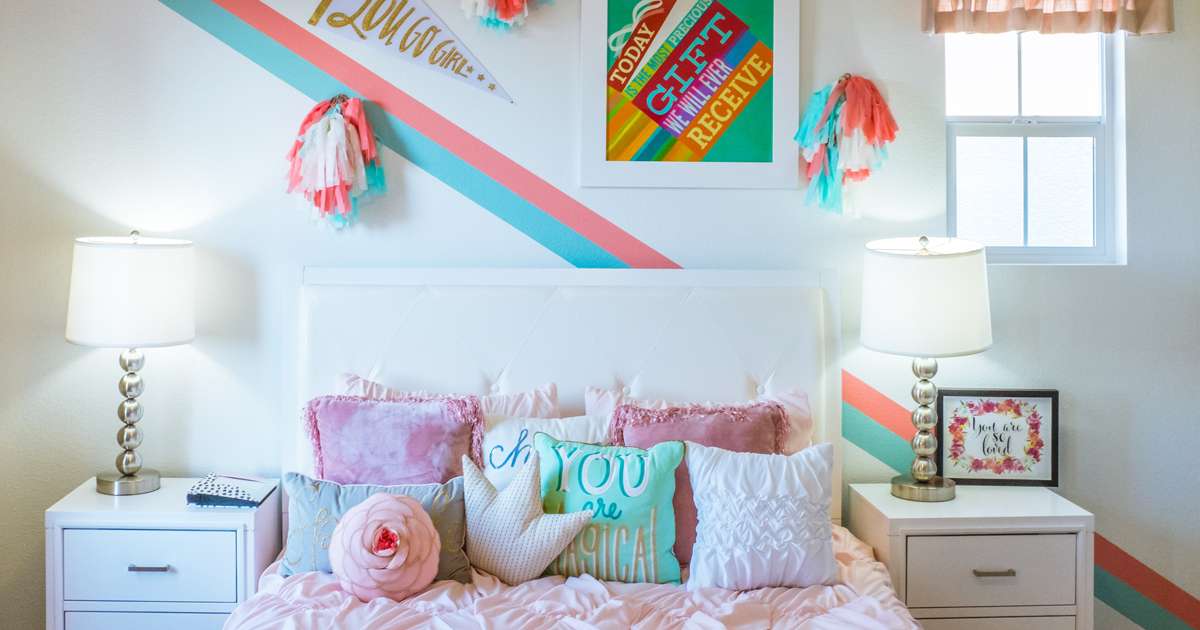 This article about bedroom ideas for little girls was last updated in 2022.
Are you decorating your daughter's bedroom and need inspiration to create something she will completely LOVE?
All little girls are different and you'll want to find something just perfect.
To get you started here is our list of bedroom ideas for little girls.
1. UNDER THE SEA
An under the sea theme is one of our top bedroom ideas for little girls. It's fun, it's classic, plus there are mermaids! And what little girl doesn't adore mermaids? This look is really easy to pull off and totally affordable especially if you're a DIYer. Even if you're not a crafty mum, plenty of online stores sell paint and supplies for cheap (Etsy, Amazon and eBay are some of our faves).
The focal point of this room is the pretty clamshell headboard, which you can buy on Etsy. Or cut the scallop pattern out of wood or thick cardboard and slap on some pink and yellow paint. The rest is just underwater themed décor. Get some fish/coral decals, quirky table lamps, and bed cover in aqua, lavender and purple hues. Finally, hang up some nautical prints on the wall and arrange coordinating pillows on the bed.
Image Source: Pinterest
2. FOR THE FROZEN FANS
Frozen is here to stay, and us mums should accept it and move on. We love this bedroom idea for little girls because you can go crazy with the theme or keep it subtle and classy, it's totally up to you. For a look that's true to the Disney movie, grab some Frozen decals and merchandise (sheets, pillowcases, plushies) from your favourite shop. Or make your own décor from craft store supplies.
Start with a giant foam snowflake on the wall directly above the bed with smaller snowflakes scattered here and there. Hanging paper snowflakes are also a great option. For a subtler take, paint the room in ice blue colours with a deeper colour for the accent wall. Keep the snowflakes, but go easy on the prints. Choose minimal but coordinating bed linens, pillows, and accessories. Hang one or two Elsa prints on the wall to complete the look.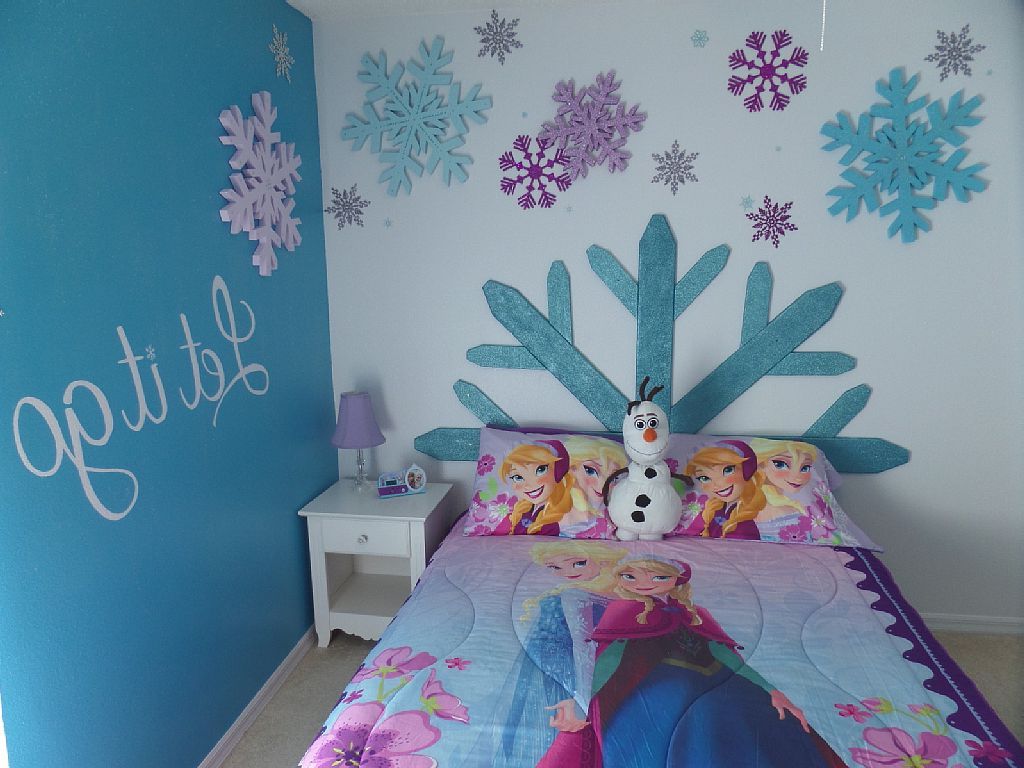 Image source: Home BNC
3. FLOWER POWER
A floral theme always looks amazing in girls' bedrooms whether they are 4 or 14. Flowers are pretty and will always be one of the classic bedroom ideas for little girls. It's also a flexible theme that lets you go minimal, maximal or eclectic.
To get the look below, paint the walls in soft pastel or warm neutrals. Get some decals and fake flowers from the craft store and arrange them over the bed in a branching pattern. Or skip the work and just put up pretty floral wallpaper for the accent wall. Decorate with big lanterns, dolls and pastel accessories
Keep the bedroom furniture coordinated. Choose complementary tones like the wooden bed and nightstand in the picture. A white metal bed frame and pastel accessories would also work. Finally, choose bed linens that match the flowers on the wall.
Image source: Deavita
4. OVER THE RAINBOW
Brighten up your little girl's bedroom with pops of colour and a fun, fabulous rainbow as the focal point. Kids love bright and happy hues, and this is the best way to add life and cheerfulness to an otherwise bland space. A rainbow looks best on white or neutral walls, but feel free to add a bright or dark accent wall. A chalkboard is perfect for a playroom!
The room below keeps the focus on the rainbow with simple furniture and clean lines. Notice the understated pattern on the bedding and colours that don't take away from the main wall. Many online shops sell peel and stick rainbow decals like this one that won't damage your walls.
If you're a 'more is more' kind of mum, you can get away with key statement pieces if you keep the rest of the furniture simple and the walls muted. Add colourful garlands and bright paper lanterns that look great on white paint.
Image source: Deavita
5. TOM BOY
Looking for bedroom ideas for little girls that are not ultra-feminine? This beautiful room with plaid wallpaper, animal accents and a cute teepee is just the thing. The muted walls, carpeting and décor really make the blue pop.
Check out the animal plushies on the wall, simple furniture, and the play on texture. We love the inviting corner space with the tufted sofa, pile of pillows and the little shaggy pouf that's perfect for reading and relaxing.
To make this look your own, use your child's favourite colour for the walls or wallpaper and work around that main hue when picking your accessories. If she's into outdoorsy stuff or athletics, decorate with nature prints, sporty decals and matching plushies. If she's a science nut, get star decals, bedding with solar system prints, and fun science posters.
Image source: Dear Lillie Blog
6. PARIS LOVIN'
It's never too early to introduce your daughter to Paris. Paris is right up there with florals when it comes to our favourite bedroom ideas for little girls. It's a classic theme that you can play around with and really make your own.
The bedroom below is quite a literal take and perfect if your child loves pink. The stripes, polka dots and black details (check out that awning!) are super adorable. To get this look, paint vertical stripes on the walls in alternating dark and light pink or use similar wallpaper.
Use pink and black bed linens, rugs and curtains, and pile on the cute pillows. Plastic flowers or feathers in a vase also add to the charm. We love the chandelier and the bedframe that tie the room together. You can get these for cheap on eBay or Facebook Marketplace. The rest of the décor is easy to find online.
Image source: Pinterest
7. BEAUTIFUL BUTTERFLIES
A list of bedroom ideas for little girls won't be complete without a butterfly theme. Like the rainbow room, this theme works great on white or neutral spaces that show off the brilliant colours of the butterflies.
The room below is one of the easiest to copy. Put up big butterfly decals on the wall above the bed or use hanging butterflies, and get matching bed linens and pillowcases. The big oval rug, side tables and lampshades in light pink are pretty but don't distract from the main theme.
This look works whether you have Ikea furniture or something more ornate. You can keep the colours muted or choose brighter shades for a more vibrant look. But make sure to play off the colours against something neutral to avoid overwhelm.
Image source: The Canvas Factory
8. ENCHANTED FOREST
The woodland theme is still going strong as shown by this amazing enchanted forest bedroom. We love everything in this room. That bed, the canopy, the textures, the copper and blue shades…it's just perfect for tomboys and younger girls who love animals and nature.
The trendy bed with the canopy is the focal point here. You can DIY it or get it online on kids furniture stores (check FB marketplace for bargains). No worries if you have a regular twin bed, it's all about accessorising. Get animal plushies and cute pillows in warm or neutral colours, and decorate with texture. Think woven rugs and baskets and wooden toys. Don't forget the woodland wallpaper for the accent wall.
If you want to customise and make it your own, keep the walls and furniture neutral and use your little girl's favourite colours. If she likes yellow, use different shades of yellow for the décor and accessories.
Image source: Kids Interiors
9. PRINCESS PALACE
A little princess needs a bedroom that's fit for royalty. This room is a subtle take with the pastel walls and bed linens, but you can easily go all out Disney or sophisticated luxury. We like a sophisticated take on the princess palace with purples and pinks offset by neutral walls and statement decor.
To get this look, choose white or pastel furniture if you want colours to stand out, or keep the colours light if you have dark furniture. Dress up the wall above the bed with purple drapes and lanterns on a string. Add personalised wooden letters on a shelf or stick name decals on the wall.
Then pile on monogrammed or name pillows on the bed and choose a dainty quilt with a skirt. The oval mirror on the wall is straight from a fairy tale, but a bigger standing mirror also looks elegant and makes the room look bigger.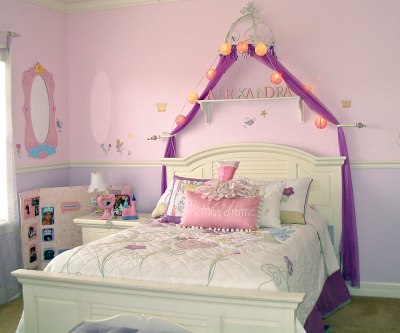 Image source: TrendeDecor
10. SURF SISTER
A fun nautical theme completes our list of bedroom ideas for little girls. Whether you live on a waterfront block or in the middle of an urban jungle, bringing the ocean indoors is always a good (and relaxing) idea. For little girls who love the surf, the bedroom below is perfect.
Get this look by starting with a white room and adding textured wainscoting. Keep the furniture clean and simple and dress it up with bright bed linens and cute pillows. Decorate with colourful hanging beads, plushies, surf-themed posters and a surfboard.
This theme also works great with boho chic décor and accessories. Think textured poufs, woven rugs and curtains with tassels. Add lots of plants to liven up the room…fake ones look just as great and require zero maintenance!
Image source: Pottery Barn Kids

Got a little girl you need to plan a birthday bash for? Take a look at this article: How to plan, affordable kids birthday party.