Motherhood is a hard gig. As a mother, it is quite natural to feel overwhelmed with your "momming" job from time to time. One wonderful place to blow off some steam, and also connect with people that can relate with your struggles is the gram! 
As a woman, it's easy to question your abilities, especially when it comes to taking care of your children or acting as a  caregiver. And while Social media can make it hard to escape negativity and unnecessary comparison, it can also open your eyes to better ways of balancing your mom duties with your personal well-being and happiness.
There are several experienced and highly educated women on Instagram serving hot tips and tricks  on how to make your mom life more enjoyable. These Instagram pages stay on top competition by providing all the support, inspiration and positivity motherhood deserves. 
Here are ten great mom accounts to follow on Instagram. All these accounts can help you learn a thing or two about motherhood.
10 Mom Pages to Follow on Instagram in 2022
Here are 10 great mom pages we highly recommend you to follow on Instagram in 2022.
@thebirdspapaya – Sarah Nichole Landry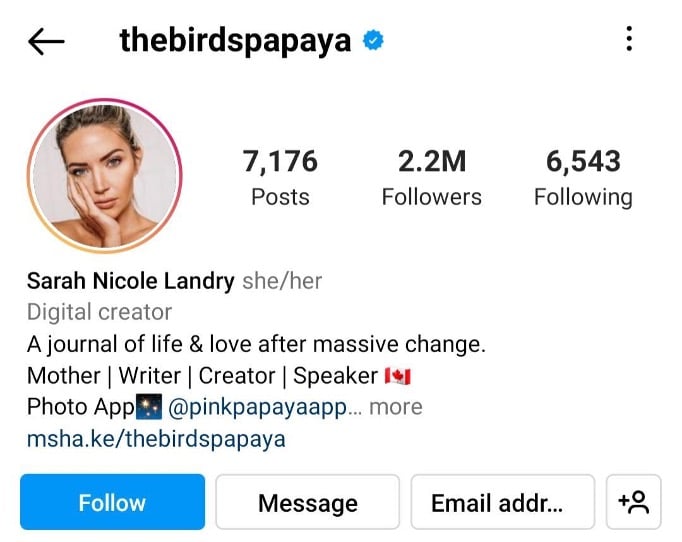 Image from Instagram 
If you are looking for compassion, acceptance and honesty in your motherhood journey, then this is the page to follow. Sarah provides an in-depth look into her life, citing all the changes – good and bad – she's had to experience through the years.
She talks about important issues that affect women, such as new relationships, childbirth, divorce and the everyday responsibility of raising your kids. Sarah not only gives an insight on how to tackle these challenges, but also tells us how she embraces them. She is very accepting of her postpartum body, praising its strength, beauty and experiences while encouraging mothers to do the same.
@averageparentproblems – Illana Wiles
Image from Instagram 
If you love people who are brave enough to say exactly what they are going through, Illana Wiles would be an enjoyable acquaintance to make. She's a mother of two living in New York City. This iconic woman offers you premium parenting content laced with plenty of humour.
She has several videos and pictures on her page  @averageparentproblems, showcasing regular mom problems and some of the things her kids get into. Her account currently has 465k followers, which is no surprise. After all, she inspires many other women to embrace the joy of motherhood. She's certainly a mom to follow.
@mommy.labornurse
Image from Instagram 
This Instagram page is run by a labour and delivery nurse who happens to be the mother of two.  This mum influencer  loves sharing her experiences with kids and childbirth. She not only provides great entertainment with hilarious quotes and memes, but also shares important information about pregnancy and childbirth.
Mommylabournurse has impressive content on her highlights section. She also features several enlightening lessons mothers can follow. If you need some expert advice on motherhood, she's your girl.

@meg.boggs – Meghan Boggs
Image from Instagram 
Meghan Bogg's page focuses on the trials of motherhood. She preaches body positivity, encouraging women to love  themselves even after a tenuous childbirth period. Some accounts buy Instagram views, but Meghan is not one of them.  Her posts are genuinely impactful and people are happy to view and share them.
Megan is not only the embodiment of what she preaches, but she is also actively involved in empowering other women online to embrace their situations.  In a bid to further this cause, she has partnered with other mom accounts on Instagram like @theperfectmom, @thebirdspapaya, @katiemcrenshaw, and @thegarciadiaries.
@goodfortheswole – Becky
Image from Instagram
If you're into putting the work in after having a baby, then this Instagram account is certainly for you. Becky is a Spin Instructor and Pre/Postnatal trainer with a page that offers valuable insight on what you should be doing after giving birth. 
She shares numerous workout tips and videos for mothers. Interestingly, most of these workouts can be done from the comfort of your home. 
Becky also excels in giving parental advice, most of which are based on her experiences raising her two kids. For those mothers looking for a mix of fitness motivation and motherly advice, here's your page.
@shalicenoel – Shalice Noel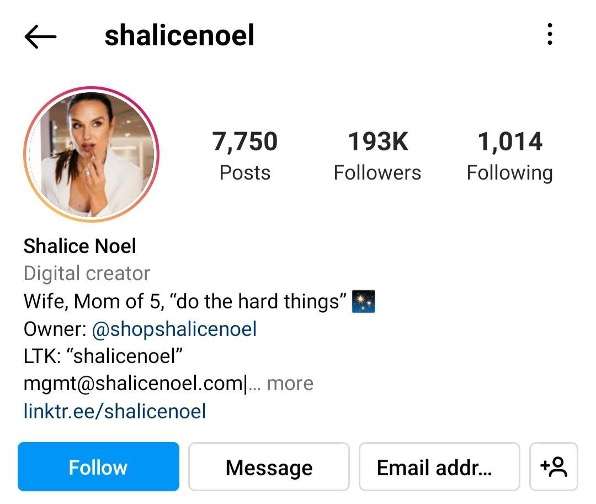 Image from Instagram
Shalice Noel is a popular Instagram sensation known for her mum-based content. She is a mother of five children and her page provides posts on motherhood, fashion, travel, decor and more. 
Shalice provides unique How-To videos for managing your kids, styling your kids room and even what outfit to wear when you travel. Her account has over 190k followers where she creates different content mothers will adore.
She loves her kids, loves her work, and loves sharing all the positives being a mother has to offer. Shalice is waiting to  impact and inspire you positively, so give her a follow.
@mother.ly
Image from Instagram 
Mother.ly is an online community created to offer expert advice and mom-to-mom inspiration to various mothers when they need it. In this Instagram community, several women come together to share their story. They also share tricks they've used to handle the demanding life of motherhood.
Their Instagram account offers uplifting experiences and provides links to podcasts. As if that's not enough, they also run a shop where mothers can purchase different baby and female products. 
The page isn't short of entertainment. They feature exciting videos, captions and memes about motherhood and family care.
With over a million followers, mother.ly is a safe space for mothers worldwide to share their experiences, and connect with other mothers.
@somethingnavy – Arielle Charnas
Image from Instagram 
This page is run by a New York City-based blogger known for entertaining her audience with fashion advice. She has been managing this account for over a decade, but recently, she dedicated a section of her page to giving motherhood advice.
Beyond merely giving motherhood advice, Arielle Charnas, a mom to two kids, Esme and Ruby, also talks about body positivity, inspiration, and how to make kid-friendly meals.
With over 300k followers on Instagram, Arielle adds an element of humour to her posts to help women at different stages of motherhood.  She is a devoted mother and a style icon who you should definitely follow.
@juna.moms – Juna Moms
Image from Instagram
Juna moms is an Instagram community founded by a mom struggling to balance back-to-back pregnancies with her everyday life. Currently, the Instagram account is a multi-faceted community equipped with self care solutions, nutrition and workout routines for mothers in any postpartum or pregnancy stage.
They have a pregnancy fitness app, which can be accessed on the Instagram page. This app has many postpartum and prenatal workouts. The page also hosts a podcast for mothers and provides a safe space for various motherhood related discussions.
If you're looking for an ideal community to join on Instagram as a mom, Juna Moms is a perfect fit.
@takingcarebabies – Taking Cara Babies 
Image from Instagram 
This Instagram  account is run by Cara, a neonatal nurse and certified pediatric sleep consultant. She's also a mom of four kids married to a pediatrician. Cara provides great advice on baby routines like sleeping and feeding. She stands out because she has the insight of a professional and the heart of a mom.
Her contents provide a warm comforting feeling to moms and isn't short on laughs and a bit of fun. You can't go wrong with her feed.
Bottom Line
So, what do you think of these mom pages?  Did you find anyone worth your follow?
We think these pages are a great tool for all moms in 2022. They'll help you stay in touch with other mothers. Plus, these pages can introduce you to new mom-friendly products, recipes, and ideas. And who knows, you might make great friends too.