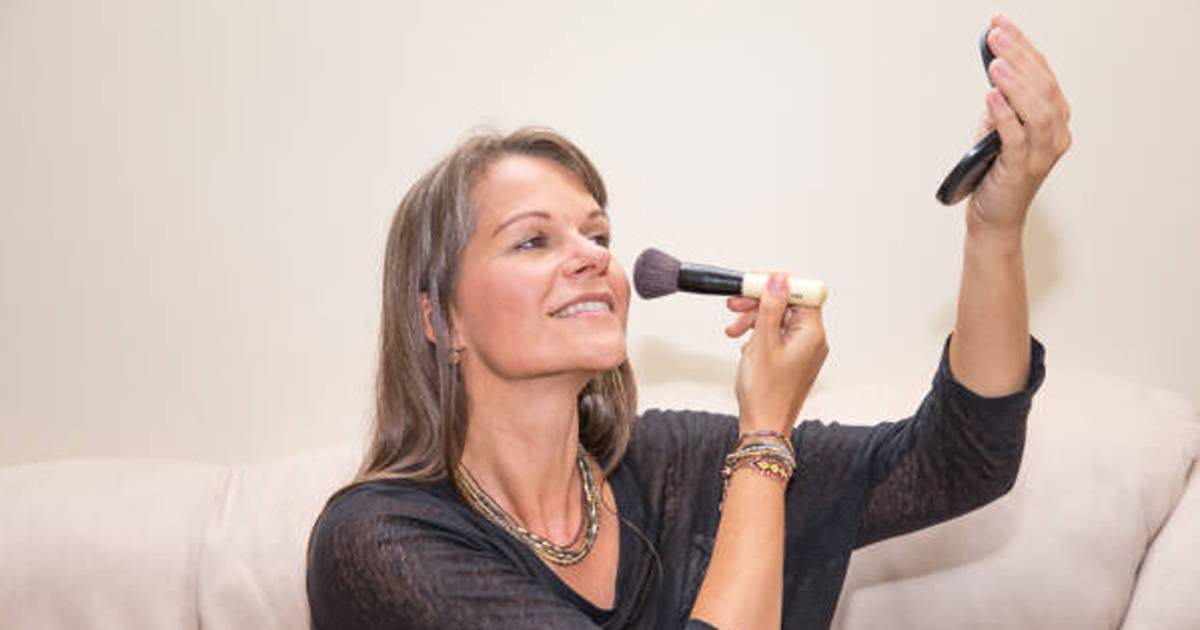 It's 8:30am and you've spent the last half hour trying to get your little ones to not only get ready for school, but to get along with each other. You're going to be late for work and still need to drop them off. Why won't they just eat the cereal you have in the house already?!? You're trying to find your shoes, you could have sworn you left them at the door last night.
'Don't forget to brush your teeth kids!' you yell as you pack their lunches into their favourite character backpacks. Looking down at those gorgeous cherub faces, you wonder if they did brush their hair five minutes ago like they told you they did, honestly, did they?
Does this all sound familiar? Who has time these days to get everyone ready and be on time and do your makeup?
You do, I promise.
Here are 5 steps to have you looking battle-ready in 3 minutes.
HOW TO DO YOUR MAKEUP IN SUPER FAST TIME
SKINCARE IS MORE IMPORTANT THAN FOUNDATION

Allow me to set the record straight about the powers of makeup. It can hide colour, but it cannot hide texture. It is more important that you look after your skin instead of trying to hide it with makeup. Cleanse, tone and moisturise. It's as easy as 1, 2 and 3.
Cleanse in the shower, use witch hazel from the supermarket for toner and moisturise your face, neck and décolletage. Use upwards motions with your fingers when applying product to your face instead of pulling down. This will help to deter wrinkles and sagging.
Time: 30 seconds (once out of the shower).
DEFINED BROWS FOR FRAMING YOUR FACE
If you want a good laugh, google people with their eyebrows photoshopped out. Whilst hilarious, these images also show how big of a difference eyebrows make to a face.
A brow pencil or crayon is a quick way to define your brows with control and precision. They are also easy enough to pack in your bag and do in the car mirror in the carpark if you need to.
If possible, tweeze stray hairs every few days. It keeps your eyebrows looking ship shape and saves on a need to have them waxed or threaded regularly.
Time: 30 seconds each brow.
COLOUR WASH FOR EYE POPPING BEAUTY
Colour wash is a simple eye shadow technique that stands the test of time dating back to the 1800's.
Apply the eye shadow all over the eye lid and lightly move it towards your browbone (the hard part under your eyebrow but above your eye). This technique works best with lighter shades of eye shadow. You can use colour to intensify your natural eye colour too.
If your eyes are:
Green or hazel= try soft pinks and purples
Blue = try peach or light oranges
Brown or amber = try soft greens, purples or golds
Extra tip: The foam applicators you get in eyeshadow palettes are useless. Grab an eye shadow brush from the makeup aisle for faster, smoother and more natural application.
Time: 30 seconds (for both eyes, not each).
MASCARA IS BASICALLY BLACK MAGIC
The key to looking awake when you're feeling half-dead. Mascara is the daily necessity.
When applying, move the mascara wand from side to side ever so slightly at the base of the lashes, then move upwards along the lashes. This will give the lashline a thicker look, which means you can cheat your way out of eyeliner – winning! Use the tip of the wand to get the smaller lashes on the inner corner of your eye (near your nose) and don't forget your lashes on your lower lashline (under your eye) to really create that wide open eye look.
Don't be afraid to apply more than once to really lengthen and thicken those fluttery lashes.
Time: 30 seconds each eye.
TINTED LIP BALM, BEST THING SINCE SLICED BREAD
Look at you, turning into the belle of the ball in a matter of minutes!
The final step is your lips. Create a luscious look with rose tinted lip balm. Many of the lip balm manufacturers have a tinted option or two to choose from. This gives you colour and moisture to keep your lips kissable and beautiful.
Even better, because it is tinted and not slid colour, you don't need a mirror to apply it, you can pop it on whilst the kids pile into the car. Genius.
Time: barely 10 seconds
There you have it my friends. You can go from bedhead to drop dead gorgeous in 3 minutes, as well as get the kids ready for school and be on your way to work.
Better yet, the more you do these simple steps, the quicker you will become, and you could even be pushing 2 minutes for application.