Stand-up desks are emerging in popularity as mindfulness, mental health, and physical well-being become increasingly important aspects of our daily working life. Using standing desks in your everyday routine may have a number of positive effects on both your physical and emotional health. One of the many benefits includes a drop in back discomfort, a decrease in the likelihood of weight gain and obesity, as well as an improvement in energy and efficiency.
To match your demands, you may choose between a high-end standing desk, an economical option, or something more refined and stylish. If you're heading back to university, you should think about using one of them for homework.
Despite this, it may be difficult to determine which of the many standing desks available in Australia is the finest. We've compiled a list of the top standing desks on the market to help you shift to a healthy work environment.
Fortunately, this post will outline the top 5 stand-up desks available in Australia for any budget, putting all of your concerns to rest.
Here are the Top Standing Desks In Australia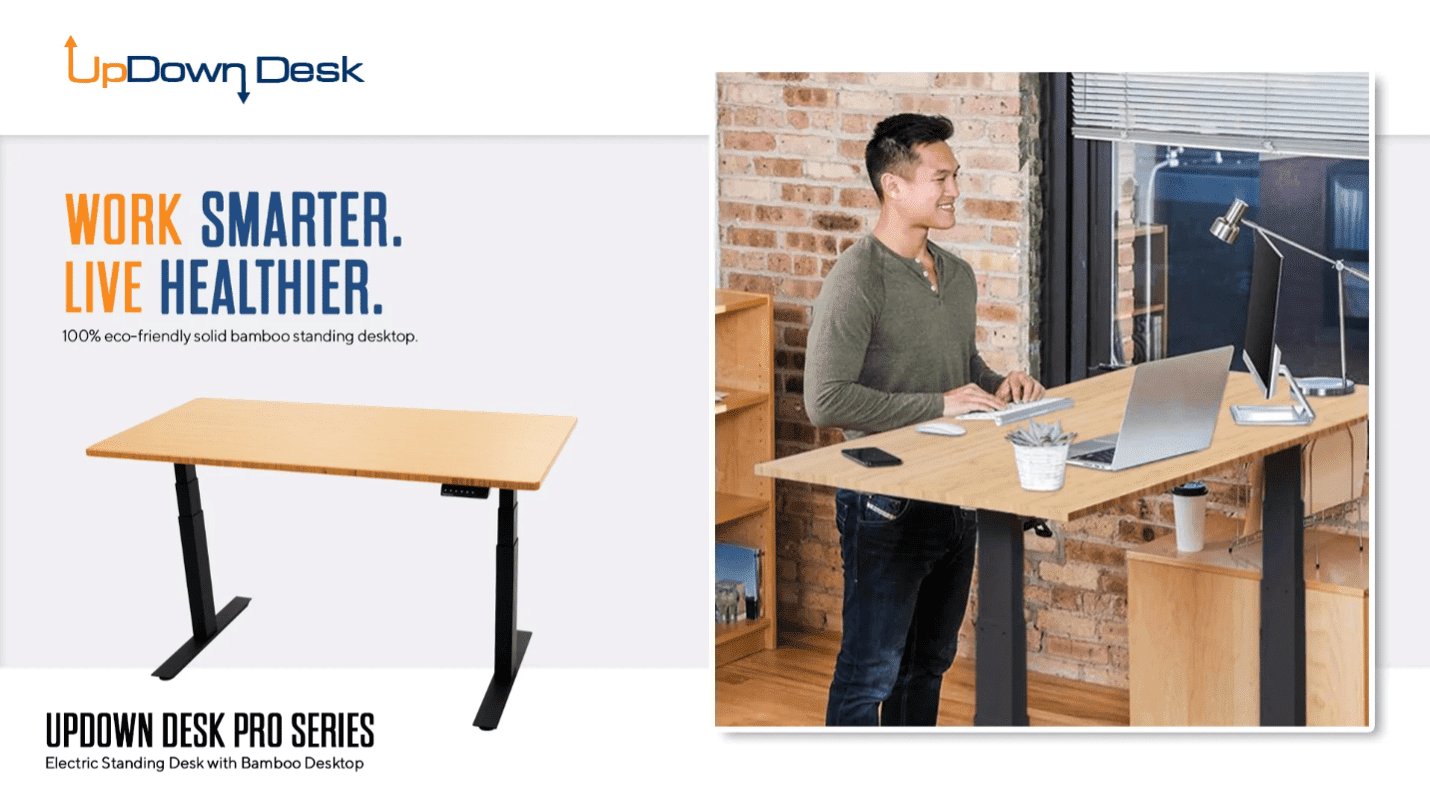 If you are looking for Australia's finest standing desk for 2022, The UpDown Pro Standing Desk is truly the best. It offers most of the customization possibilities in a sleek, well-made design. Electric standing desks don't get much better than this.
Pros
The desktop choices on this standing desk include Victorian Ash, Jarrah, Bamboo, Messmate, and hard-wearing Melamine board.
The Up Down Pro's biggest feature is its unbreakable build and style. Despite its little stature, the desks powder-coated steel structure emanates strength.
The features stack up very well versus the competition such as weight bearing, wobble and the amazing 10-year guarantee.
Its feedback in Australia is second to none.
Cons
The desks are high end and as such, so is the price.
(Zen space spotlight desk)
Based on the height-adjustable and professional Model Electric Lifting System, this magnificent Zen Pro real bamboo sit-stand desk is a true work of art. Zen is an additional Australian corporation headquartered in Brisbane. This firm may not be as instantly recognisable as UpDown, But its standing desks seem to stay out of the spotlight compared to its more renowned rival.
Pros
There is no instability when it is completely extended, thanks to the dual-motor raising technology of this electric standing desk.
The Zen Pro desk has a minimum height of 63cm, which is ideal for me. It reaches a maximum height of 125cm.
The Zen Pro Desk's control panel functions as expected. One-touch controls control the stand's ascent and descent motions, and four preset memory buttons save your preferred settings.
The LCD automatically turns off after 10 seconds of inactivity to save battery life.
Cons
The wire management solution on this desk is not the most organized, and you may need to purchase a cable management mount if you don't like the sight of tangled wires.
In addition, the issue of cost cannot be overlooked. The Zen Pro Desk isn't cheap, and if you want to use it to its maximum capacity, you'll have to shell out a lot of money.
(Officework's a Great choice)
Office Works is a group of companies based in Australia that sells office supplies. It makes sense for them to make money from the fact that people want to stand at their desks.
Officeworks has Stilford S2 Pro desks. One of the nicest options about the Stilford models is their cheapness. They are always at least $400–$800 less expensive than the other standing desks on this list. This is mostly because the desk doesn't have a motor or an automatic way to change its height, so its height is fixed.
Still, the Stilford S2 Pro has a lot of great features and is an excellent choice for business owners on a tight budget.
Pros
This amazing standing desk has a steel frame that has been powder-coated and a melamine finish that won't scratch. What's the meaning? It implies that you can perceive your standing desk to be solid and last a long time. But don't worry if something goes wrong or breaks since each desk has a 15-year warranty.
It also has a "scalloped design," which implies you can maintain your cords together in a clean and organised way.
No one likes an untidy desk, and the Stilford S2 Pro's design makes it easy to keep your space clean and well-organised.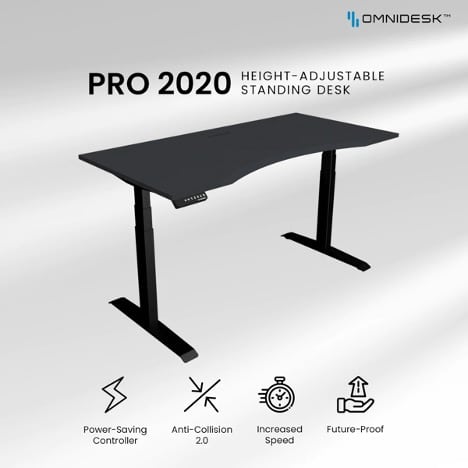 The Omnidesk Pro 2020 is a top-of-the-line electric standing desk with cutting-edge features and a wide range of customization options. You may choose between a straight edge and an ergo curve to alter the traditional appearance of the Pro. The ergo curve is growing more popular among more imaginative, independent enterprises, but the straight edge style appeals to more conventional entrepreneurs.
It's possible to get an Omnidesk Pro 2020 in one of three sizes: 48′, 60′, or 72′. In the event that you acquire a desk but are unsatisfied with its size or any other element, Omnidesk offers a 100-day risk-free trial.
Pros
With its electric workstation, you can be certain that your monitor will not shake or wobble while you're using it. The desk is sturdy even when completely extended and loaded with large objects.
Raising and lowering the desk is made easier by a quiet and smooth motor operation.
A safety feature stops the Omnidesk from dropping too low and causing harm when you lower it.
As if that wasn't enough, the desk can be adjusted from 60 to 125cm in height, making it suitable for almost everyone.
Cons
The Omnidesk Pro's maximum load limit is 130kg, which considers being a little restrictive. No one on this list can sustain more than 140 pounds, so it will not be a major issue.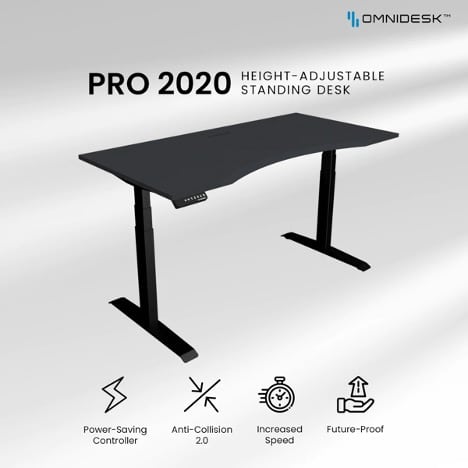 (IKEA's Best)
This desk is built to withstand years of coffee and hard work. You have a spacious work area and an ingenious technique for keeping cords organized below. Consider purchasing this desk if you are a fan of IKEA's do-it-yourself assembly projects and already possess other items from IKEA's Idasen furniture line that you wish to match.
With just two colour schemes and two desktop sizes to choose from, this standing desk has one of the fewest choices available compared to other models, which may come in hundreds of different variants. But the IDASEN has a mobile phone app instead. This is not a feature; it's a trick.
Pros
First of all, it's a very sturdy desk, so you don't have to think about how much weight it can hold.
It emerges with a 10-year warranty, and the height can easily change from 63cm to 127cm.
Even though it isn't automatic, using the handle to change the height is easy.
Another good thing about this sit-stand desk is how easy it is to combine it with other things you need for your workspace.
Price, it is a cheaper option
Cons
It can only hold up to 70 kg of weight.
It doesn't have buttons for setting the height.
Buying guide:
What to look for:
When searching for the greatest standing desk, what to look for
Surface material
Every standing desk is available in a wide range of materials and at a number of pricing points. An overlay of wood on top of the core of a laminate desk is less costly than a solid-core desk constructed of oak, maple, or any other wood kind. Bamboo desks fall somewhere in the centre, and they're both functional and long-lasting.
Stability
Standing desks might wobble or topple over if raised too high, particularly if they have a lot of weight on them. If you can, it's a good idea to test out a standing desk by elevating it to its maximum height and then swaying it back and forth.
Minimum and maximum height
The height of the standing desk may be adjusted in this manner. Most desks have a range of 25 to 50 inches; higher-quality desks will have a broader range, although the difference is generally just a few inches on each end.
Ease of assembly
All you need is a screwdriver and some perseverance to assemble a standing desk. Every device we examined came with the necessary screws, Allen wrenches, and well-written instructions. Except for the most complicated workstations, most desks take two people to put together.
Customisation options
The best standing desk manufacturers will let you choose your own surface size and material. Different leg types and accessories such as cable management trays might all be included in this category.
Conclusion
Thus, there are a plethora of outstanding standing desks accessible in Australia. A high-quality standing desk for both personal and business usage is an excellent investment if money isn't an issue for you. No matter how strict or limited your budget may be, there are several solutions available that will satisfy your ergonomic requirements without requiring a large price tag.
They are good for your health, reducing back discomfort and muscular tension and increasing productivity, effectiveness, and energy levels at the same time. Your work ethic and mental health will benefit from increased energy levels. It's a win-win situation.