With the number of single parent families steadily rising, there are lots of single mums looking for support, advice, guidance and inspiration. Yet when you really put your feelers out, there's not a great deal on offer when it come to single parent support groups.
For this reason, when you do come across an online space that resonates with you, you feel like you've uncovered a hidden gem. In fact, finding a group you love can enlighten your life on many levels.
There is a certain sense of camaraderie and comfort being amongst like-minded single parents. A feeling of 'we're in this together'. We are amongst people who get us and at ease to ask for help and share experiences.
WHAT YOU NEED TO KNOW BEFORE YOU JOIN A SINGLE PARENT SUPPORT GROUP
IS THE GROUP FOR ALL SINGLE PARENTS?
Different groups offer different experiences. Some are for both single mums and single dads. These are great if you want different perspectives with single parenting … but beware many people who join these spaces have another agenda … to pick up.
Often women feel more comfortable in the presence of women only, especially as we can be more open and share specific issues that are unique to females. Plus, in an all-woman community you don't have to worry about finding yourself in a chat with your ex!
WHAT IS THE VIBE OF THE GROUP?
In some single parent support groups, anything goes. You can say whatever you like, have a good old rant, bad-mouth the ex and basically let it all out. This may be perfect for you. And then there are groups which focus on the positives and encourage light-hearted chat and banter. Our advice it to join several groups and use them according to what they allow and what they have to offer.
IS THE GROUP ANONYMOUS, OR NOT?
Another important factor when choosing a support group is to find out whether you can post anonymously or not. There are benefits to both types of groups.
A group where you share your identity, such as a Facebook group allows you to connect more naturally with the other people in the group and this develops an element of trust. You can usually see a photo of them and can check out their page. It is not unknown for people to find life-long friends on support groups.
NOTE: With a Facebook group, as long as it is a closed group, only the other group members can see your posts, so there is a level of privacy. However, there is no guarantee that someone else in the group will not screen-shot your posts. Therefore, we advice you to be extremely careful and not post anything of a sensitive nature on Facebook. Social media now holds plenty of weight in the family courts with at least 75% of cases using online evidence. Never underestimate the role of social media in a divorce.
For more the more sensitive questions, especially those relating to your separation process, a forum where you can post anonymously is much better. The downside is that you are not entirely sure who you are chatting to and this can be a little unnerving, but you will soon get used to it, and may even prefer chatting completely anonymously.
5 Online single parent support groups you may not know about
BEANSTALK ANONYMOUS SINGLE MOTHER FORUM
A great resource from Beanstalk Single Mums is the Beanstalk Anonymous Single Mum Forum. This is an entirely anonymous platform for single mothers to get into the nitty-gritty of single mum life. With the go-ahead for medium to heavy discussion without rudeness or disrespect, it allows freedom and opportunity to post more tricky questions and opinions.
This is the single mum support group for you if: You feel shy, embarrassed or nervous to share your identity when you post. It is also great to get advice and experiences about separation proceedings or anything that requires a level of privacy.
Image: Beanstalk Anonymous Single Mum Forum
NATIONAL COUNCIL FOR SINGLE MOTHERS AND THEIR CHILDREN (NCSMC)
An active organisation since the 1970's, the NCSMC has been a firm voice for single mothers throughout the years. It's a must on the single parent support groups list. Here you'll find a comprehensive offering of information with focus on child support, domestic violence and financial hardship. You can also join their Facebook and Twitter spaces where they delve deep into the really ground-level issues facing single mothers in Australia. They endeavour to give single mothers the power to make informed decisions, protect themselves and share experiences.
This is the single mum support group for you if: You're struggling financially, emotionally or physically due to your status as a single mum and you need information/advice to understand your rights and to move forward.
Image: NCSMC Facebook page
SINGLE MUM VINE
The Single Mum Vine is an off-shoot of Beanstalk Single Mums, and it is the original single mother Facebook group. It is a private Facebook group which means that members have to answer three questions on entry before being allowed in. Once in, only other members can see what you post. The Single Mum Vine is entirely different to all other single mum spaces. It focuses on the good parts of being a single mum, and members are encouraged to post to inspire, support and make others laugh and feel good about themselves.
This is the single mum support group for you if: You're ready to move onwards and upwards with your single mum life and are looking for empowerment and laughter from other single mums to make it happen. It is also great if you would like to connect off-line with other single mothers in your areas as it has a bi-weekly post where you can arrange this.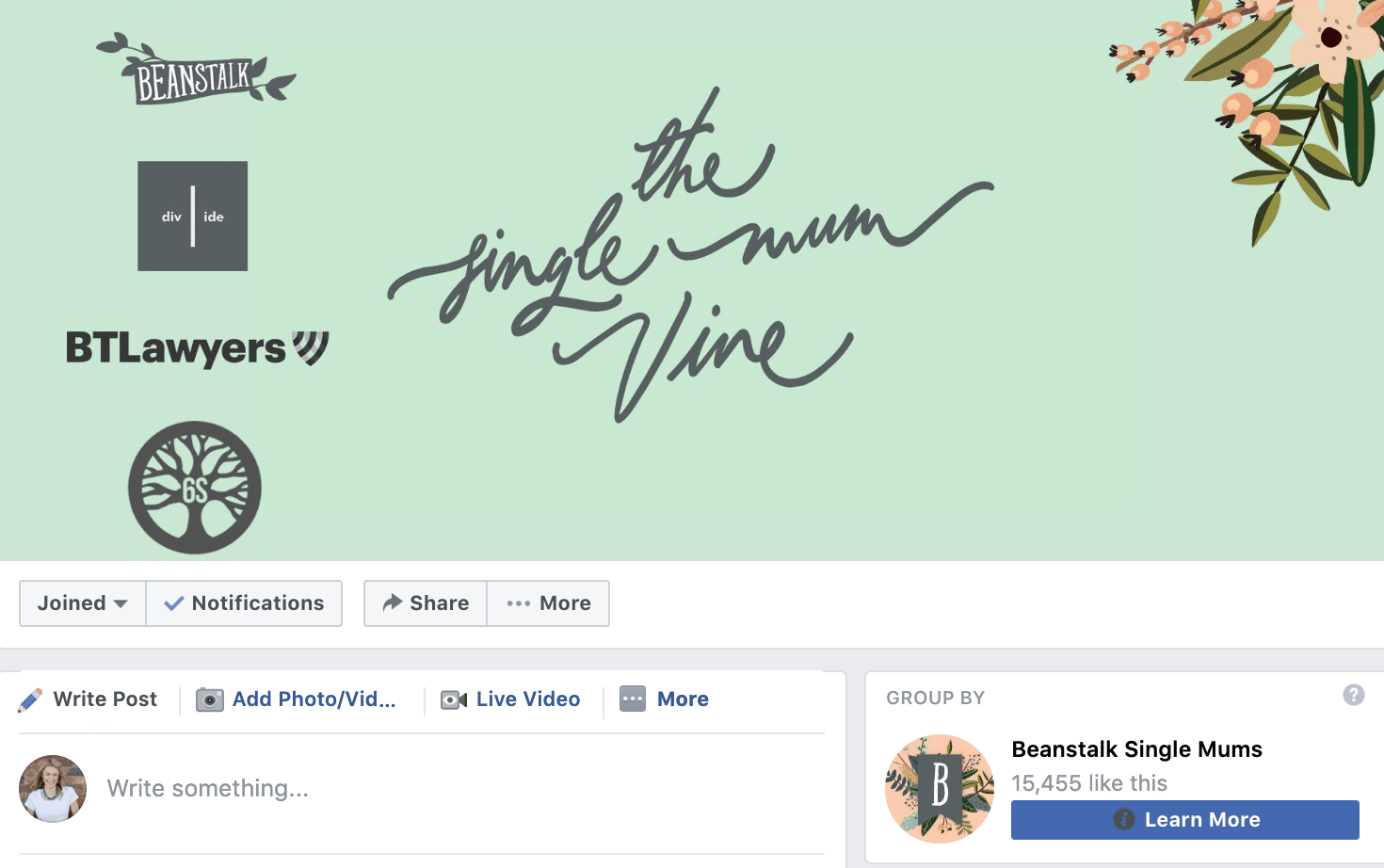 Image: Single Mum Vine Facebook group
AUSTRALIAN SINGLE PARENT SUPPORT GROUP
The Australian Single Parent Support Group is a closed Facebook group. It welcomes both single mothers and single fathers and has flexible rules to allow room for posts for a range of different purposes, including venting. Although it seems there are more females on the group, single dad's do join in the chat and occasionally post. There are few limits on the style of posts ranging from sharing experiences, looking for advice or the ever-funny memes and GIF's.
This is the single mum support group for you if: You would like to chat to both single mums and single dads. It is also good if you need to get a problem off your chest, or want advice on a range of single parenting issues.
Hopefully this list has provided you with some useful and friendly links to make contact and meet with other singles mothers – there are heaps of us out there! Don't be afraid to hook up to forums and groups. As a single mother you're always welcome amongst us and you'll get great pleasure from sharing your experiences and being within a warm community.