This article about goal tracking apps was last updated in 2021.
I don't know about you, but just getting through the day with children, home and job remaining intact is a goal for me. For this reason, focusing on the bigger picture and those big-arse dreams for the future, is mighty hard at times.
But there is a way to make it easier … and that is with goal tracking apps.
We've done our research and have hunted down the best apps to track your goals, with everything you need to make the right choice for you.
And if you need more support to identify your goals now that you are a single mum and, more importantly, reaching them with poise whilst bringing your kids along for the ride, check out my "You've Got This" Single Mum eCourse – already downloaded by 2K+ single mothers.
WHAT IS A GOAL TRACKING APP?
A goal tracking app tracks your progress towards whatever you want to achieve, whether it is saving up money for a vacation, losing weight or kicking your shopping addiction. Goal tracking apps let you set goals in black and white so they become actionable and manageable.
HOW DOES A GOAL TRACKING APP WORK?
Goal tracking apps are like digital planners, you can add, edit and view goals right from your smartphone or your laptop/desktop. Think your big goal is unattainable? Goal tracking apps help you break up big goals into smaller, more manageable tasks that can be completed daily or weekly. Set up your goal, view progress on each task, take notes on why you failed to meet a target and stay motivated with graphs and charts.
CAN AN APP REALLY HELP ME TRACK MY GOALS?
Yes, an app can really help you track goals and even increase your productivity. Goal tracking apps help turn your dreams into actionable goals. Want to drink more water or save more money? A goal tracking app will keep you focused on specific tasks and hold you accountable with daily reminders and progress reports.
APPS TO HELP YOU TRACK YOUR GOALS
Done makes habit tracking simple with a clean, colour-coded interface that lists all of your goals. Right after opening the app, you can see the number of books you've read this week, cupcakes you've eaten, workouts you've done, and other habits you are tracking. Or switch to calendar mode to get motivated by the 'streaks' (a chain of completed daily tasks) for each habit. The app lets you track habits daily, weekly, monthly or yearly, and it lets you track one habit multiple times per day. Done makes it super simple to build good habits and quit bad ones, even if you are completely new to productivity apps.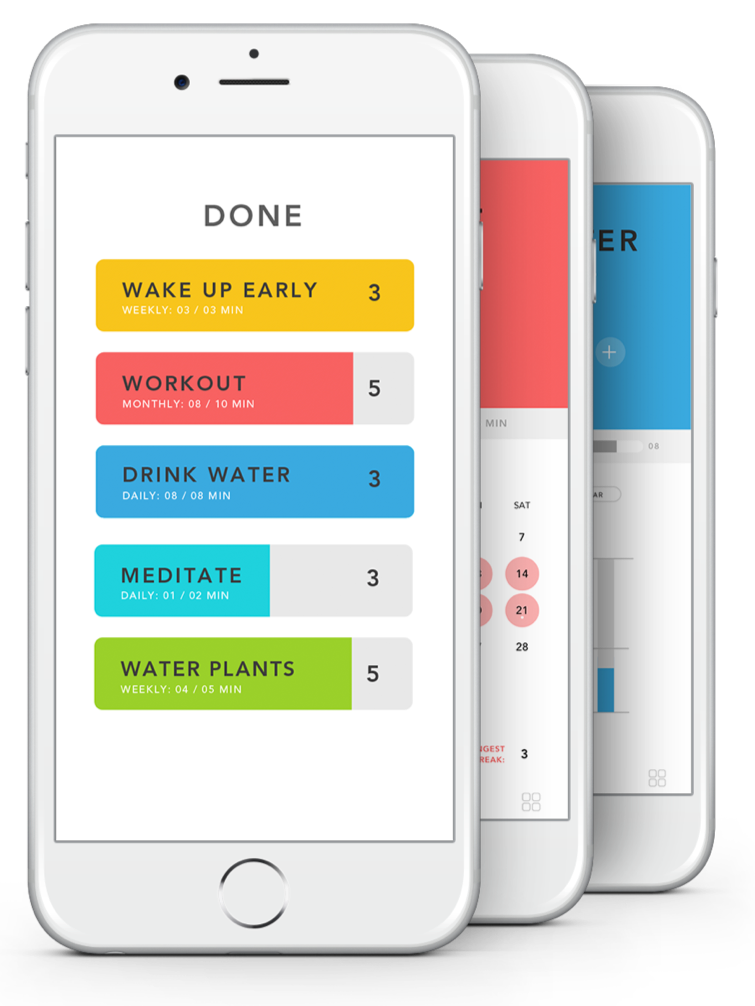 Available via: Apple
Cost: $39.99/year, free version with limited features
Pros: Clean interface, easy to use, password protection
Cons: Free version lets you track only three habits
You will love this app if: You are new to goal tracking and want an easy-to-use app
Strides is like an Excel productivity sheet in your pocket. It's one of the most feature-packed goal setting apps available with four unique types of trackers (Habit, Target, Average and Project) and plenty of charts to monitor and visualize anything that matters to you. All you need to do is pick a goal (or several) and an action that turns that goal into a regular habit. Your goals are organised into a neat list on your dashboard, which can be customised to show 'red' areas or areas that you need to focus on. Stay motivated with streaks, success rates, trends and rankings.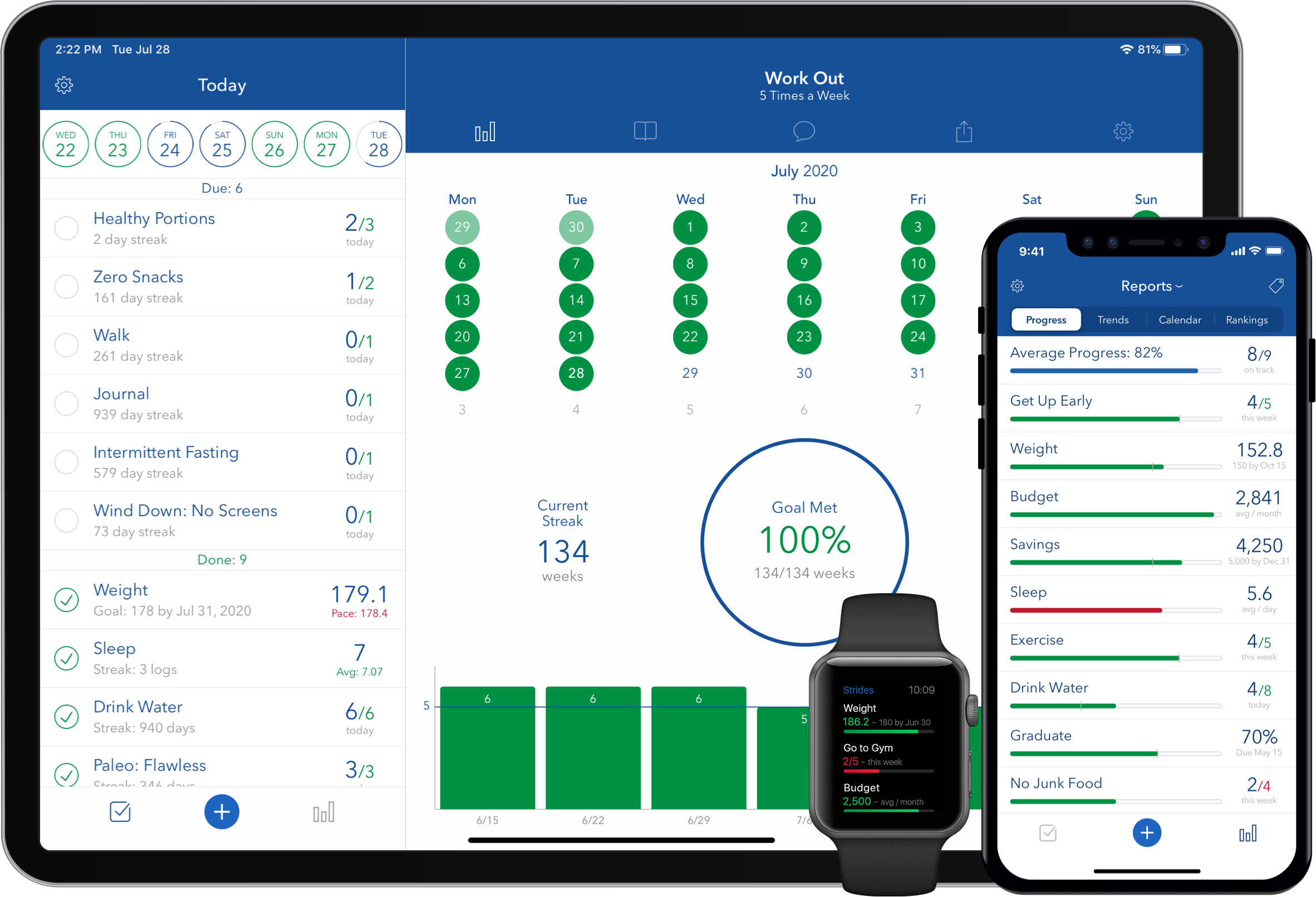 Available via: Apple
Cost: Free, or $4.99/month, $29.99/year, $79.99/lifetime access
Pros: Feature-packed, data-driven goal tracking, customisable
Cons: Limited features on the free version
You will love this app if: You want deeper insights into your goals and habits
Track your goals with Lifetick, a web-based productivity app for teams and individuals. Like Strides, Lifetick is a data-driven goal tracking apps that combines journaling, due dates, reminders and charts. It's easy to get started: choose what's important to you, set S.M.A.R.T. goals, write about your experiences in the journal and track your progress. You can even share your goals with family and friends if you need extra motivation. Bonus: Lifetick donates $1 from every initial subscription payment to the Halo Trust, an organisation that removes landmines around the world.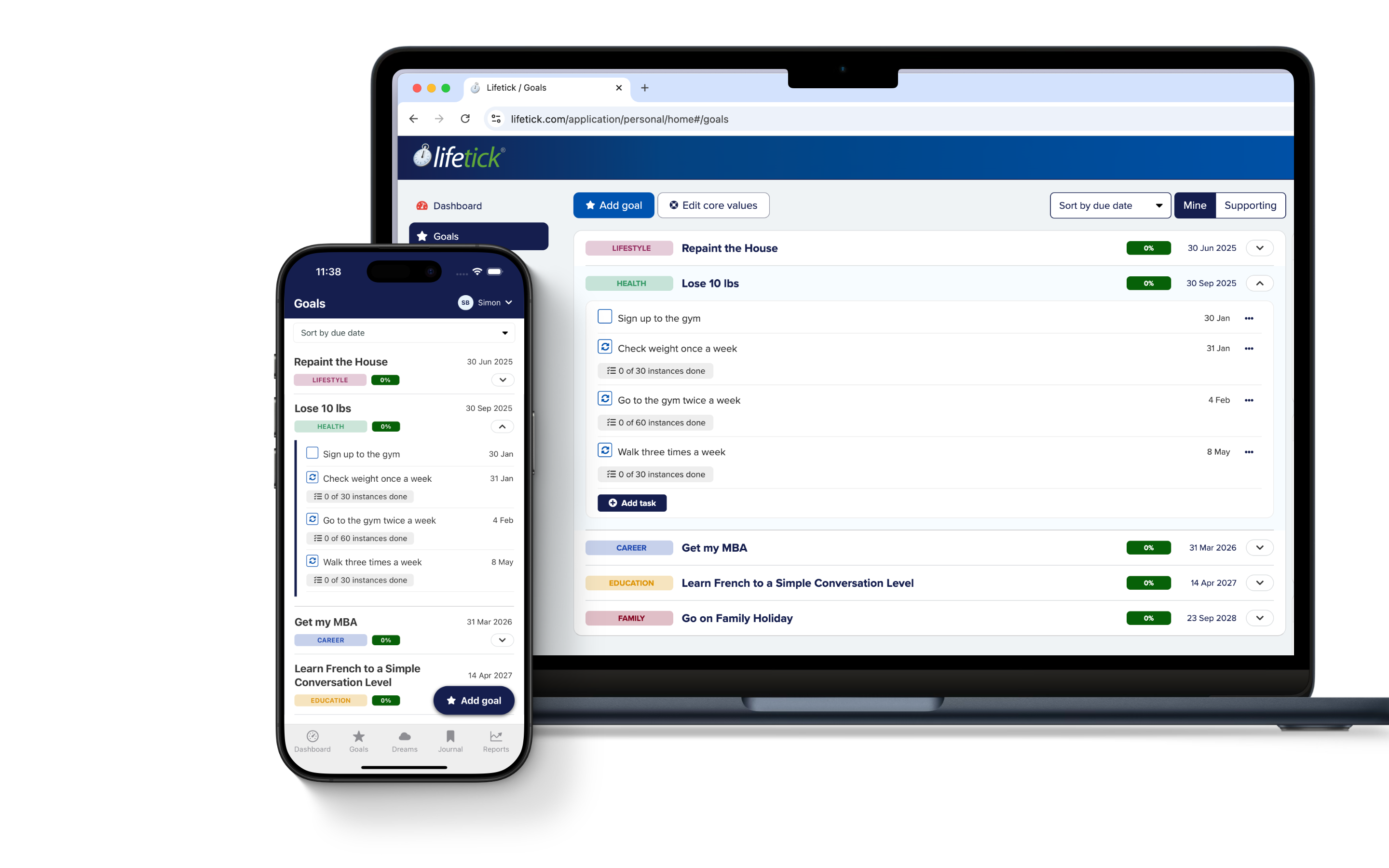 Available via: Website
Cost: $52/year, free version with limited features
Pros: Lots of features, set SMART goals easily, support for teams
Cons: Interface is made for the web, mobile version can be clunky
You will love this app if: You want to track your goals along with a group of people
Way of Life is one of those goal tracking apps that works better the more use it. Way of Life combines note taking, a daily checklist and in-depth analysis of your progress. The app guides you all the way from picking your goal to motivating you to keep going when you're stuck in a rut. You'll get a daily reminder to take notes when you hit or miss your targets. For a bigger picture, you can view your progress weekly, quarterly or yearly. We love the app's clean interface and accountability tools that help explain why you didn't meet a goal that day.
Available via: Apple, Android
Cost: $7.99 lifetime access, free version
Pros: Feature-rich app with a clean interface, easy to use
Cons: Limited goals on the free version
You will love this app if: You love journalling and data-driven goal tracking
Dreamfora is all about one tap goal setting. The app helps you plan and manage your goals with a minimum of fuss. Use the planning wizard to set up new goals in a flash (choose from list or write down your own) and start tracking. Switch to day mode to see your daily checklist and focus on what needs to be done today. The progress page shows an analysis of your progress and highlights areas that need improvement. Dreamfora features milestones, habits, tasks and notes to guide you on your journey, plus a thousand motivational tips and quotes to keep you inspired.
Available via: Android
Cost: Limited free version, $9.99 per month and $67.99 per year
Pros: One tap goal setting and management, clean interface
Cons: No iOS version, needs more options for habit tracking
You will love this app if: You want to set and track goals with a minimum of effort
WHAT IS THE BEST GOAL TRACKING APP (CONT.)
Streaks is as well-designed habit tracker that has everything you need to create great habits and reach your goals. The app tracks 12 habits at a time to help you focus, and it tracks three different types of tasks: positive, negative (habits you want to break) and timed (tasks you want to count, like exercise minutes). If you need deeper insights and motivation, tap on each habit to go into calendar mode and see progress bars and completion percentage. Streaks is also integrated with the Apple Health app so you can easily check health data–perfect if you are tracking workouts or trying to lose weight.
Available via: Apple
Cost: $4.99
Pros: Affordable habit tracker, well-designed app, integration with Apple Health
Cons: No Android or website support, habits limited to 12
You will love this app if: You are an Apple user looking for a cheap and effective habit tracker
Atracker is a goal setting app that focuses on time tracking. If you want to know what eats up most of your 24 hours as well as your biggest time wasters, Atracker is the perfect tool. You only need to enter a name or icon for each task (with optional advanced settings) and you're good to go. The main screen takes you to the current day's list of tasks and time overview. At the end of the day, you can check the handy pie chart to visualize your time spending for the entire day. This makes it easy to cut back on time wasters and spend more time on your goals.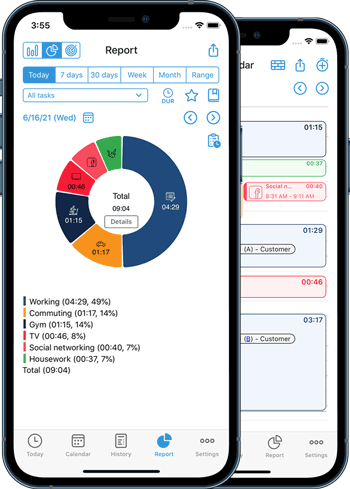 Available via: Apple, Android, Website
Cost: Atracker Pro for $4.99 (one time) or $2.99/mo premium
Pros: Access from any device, highly customisable (beginner to advanced modes)
Cons: Limited features on the free version
You will love this app if: You want an easy-to-use goal tracker with advanced options
Goal tracking doesn't have to be a chore. Habitica makes the entire process fun with an RPG (role playing game) approach that's unique and appealing if you're a long-time fan of games. You are essentially leveling up a character by completing daily tasks, and your character can go on adventures and join parties with other Habitica users. The app is open source and completely free to use. However, the whole RPG concept can be a downside if you're not a gamer, as the character stats can be overwhelming when combined with your goal tracking data.
Available via: Apple, Android, Website
Cost: Free
Pros: Fun goal tracking app for game lovers, free to use, great for younger people
Cons: Stats can be distracting
You will love this app if: You love games and want a fun goal tracking app
Goal tracking apps like GoalsOnTrack have everything you need to reach your goals and boost productivity. You get progress updates in real time, an offline time tracker that tells you how you spend your time, a journal for writing down your thoughts, and guidance when breaking up big goals into milestones or smaller tasks. You can build a detailed action plan for important goals, with actions, milestones and schedules all on a single page. Check out the ready-made templates with built-in habits if you want to save time.
Available via: Apple, Android, Website
Cost: $68/year (30-day money-back guarantee)
Pros: Comprehensive goal tracker, ready-made goal templates, bonus motivational eBooks
Cons: Limited free version, app interface could be improved
You will love this app if: You need a comprehensive goal tracker that is fully customisable
Toodledo is a goal tracking app and so much more. It can organise your entire life, including work, hobbies and daily schedules. This is a great app if you are already familiar with organisation and productivity software. You can import and export existing data from other applications and organise information with the search tool. You can also share tasks, lists and individual folders with other people and track progress as a team. Personalise your dashboard any way you want to fit your lifestyle.
Available via: Apple, Android, Website
Cost: Free version, $2.99/month
Pros: Feature-rich, flexible, access from all your devices
Cons: App can be buggy
You will love this app if: You are familiar with productivity apps and want to track goals as a team or individually