Whether your child's school has closed or you have chosen self-isolation, going-crazy-at-home-with-the-kids is becoming a common symptom of COVID-19.
Add to this the worry that kids are missing out on important schooling and you may need something to calm your soul.
To help in these worrying yet bat-sh*t boring times, we've put together a list of online education resources you can try for free.
Note: Some of the resources below are completely free, while others have a free subscriptions periods. Many are Australia-based, while some are from elsewhere in the world, but are brilliant so we added them.
Free online education resources
First on our list of free online education resources: Scholastic's Learn at Home Program is one of the best free online education platforms available, with daily projects for kids sorted into grade levels (from PreK to Grade 9). There are lots of resources for parents and teachers that are super useful for home schooling and distance learning. Activities are designed to reinforce and sustain learning for students who are unable to attend school.

Which part is free? 20 days' worth of activities covering all subjects
Pros: Lots of free resources for students, parents and, teachers
Cons: Some activities are not that in-depth
You will love this education platform if: You have kids who are stuck at home bored.
Award-winning ABC Mouse has been in the e-learning business for many years, offering a full online curriculum for kids ages 2-8. The program is focused on early learning, with a huge catalog of activities (+9000) for reading, maths, science and art. The app version is just like the web version, allowing kids to learn anywhere and be immersed in a step by step program with 10 levels.
Which part is free? 30-day free trial on the full online curriculum
Pros: Extensive catalog of early leaning material from pre-K to grade 2, up to 3 student profiles in one account
Cons: Need to pay for tests/assessments, virtual learning rewards can be distracting for some children
You will love this education platform if: You want age-appropriate learning activities for younger kids
Circle Time brings the beloved group activity online so kids can do fun learning activities in the comfort of their homes. The lessons are created by early childhood experts to keep kids engaged and you can watch on demand from any device or participate live. You can even join other parents in live sessions. This program is recommended for kids 0 to 6 years old and perfect for families who want to making bonding time educational.
Which part is free? Free beta classes
Pros: Learn at home any time with flexible scheduling, expert instructors and facilitators
Cons: The majority of this platform requires payment
You will love this education platform if: You are a fan of group activities for kids and want to join other parents in live sessions
Busy Things is a UK based educational e-learning program packed with games, fun activities and learning resources for kids aged 3 to 11. All activities are curriculum based and a great supplement to classroom instruction. They cover reading, phonics, maths and creativity (colours, shapes and sounds). Kids will love the bright colours and fun graphics on the website. This is a paid program with a free 7-day trial to support school closures. You can access lots of resources with the trial, including worksheets and hundreds of activities.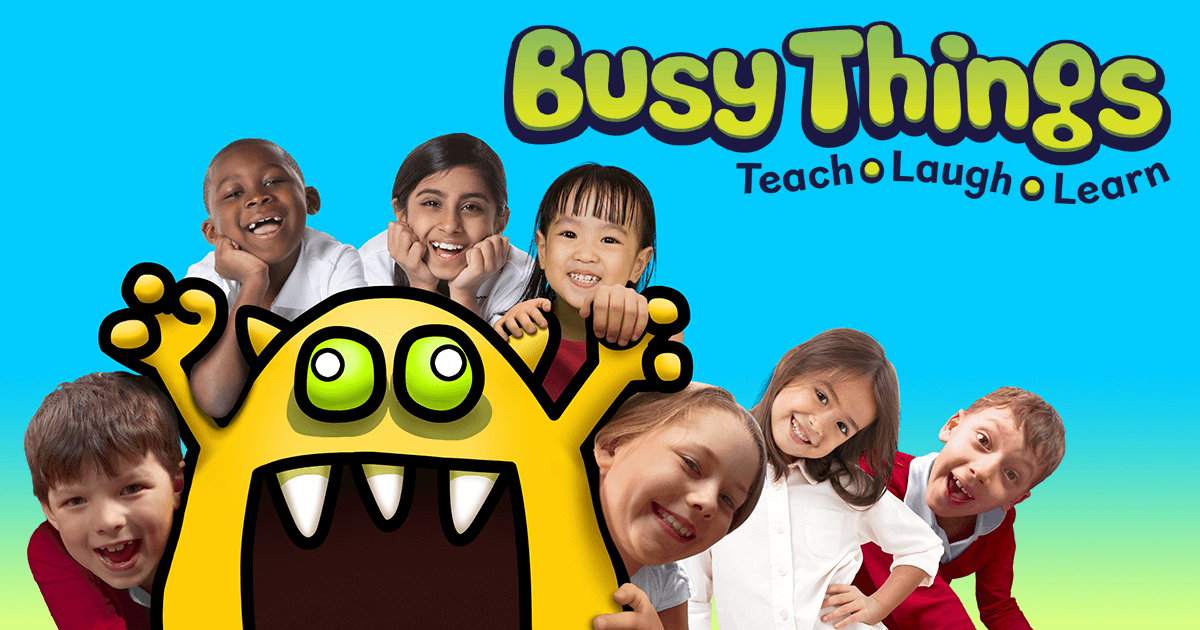 Which part is free? Free 7 day trial for families or free 28 day trial for schools
Pros: Fun, comprehensive e-learning resource for ages 3-11, affordable ($71/year)
Cons: Not a substitute for in-depth classroom instruction
You will love this education platform if: You want a fun learning program for kids and want to easily monitor learning progress
For parents who want an international education for their children, PenPal Schools is a good online option. The platform connects kids from all over the world to learn together in an online classroom. Kids can collaborate on original projects, design robots, make art, write poetry, solve maths problems and more. Parents can follow their child's progress and continue learning at home. Over 10,000 schools in 150 countries are currently participating.
Which part is free? Free access for teachers and parents during the COVID-19 pandemic
Pros: Learn and collaborate with children and teachers from around the world
Cons: Limited projects per subject and age group, matching can be restrictive
You will love this education platform if: You want a collaborative, international education for your kids in an online setting
If you like the educational resource website Classroom Secrets, you'll love Classroom Secret Kids, a new online platform filled with fun learning activities for children. There's a wide range of engaging material on offer designed by teachers. The subjects cover years 1-6 and include maths, reading, spelling and history. More resources are upcoming so make sure to check their website for updates.
Which part is free? Free access to everything while in beta version
Pros: Comprehensive, all-in-one education resource for parents and educators
Cons: Lessons can get repetitive
You will love this education platform if: You are a new teacher/educator looking for engaging classroom resources or a parent who wants excellent distance learning material for younger kids
Next on our list of free online education resources: Did you know that the popular magazine for kids has an online website packed with learning support? These are mostly articles on science, history and trending topics like climate change and coronavirus. The website is a little too cluttered with sponsored ads, but it's still a better alternative to online games and aimless browsing, especially if your kids are obsessed with science, nature and/or history.
Which part is free? Free online learning resources
Pros: Free general learning resources on natural science, history, culture, reading and trending topics
Cons: Articles are not that in-depth, requires supplementary material for mastery
You will love this education platform if: You want a fun jump-off point for kids learning science and history
English and Reading free online education resources
Reading Eggs is one of Australia's most popular programs for learning to read. Instead of the traditional teaching method, Reading Eggs uses games, songs and rewards to keep learning fun and interesting. They have programs not just for young children but also for older kids up to 13 years. We suggest getting the app version for on-the-go learning.
Which part is free? 30-day free trial available until 30 April 2020
Pros: Learn to read quickly, basic and advanced reading activities, mobile app version
Cons: Paid subscription after trial, design is outdated
You will love this education platform if: You want make learning to read fun and interesting.
The Queensland Department of Education website has a literacy app called Out and About that helps kids practice and master 100 sight words. The words are grouped into ten sets, and kids advance to the next set after mastering all the words in the previous set. The interface is colourful and easy to navigate, and there are additional games to reinforce learning. Ideal for kids in Pre-K up to year 2.
Which part is free? Free app and resources (flash cards and place mats)
Pros: Fun way to learn and master sight words
Cons: Limited functionality beyond sight words
You will love this education platform if: You want to give your kids a jump start in reading and literacy.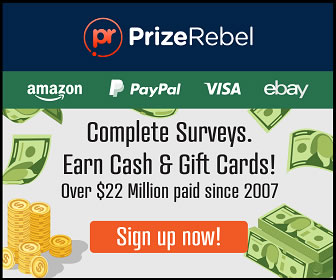 Science and Maths Platforms
If you're looking for a free online education platform focused on science, give Backpack Sciences a try. Through videos, the program teaches kids hands-on elementary science without the overwhelm. It's brilliant how the subjects are structured, increasing the amount of science kids can learn without getting bogged down in the nitty gritty.
Which part is free? Free video series for parents and educators on how to simplify teaching science
Pros: Free short videos teaching you how to enjoy teaching science
Cons: Only for parents and educators
You will love this education platform if: You want to improve your teaching skills in science
Another multi-award winning e-learning platform, Mathletics is designed specifically to teach mathematics. Their extensive content for pre-K up to grade 12 covers subjects including numeracy, algebra, trigonometry and applied calculus. The lessons are self-paced but teachers can assign specific content and tests. Progress is recorded to help parents and teachers decide whether to provide supportive lessons or re-assign activities. This is one of our favourite free online education resources.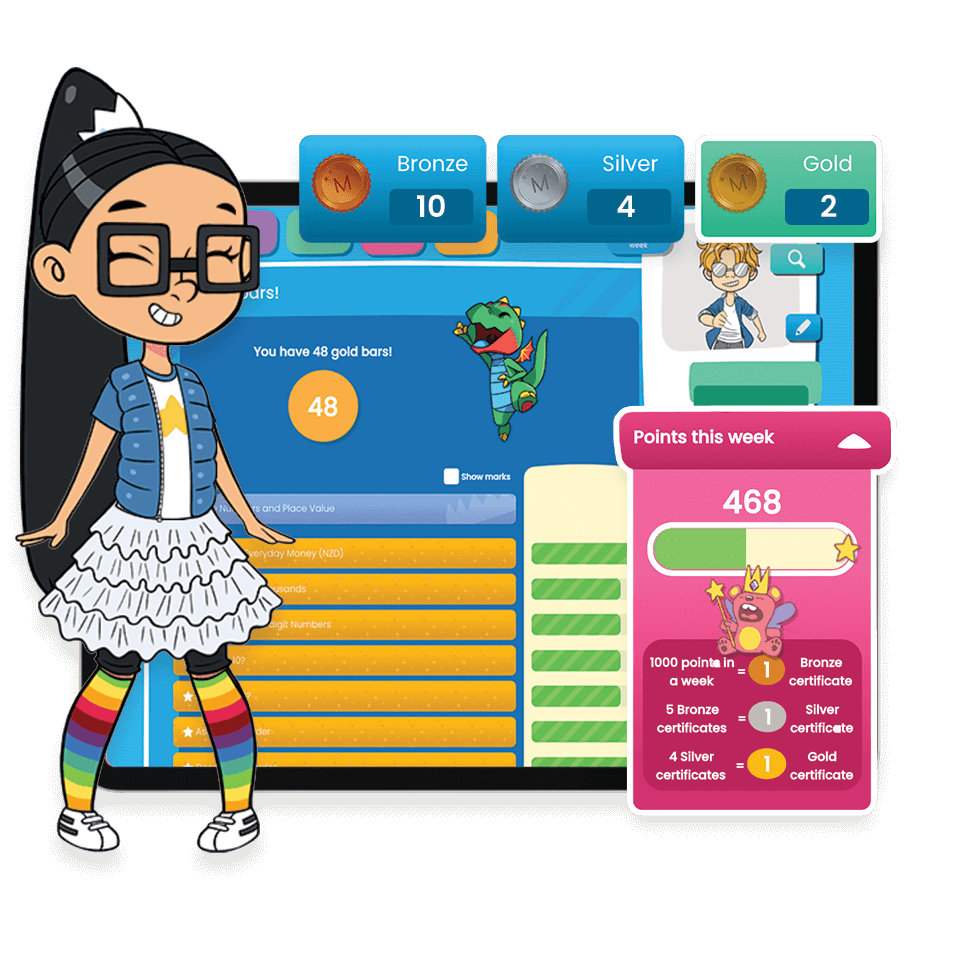 Which part is free? Free to try entire program for 48 hours
Pros: Extensive maths curriculum for pre-K to 12 students, self-paced lessons
Cons: Some activities are repetitive and kids can get bored quickly, rote questions
You will love this education platform if: You want kids to prepare for advanced maths courses or simply catch up on difficult subjects
Maths is hard, but you can make the learning experience fun and entertaining for your kids through Prodigy. Prodigy motivates 1st through 8th grade students to learn, practice and improve their maths skills through a fun fantasy game. Their maths content is curriculum-aligned and designed by certified educators to ensure a high-quality learning experience. Overall a great review and practice tool when supplemented with classroom instruction.

Which part is free? Free maths review and practice lessons
Pros: Fun format for teaching kids basic and advanced maths skills whether at home or at school
Cons: Many features can only be accessed with a paid account
You will love this education platform if: You want to introduce your kids to civics and government
When it comes to maths-focused free online education resources, Splash Learn is an excellent platform for younger kids. The lessons adapt to how each child learns, whether used for catch up, practice or enrichment. Splash Learn is currently offering free access to all educators during the COVID-19 pandemic, with home access for remote learning. This means that all lessons assigned by the teacher can be accessed at home by the parent or student.
Which part is free? Free access to all educators/teachers with home access (subjects not assigned require subscription)
Pros: Teachers can assign questions, easy practice and tracking progress
Cons: Limited content on the free account, questions can get repetitive
You will love this education platform if: You have younger kids who need help in maths
Zearn is an online learning platform that combines group instruction, independent online study and teacher support for maths learning and enrichment. Using only the digital content for studying is not the goal here; group instruction and in-person support are required for best results. Zearn is designed to support public school education and teachers learn how to create lessons for individuals and small groups based on the student's progress.
Which part is free? Free access to K-5 curriculum for students, parents and teachers during the pandemic
Pros: Great resources for live lessons, perfect balance of online lessons and in-person support
Cons: Questions could be more open-ended, pricey for long-term homeschooling
You will love this education platform if: You are an educator/parent who needs a thorough maths curriculum to teach younger children
Mathseeds is another free online educational platform that teaches kids aged 3-9 core maths and problem solving skills. The lessons are a combination of highly structured instruction and interactive games to keep children engaged. Reviewers say that the lessons and games can be addictive! Kids can learn from a desktop computer or a mobile device.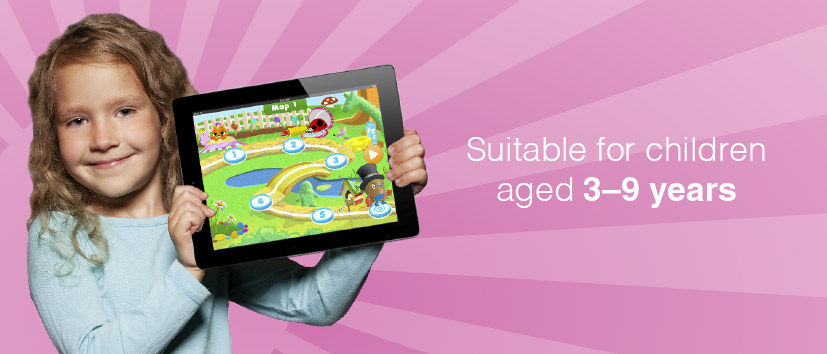 Which part is free? Free trial for parents and teachers (includes access to Mathseeds for ages 3-9 and Reading Eggs)
Pros: Wide variety of fun lessons and games in learning and practice modes, skill-based rewards
Cons: Help can be hard to find in some sections
You will love this education platform if: You need a program to make maths learning and practice fun for younger kids
Science can be a difficult subject for many kids, but learning it shouldn't be. Fizzics Education provides fun and entertaining live science classes via video conference so children can learn anytime, anywhere. The instructors are experts in their field and dedicated to making science learning an engaging experience. If you're not keen on the subscription program, they have a huge library of resources for FREE, including science experiments, podcasts and STEM teaching articles.
Which part is free? Free science resources for students and teachers
Pros: Fun video lessons, expert teachers, science parties
Cons: Limited options for remote classes, frequent classes can get pricey
You will love this education platform if: You want kids to love learning science and STEM subjects
Other Free Educational websites
The Typing Club is a free online education platform dedicated to teaching people how to touch type, whether you're a kid or adult. Each lesson lets you practice until you reach mastery (five stars). We love that it takes only a few minutes each day for one to two weeks to become a pro touch typist. All you need is a computer and an internet connection to get started.
Which part is free? Everything!
Pros: Spanish, French and German versions, interactive lessons, progress tracking
Cons: When unsupervised, students may cheat by looking at the keyboard
You will love this education platform if: You or your kids wants to learn or improve touch typing skills
The Parliamentary Education Office (PEO) is a great website if you're looking for supplementary civics and government e-learning resources. Book a free video conferencing program and connect students with experts in Parliament. The program explores how laws are made, the responsibilities of representatives, the formation of government and how government is kept accountable. Lessons are suited for years 5-10.
Which part is free? Free video conferencing program, immersive learning, and outreach programs
Pros: Excellent supplementary resources for students and teachers of civics and government
Cons: Not designed as standalone lessons, subject can be dense and boring for younger kids
You will love this education platform if: You want to introduce your kids to civics and government.
Type Kids is an adaptive touch typing tool designed specifically for kids. It's like Typing Club but with a fun, kid friendly user interface, and entertaining games and badges. We love the fact that program learns from mistakes and adapts the exercises automatically to help kids with problem letters. It's like a having a private touch typing tutor.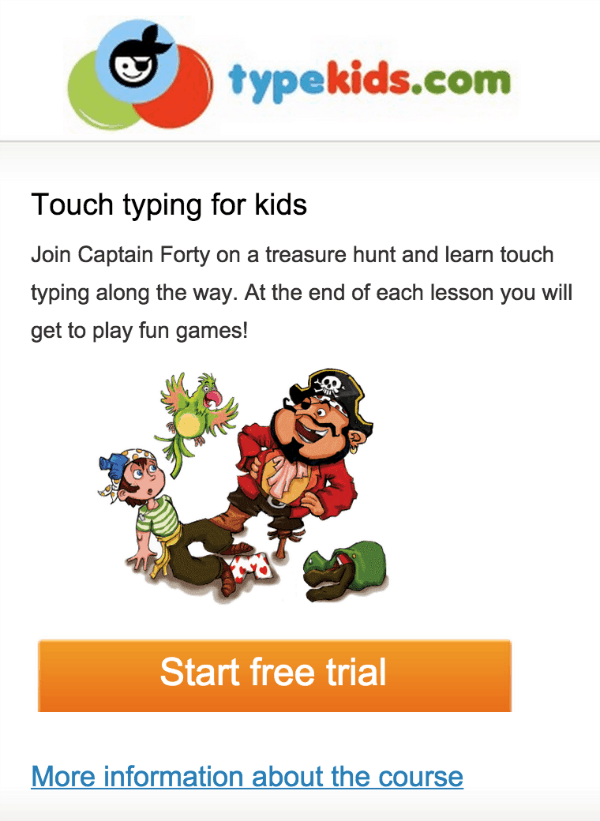 Which part is free? Free one month trial
Pros: Touch typing tutor for kids, fun games and rewards, money back guarantee
Cons: Complete course is pricey at $99.95
You will love this education platform if: You want a kid-friendly touch typing program
Watch your favourite ABC Kids show from any mobile device with the ABC Kids app. Designed for preschool and younger school-aged viewers, it features shows like Bluey, Peppa Pig, Hey Duggee, Play School, ABC Kids Listen and more. Kids can also play games and download activities like colouring kits and party packs. The app is completely free, but expect the usual ads.
Which part is free? Free Apple and Android app
Pros: Lots of popular kids shows and programs, plus games and activities
Cons: Doesn't work without an internet connection
You will love this education platform if: You have little kids and want quality educational entertainment.
Get more support during the COVID-19 pandemic here:
Co-parenting during COVID-19: Your complete guide
Deep cleaning tips for the home during the COVID-19 outbreak
Coronavirus: What your family will need for a quarantine