It's school holidays and with your children's excitement building you can't help but get into the festive spirit. These holidays are going be fun, fun, fun. Your kids want to do some Christmas cooking, so why the hell not. You imagine yourself and your beloved children having an afternoon laughing and bonding as you produce delicious, Pinterest-worthy treats.
Yet with so many online recipes at our fingertips, many of which are brought to us with the benefit of Photoshop and god knows what to make them look picture-perfect, the reality of your cooking session could be more Master Disaster than Master Chef.
It's disappointing for the kids and it's disappointing for you as wasted ingredients and unidentifiable objects line the work surface. Tempers may be frayed as your holiday activity is swiftly deemed a festive foodie flop.
Well not this year. I've trawled the Internet and tested a number of seemingly super-simple Christmas recipes which don't require a degree and three years' experience in a pastry kitchen to create. These are recipes that actually work! And honestly, if we (myself and my kids) can do them … anyone can.
So read on and decide what gastronomical delights you'll create the Christmas, safe in the knowledge that whatever you pick it will be a success. Oh and get the camera ready as they're likely to be worthy of a Facebook post to show what a fabulous hands-on single mother you are.
(Just click the links for the recipes)
RUDOLF PANCAKES
Brought to you by Kidspot
Note: If you don't fancy bacon with your pancakes, which we didn't, use a few pretzels instead (chocolate coated even – yum). Pretzels were made to improvise reindeer antlers.
CHRISTMAS TREE FAIRY BREAD
Brought you by Brisbane Kids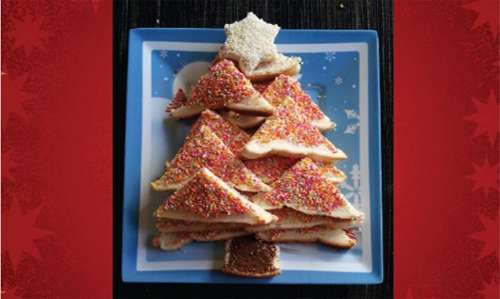 Note: No notes or substitutes for this no-bake, no-fuss recipe. It's just sooooo easy. It travels well too, so great for classroom parties or 'bring a plate' functions.
REINDEER POOP
Brought to you by Mom Dot
Note: No kids cooking list is complete without this jokey treat. We used a normal caramel sauce and Woolly's own chocolate chips.
CHRISTMAS TREE POPS
Brought you by BBC Good Food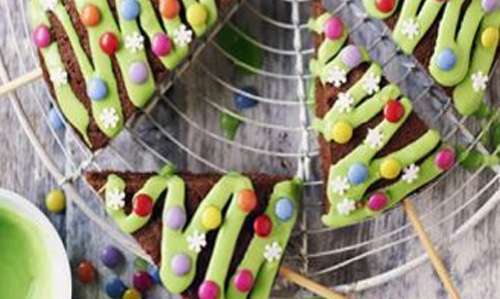 Note: Give them a go. I promise you they work. Just use a snap lock bag for the icing. We didn't have green food colouring so used white icing and we used straws for the sticks. So cool.
CHOC RIPPLE CAKE
Brought to you by Taste
Note: Not strictly a kids recipe but definitely easy enough for this list. Lots of fun to be had sticking the biscuits together with the cream. And the end result is one they (and you) will be eternally proud of.
CHRISTMAS JELLY SLICE
Brought to you by Kidspot (again … these guys are brilliant)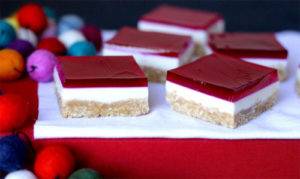 Note: This is super easy and if you're making a batch for a large group you could make another one with green jelly and serve them intermittent on a tray. A sure-fire way to impress the masses.
OREO STRAWBERRY SANTA HATS
Brought to you by A Mitten Full of Savings
Note: Ah the delight of no-cook recipes. We used normal Oreos but the ones on the picture have red in the middle. No worries ours were just as good. A little fiddly getting the bobble on the hat so make sure the strawberries are really dry for that bit.  And they need to be quite big strawberries too.
Please go forth and have lots of kitchen fun with your beautiful children. And feel free to share the end result on our Facebook page, where you'll encourage other single mums to don the apron and have a go.
Oh and don't spend hours washing-up. Try these 10 easy tips to avoid washing up.
Happy Christmas cooking.