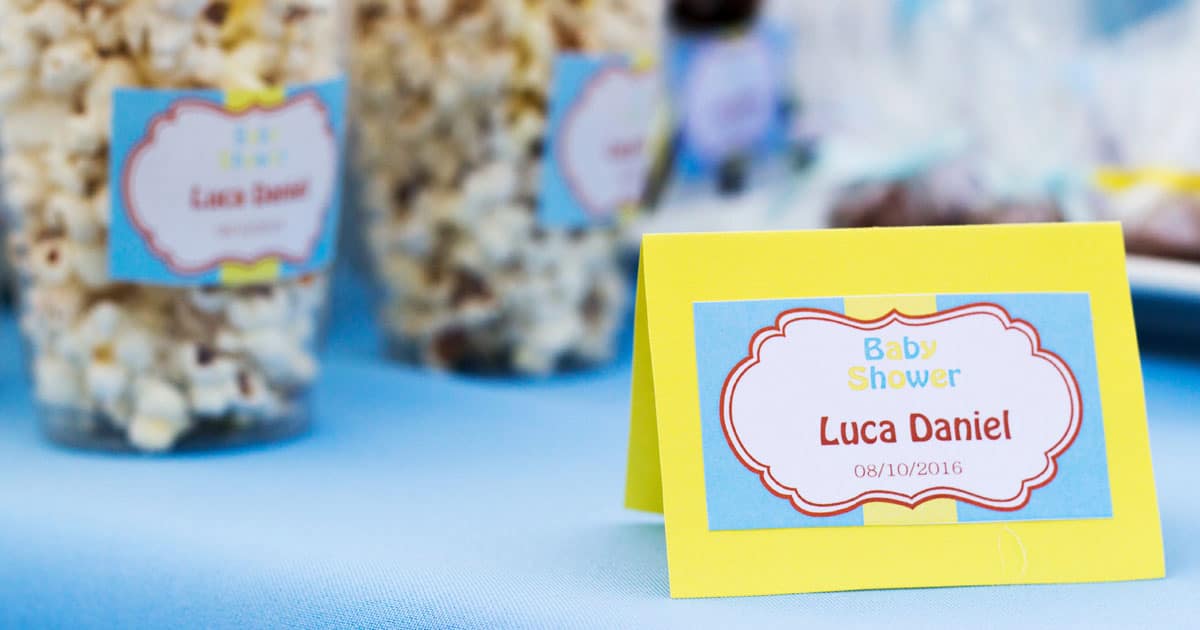 Planning a baby shower can be incredibly fun. From choosing the right theme and baking an assortment of cute and tasty desserts to setting up the living room and picking out the games, the whole process is a labor of love and creativity. But to host a successful baby shower, you need the right group of people to invite to it. Your friends and family, people who are most important to you, and people who know how to have a good time. 
Once you decide who you want at your baby shower, the next step is to get them to come. For this, you need to create some gorgeous invites that will create the hype you need around your event. In this blog post, we've put together some creative and must-try design tips for making the most amazing baby shower invite. 
The best part is, you don't need to shell out hundreds of dollars to get invites made and printed. You can do it all by yourself with the right tools.
1. Stay on theme
The invite you create should reflect the theme of your baby shower. Whether you're choosing mild, pastel tones or bright, fun colours, your invite should reflect the vibe of your event. Therefore, all the elements you add to your invite – whether it's colour, text, or images – should be on theme.
It can be extremely daunting to start from scratch, especially when you have no clue how to express your theme. Luckily, sites like PosterMyWall have tons of baby shower invitation templates that you can customise according to your theme. Just pick a template that looks good to you, then play around with colours and fonts until you land on an invite that displays your theme perfectly.
Remember that you can always choose to be subtle and minimalist with your invite as long as it doesn't stray away from the theme.
2. Don't do too much
A big mistake when designing an invite is to add too many elements to your design. In your excitement to tell people everything about your event, it's entirely possible for you to clutter your invite so much that important information gets buried underneath.
So make sure to avoid this when designing your invite. You don't need to tell your guests every single detail. For instance, you don't need to list the games you're going to play or all the food you're going to eat.
Since this is not a commercial event and you're only going to be inviting friends and family, all you really need to tell them is the date, time, and location for them to show up. Accompany this with some cute graphics (perhaps some flowers, baby bibs, or tiny cupcakes), and you're good to go. Leave some space between your elements so that everything is clearly visible and your guests don't miss out on essential details.
3. Choose a readable font
Even though cursive fonts look extremely pretty, they can sometimes be hard to read. You don't want people accidentally mixing up the dates or getting the wrong location, do you? This is why it's always better to stick to fonts that are clear and easy to understand.
Here are some fonts that are both readable and aesthetically pleasing:
Georgia
Helvetica
Quicksand
Rooney
Another option would be to use readable fonts when delivering important information such as the date, time, and location, and other, fancier fonts for non-essential information.
4. Make sure colours complement each other
Colour is perhaps one of the most important elements to consider when designing an invite. Of course, the colours you choose will largely depend on the theme you're going with. However, whether you're creating a themed invite or a standard invite, you need to make sure that you're using colours that are complementary to each other.
Nobody wants to receive an invite that looks drab. It definitely will not leave a good impression about your party. So pay special attention to colors.
Use no more than two main colours for your invite. Here are some colour combinations that work well together:
Pink and white
Purple and gold
Peach and pink
Blue and white
When designing your invite, make sure to play around with different colour combinations to see which one looks best on your template.
Finally, as a rule of thumb, make sure the colour of your text is darker than the background and other smaller elements in your design. This is important because you want to make sure that your text pops.
5. Add some effects
Adding effects to your invite can be a subtle way of enhancing the overall look of your invite. Effects can include shadows, filters, and outlines.
If you're adding an image, you can merge it with the background by making it translucent. Apart from this, you can also add a border to your design to make it shine. Add an outline or a shadow to your text to make it stand out.
These subtle steps can elevate the entire look of your invite and make it look professionally done. Add these at the very end, when you're satisfied with all the other elements in your design.
Final thoughts
Throwing a baby shower can be daunting, especially if you want to throw the perfect one for your friends and family. However, the invite creation process doesn't have to stress you out. With the tips in this blog post, you can make the perfect invite with ease and let your loved ones know about your party.
Whether you choose to send digital invites or print your design out on card sheets, these tips will help you create the most beautiful invite that will definitely stand out from the crowd.