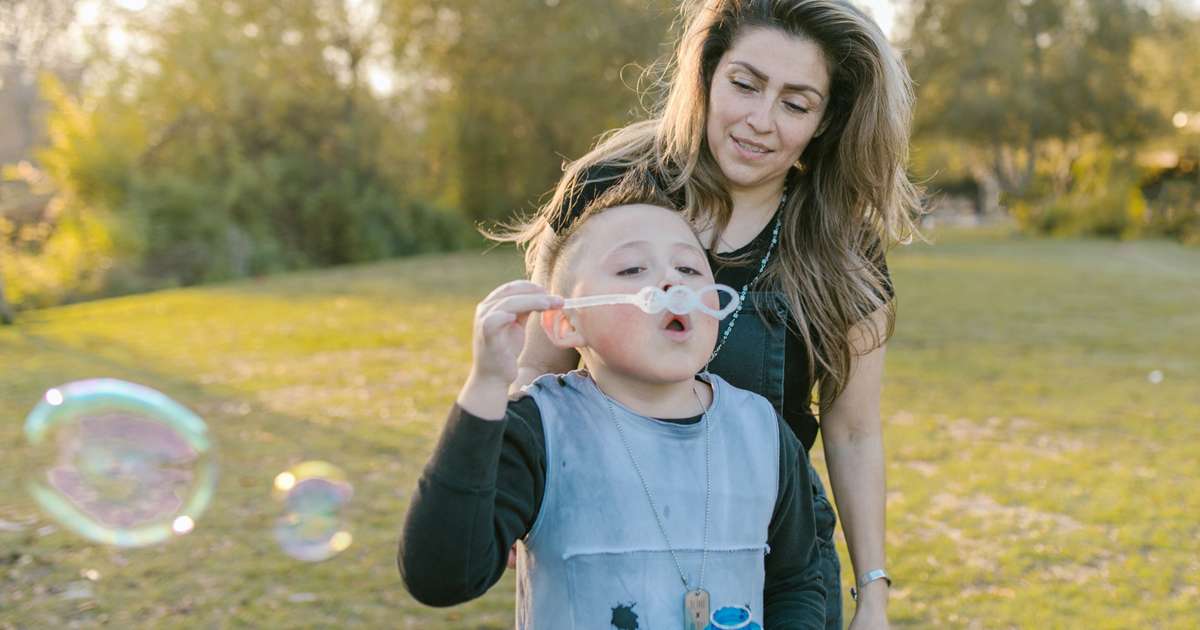 Kids and adults need time outside. Many of today's games and attractions to kids involve the indoors and screens. However, going back to simpler times and playing outside with your kids is one of the best things you can do for them. 
This generation of kids is much different than previous generations, but that doesn't mean they should stay inside all the time. Now that it's getting close to summertime, it's easier to get outside and enjoy the sunshine. You should get outside with your kids, too, because you'll benefit from playing outside with them!  
Encouraging your kids to spend time outside benefits their physical and mental well-being. Whether you go to your backyard to toss a ball or spend the day on a hike and have an outdoor picnic, your kids will learn to reconnect with nature and learn to love the outdoors even more.
Here are 10 reasons to play outside with your kids.
1. Boosts Physical Health
First of all, getting outside to play with your kids boosts physical health. When you're outside, you have more freedom to run and play, which keeps both you and your kids in shape. Children need at least an hour of activity a day, and getting outside makes that easy.
This gives you a chance to teach your kids all of the fun outdoor activities you did as a child. You'll notice your children gain strength and skills as they play outside.
2. Relieves Stress
Being outside in the sunshine and fresh air naturally relieves stress. After a day of work or school, spend time outside to forget about the worries of the day. You and your children will love the warm sun and a soft breeze.
Nature reduces unpleasant feelings. It's a calming experience and helps everyone feel better and less stressed, no matter how young or old. The outdoors is a mood booster and will help you focus when you go back inside.
3. Allows You to Spend More Time With Them
Do you spend time with your kids indoors? You can spend time with them outdoors, too, which means more interaction with them overall! It's important to take time out of your day to focus on your kids, and when you go outside with them, that time is even more precious and memorable.
Spending more time with your kids means they're less likely to participate in risky behaviours as well. When you show your kids that you love them and want to be with them, they are more emotionally strong, so spend time with them outside.
4. Discover New Hobbies
Another reason to play outside with your kids is that you might discover new hobbies with them. Take your kids on various outdoor adventures and make a note of things they enjoyed. Go for a hike, bike ride, play baseball, go swimming or do whatever other outdoor activities you enjoy.
Once your kids realise how much they love a certain activity, they'll want to repeat it. It gives you and them a reason to get outside. Plus, you'll be able to bond with your kids over that activity.
5. Increases Knowledge of Natural Elements
Nature provides you with a wealth of information. Children who develop a love for nature often carry that love as they grow older. They continue to want to learn new things about the outdoors and won't need to be forced to get outside every day.
By spending time outside with your children, you all can learn to appreciate the environment. You'll learn about plants and animals, and you'll get to watch nature in action together. All of these will turn into fond memories, and they'll carry on the appreciation into adulthood.
6. Expands Creativity and Risk-Taking
When children are free to roam outdoors, their imagination possibilities are endless. They can gain independence and feel a sense of freedom when they're at a park or outdoor area that they don't feel anywhere else.
Children are more likely to take risks outside. Kids need to take some risks, even if it makes parents uncomfortable at times. The lessons learned from trying new things and expanding creativity will get them further in life than if they were to sit back and do nothing.
7. Provides Socialisation Opportunities
This is a great benefit for you and your kids. When you spend time outside, like at a park or in your neighbourhood, you and your kids have more opportunities to socialise. This expands your friend groups, and your kids may even make a new friend.
Children can learn how to work together when they're outside in unstructured play. They have to communicate with each other, which helps their cognitive development and communication skills. While they're playing, you can talk with other parents and make your own friends, which will help make you feel more comfortable about letting your kids play with other kids.
Get Outside and Play!
Now is the perfect time to encourage your kids to get outside and play. The weather is perfect, and there are plenty of opportunities to have fun in the great outdoors.