Written by single mama blogger, Lucy
A MUM AND TWO KIDS IN SYDNEY
I few weeks ago I took my two daughters (13 and 10) on a short, rainy break to Sydney. We had a ball. Now I have to admit our flights were courtesy of air miles, but even so, our trip was relatively cheap, lots of fun and even, dare I say it, fairly relaxing.
I'd love to share my experiences with you if you're considering a trip to this stunning city. Travelling as a single mum with kids can seem daunting, but if done right, it's actually lots of fun.
GETTING TO, FROM AND AROUND SYDNEY
Flying interstate is super easy. Coming from the UK flying between destinations in the same country is a new concept for me … I still feel naked without my passport.
We flew from the Sunshine Coast airport with the courtesy of air miles as I mentioned before. I strongly suggest you save your Fly Buys or whatever scheme you are on. There is nothing more satisfying than a free flight.
Once in Sydney, where we resolved to commit ourselves fully to the wonders of public transport. Again it was super simple. Basically look for a big T for train, B for bus, F for ferry … you get my drift. In fact, I was amazed how well my girls took to it, since I don't believe they have taken a bus (other than a school one) in their lives.
It was a game. Working out were we had to go, looking for signs, calculating how long we had to wait for buses. I was impressed and proud of my girls, who may make city-folk yet.
ACCOMMODATION IN SYDNEY
Who had the Airbnb idea? And why didn't I have it first?
I honestly don't believe our trip would have been possible without Airbnb. I needed two rooms and kitchen facilities, near the centre. And with Airbnb I had many choices. We loved our super-cool apartment in Neutral Bay, which cost us less for three nights than a central hotel would have cost for one night.
We had plenty of space, a fully equipped kitchen, comfy beds, and were a 5-minute walk from a ferry stop, which allowed us access to the rest of Sydney.
Are you ready to get out and start enjoying life with your children?
EATING OUT (OR IN) IN SYDNEY
There's no other way of saying it. It's pricey. Very pricey. Which is not a problem as long as you're prepared.
I resolved to eat brekkie in the apartment (I even packed a box of cereal). We'd go to town, quite literally, at lunch. In fact, one day we enjoyed lobster at the Fish Market. Then for dinner we'd grab what we fancied from the convenience store. I think one night it was crumpets, and the other night we went wild with pasta.
So there are ways to keep the food cost down, it just takes some prior planning. Oh, and don't head out without a water bottle. I refuse to pay for water, especially when it's $5 for a small bottle.
OUR 3 SYDNEY HIGHLIGHTS
THE MANLY SEA LIFE SANCTUARY
We chose the Manly Sea Life Sanctuary over the Sydney Aquarium, and we weren't disappointed.
Being a Sea Life Sanctuary it has more emphasis on rescue and rehabilitation. Kids want to know these things you see. How did the fish get in there? Why are they there? Are they happy there? Do they miss their mum? And all this before we even arrive. I was in luck as all their questions were answered with informative, friendly staff and signage throughout. Not a frantic Google search in sight.
We watched the penguins being fed, and yes I now know all the different names for them … fairy, blue or small penguins if anyone's testing. Not only were these comical little creatures fed, but our minds were fed too. I loved watching my girls genuinely interested and soaking up this information.
We all loved the very impressive shark tank, so calming. As we walked through the glass tunnels, it feels as though you're on another planet. We were overwhelmed with the huge stingrays and turtles. I felt as though I too was floating.
Apart from the constant begging from my eldest daughter to do the cage-free shark dive, it was a fun and educational experience. Plus, we loved the ferry ride which preceded it, making it a super easy location to reach with little ones.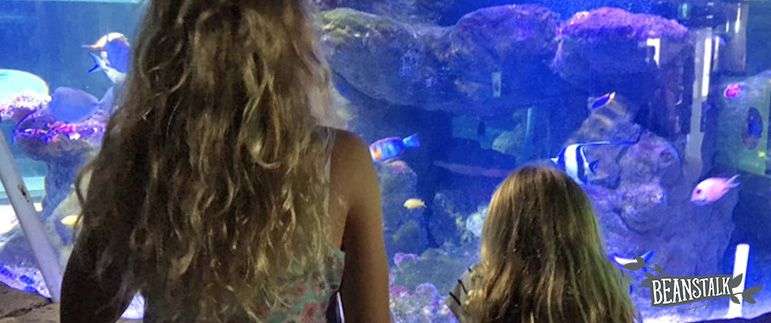 CATMOSPHERE CAFE
Taking it off the beaten tracks, well Surrey Hills to be precise, a real highlight of our adventures was the Catmosphere Café.
It's simple, if slightly unusual. It's a coffee shop with cats. Yes cats. We dutifully booked our session online, the kitten session (we couldn't resist the kittens) and arrived for a wonderful hour spent in a room full of, you guessed it, kittens. What fun we had.
All the cats in the café are up for adoption, and the café plays an important role of socialising them, before they go to a loving home.
It's a win-win really. The kittens love the company. We loved the kittens. And everyone is happy. You even get a yummy cat-shaped cookie as you leave.
It would have been a near purr-fect experience, but for the constant 'can we have a kitten mum' for an hour or two after.
SYDNEY TOWER BUFFET
In our true style of 'doing something a little bit different' and our love of food, we decided to head to the Sydney Tower Buffet.
Since our stay in Sydney was short, I thought it would be a wonderful way to see ALL of Sydney in the revolving restaurant with stunning 360 degree views.
And stunning it was. It does a revolution every 80 minutes allowing us to see all the landmarks and really get our bearings. I (rather cleverly I thought) made the booking for early evening, allowing us to see this sprawling city by day, watch the sun set over it and then enjoy the twinkling performance of the city by night.
Look, I'll be honest, it was pricey, but we loved it. The revolving restaurant was a huge hit. We had so much fun going to the buffet only to find our table had revolved and was now in an entirely different place (tears of laughter I tell you). Yet, the food was substandard. The girls loved it, but you would be bitterly disappointed if you expected something gourmet, as it certainly is not that.
Overall though, based on the novelty value of a revolving restaurant, the stunning views and giggles we had, I would definitely recommend it.
MY OVERALL THOUGHTS ON SYDNEY AS A SINGLE MUM
We loved it! Sydney is a clean, easy city. It is dominatingly beautiful, wonderfully iconic, friendly, welcoming and fun.
Think outside the box when you decide what to do. Not everything has to cost money. We spent a happy few hours exploring the outside of the Opera House and watching people climb the Harbour bridge. Try the 'different' attractions, not the obvious ones, like the Catmosphere Cafe.
Plan, plan, plan. Think carefully about every element of your trip. Leave space in your itinerary to relax with your children. Think where and how you can save money. And most importantly, remember it is your break as well. It certainly shouldn't be stressful, in fact travel (done right) is good for your health.
Enjoy adventuring with your kids … before you know it they won't be interested in holidaying with you anymore. Make the very most of it NOW.