Are you looking to buy the hottest gifts for your friends and family this year?
Find out what's trending and how to get your present buying on the money for 2022.
25 Trending Christmas gifts: What's hot in 2022
1. WEIGHTED BLANKET
This December, give the gift of cosy and warmth. When it comes to trending Christmas gifts, a weighted blanket is on top of our wish list. It mimics a comforting hug and can help you sleep better and longer.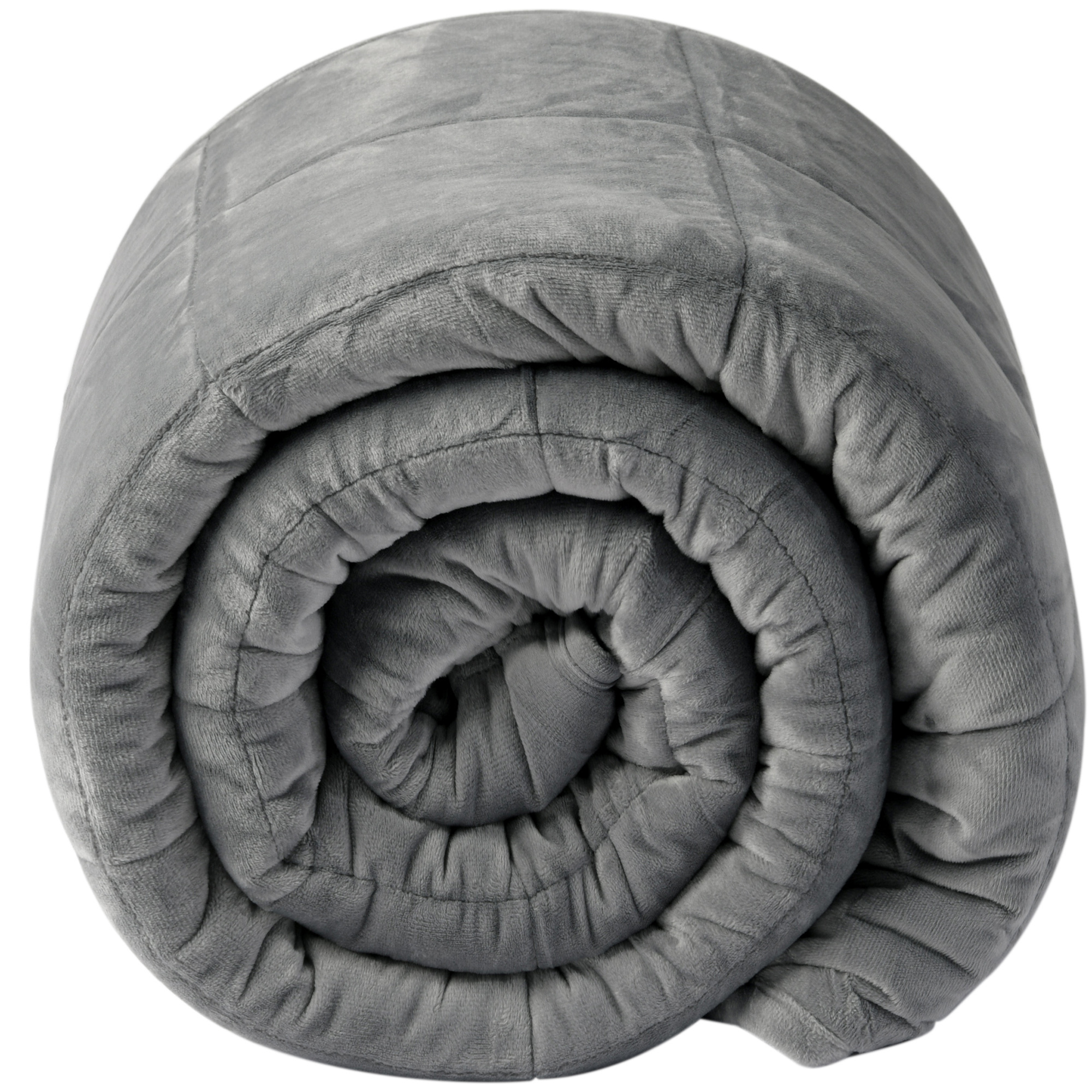 We found this at: Temple and Webster
2. ROBOT VACUUM
The robot vacuum is every single mum's best friend. It schedules your cleaning, cleans both hard floors and carpets, and recharges itself once it's done. Talk about handy!
We found this at: Big W
3. ANYTHING ECO FRIENDLY
If you're looking for trending Christmas gifts, look no further than eco-friendly presents. This eco gift pack is filled with a curated collection of sustainable home essentials: grocery bag, steel pegs, cutlery wrap, and bamboo straws.
We found this at: Oz Sale
4. HAIR REMOVAL DEVICE
Get the smoothest skin of your life with an IPL laser hair removal device. We like this one from Philips that works on all areas of the body with hair-free resutls lasting up to 8 weeks.
We found this at: Shaver Shop
5. MASSAGE GUN
The gift of relaxation can't be beat. This holiday season, give your family and friends a massage gun to soothe their aching muscles. We like this one from My Deal that comes with 30 speeds and 6 different massage heads.
We found this at: My Deal
A donation to your giftee's favourite charity is a genius and feel-good Christmas gift. The options are endless. We like this one from World Vision that helps women and children get access to clean water and hygiene facilities.
We found this at: World Vision
7. CODING ROBOT
Coding is an essential skill in today's tech-driven world. This coding robot kit doesn't even need an app or computer. Simply match the buttons to the coding wheel to make your robot do awesome things.
We found this at: Yellow Octopus
8. PORTABLE CHARGER
You always need a portable charger, whether you travel a lot or you work from home. Give your loved ones a superfast charger like this one from Kogan. It's slim, compact, and charges devices 4x faster.
We found this at: Kogan
9. INSTANT CAMERA
The easy-to-use Instax Mini 40 is a stylish take on the classic polaroid camera. Capture precious moments instantly with selfie mode, auto exposure, and close up mode.
We found this at: Big W
10. BEE HOUSE
Help save the world's bees with a trending Christmas gift that's perfect for nature lovers: a wooden bee house for Australian native bees. Made locally in Brisbane from recycled timber boxes and weed bamboo.
We found this at: Biome
Most popular Christmas gifts 2022
11. GIFT CARDS
For that one friend/family member who's super hard to buy for, a gift card makes the perfect present. You can customize the gift card design (this cute dog is a winner) with fun photos.
We found this at: Gift Card Store
12. NOISE CANCELLING HEADPHONES
When you need comfy headphones for all-day wear, this one from Kogan fits the bill. It features active noise cancellation, Siri voice control, up to 65 hours of run time, superfast charging, and amazing sound.
We found this at: Dick Smith
13. REUSABLE CUPS
Did we mention sustainable Christmas gifts are the best? These reusable cups will keep your coffee piping hot even on the coldest days. Made from soda lime glass with double walls, splashproof plug, and non-slip band.We found this at: The Well Store
14. VEGAN COOK BOOK
If you've always wanted to switch to a more plant-based diet, this cookbook is for you. Foodie and dietitian Ellie Bullen shows you how to whip up easy vegan meals (from quick dinners to comfort food) that are surprisingly tasty and flavourful.
We found this at: Booktopia
15. SMART WATCH
Now it's easy to keep track of your fitness goals with a smartwatch that is packed with features. This one from Kogan monitors calories, steps, and more, has 14 activity modes, uses Bluetooth to control your phone, and lasts up to 30 days on a single charge (standby mode).
We found this at: Kogan
16. COFFEE MACHINE
Wake up to fresh, yummy coffee each morning with a capsule system coffee machine that works with Nespresso® and Caffitaly® capsules. Comes with 2 cup sizes, auto stop, and fast preheating.
We found this at: Harris Scarfe
17. BEARD TRIMMER/GROOMING KIT
Here's a trending Christmas gift for the men in your life: A beard trimmer/grooming kit with all the bells and whistles. This waterproof trimmer has 4 attachment heads, multiple guide combs, and a 2-year warranty.
We found this at: Shaver Shop
What's the hottest Christmas gifts this year
18. DYSON HAIRDRYER
A Dyson hairdryer is the ultimate splurge and the best gift for your single mum BFF. You'll never style your hair the same way again with a powerful machine that gives you a perfect do' every single time. Great for all hair types.
We found this at: Oz Hair and Beauty
19. SMART TV
It can be hard to find trending Christmas gifts that would please everyone. A smart TV is guaranteed to make your giftee smile, and it won't break the bank. This 32″ TV has built-in Chromecast and Google Assistant to support their fave streaming services.
We found this at: Kogan
20. MEDITATION MOUSE
Give your kids the gift of calm and relaxation with a meditation toy that doubles as a cuddle buddy. This plush mouse features breathing exercises, physical prompts, nighttime sounds, and three different calming modes.
We found this at: My Deal
21. SINGLE USE PLASTIC START UP KITS
Take your house cleaning to the next level and help save the planet at the same time. With this eco-friendly cleaning starter pack from Zero Co, you have everything you need to keep your home tidy and hygienic while reducing plastic waste.
We found this at: Zero Co
22. AIR FRYER
Raise your hand if you bought an air fryer during the pandemic. Now it's time to give one to your out-of-the-loop mum friends. We love this one from Kogan that uses less oil to cook yummy dishes. Comes with digital display, 7 cooking functions, and recipes.
We found this at: Dick Smith
23. AIRPODS
Here's a trending Christmas gift that's almost as great as a new iPhone. The airpods are worth the price with their clear sound, Siri voice control, and up to three hours of talk time.
We found this at: Big W
24. RECORD PLAYER
An old-school record player with Bluetooth for streaming music? Now that's a brilliant Christmas gift. This turntable comes with built-in speakers, USB recording, aux in/out, and a retro-style carrying case.
We found this at: Temple and Webster
25. ANYTHING TO KEEP US CALM!
An essential oil and diffuser kit is for anyone in your life who could use an extra dose of calm. This set from Eco Modern Essentials comes with their best-selling essential oils and diffuser. Designed to clear the mind, boost mood and relieve stress.We found this at: Eco Modern Essentials