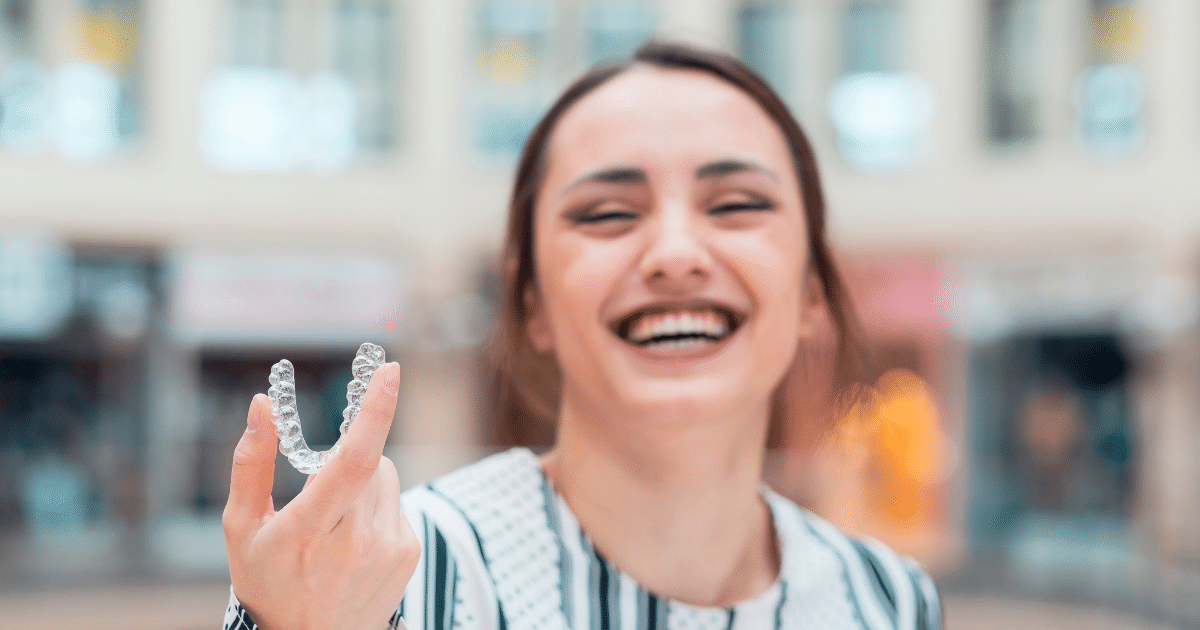 Invisalign costs vary widely depending on the type of treatment you are looking for, as well as where you live. In Australia, the average cost of Invisalign treatments is $3,500-8,500, which can be very expensive if you're considering treatment for yourself as well as your children.
If you're looking to reduce your Invisalign costs, there are a few different options available. The most effective way to reduce your costs is by choosing a cheaper plan with fewer aligners required, however, this differs from adults to children. In this blog, we look at ways you can reduce Invisalign costs.
Further reading: Why dental health for single mums makes a difference.
What factors impact the cost of Invisalign?
Invisalign is an amazing option for people looking to straighten their teeth without metal braces. The cost of Invisalign can vary depending on several factors:
The length of your treatment
The length of your treatment is the most significant factor in determining the cost of Invisalign. Invisalign treatment time can range from 4-12 months, and it involves regular check-ups every 3-6 weeks. The more treatment time you require, the more expensive it will be. You can try to reduce Invisalign costs by going for a quicker treatment plan, but this all depends on the complexity of your case.
How many aligners you need?
The number of aligners you need will have the biggest impact on your treatment cost. You might require a new aligner tray every 1-2 weeks for the duration of your treatment, which means that if you need more than a few months of treatment, you could end up needing a lot of aligners! Ultimately, the longer your treatment is, the more aligners you need and the more costly your treatment is.
How much your insurance will cover
The cost of Invisalign will also depend on several other factors, including your health fund, how much insurance will cover, and your Orthodontist's fee. Whether or not your health fund covers part of Invisalign's costs depends on your employer and if their plan includes orthodontic services. If it does, then you can ask for reimbursement from them after you have paid the other fees involved in getting Invisalign.
If you already have private health insurance that covers orthodontic treatment, then you may be able to get the full cost reimbursed by your insurer. Otherwise, you'll need to pay out-of-pocket for this service. Your Orthodontist's fees are also likely to vary depending on where they work and what kind of practice they run.
Ways to reduce Invisalign cost
Invisalign is a great way to straighten your teeth, but the cost can be prohibitive. Here are some ways you can save money on Invisalign:
1. Payment plans to reduce Invisalign cost
Invisalign offers payment plans so you can pay over time without having to make a big upfront payment. Or you may be able to finance your treatment through your dental insurance company. If they don't offer finance, they may be able to refer you to another company that does. Talk with your Orthodontist about this option before deciding whether or not Invisalign is right for you. Invisalign isn't available everywhere and not every Orthodontist offers the treatment so look around to find the right payment plan and price for you and your family.
2. Speak to your insurance provider
Another way you can reduce your Invisalign costs is by speaking to your insurance provider. You may find that you're eligible for a discount, or you could be paying too much for the treatment. Check the policy inclusions. Does it cover orthodontic devices? Dental appliances? Cosmetic surgery? If not, you may have to pay out-of-pocket for these services, which will increase your overall cost of treatment.
Check your waiting period. If you recently started your health insurance policy, it could be subject to a 12-month wait before making any claims. Check your orthodontic lifetime limit as some policies have a maximum amount one person can claim in their lifetime
3. Consult with your Orthodontist about your children's teeth
First, consult with your Orthodontist about your children's teeth before rushing into Invisalign treatments. This will allow you to compare the best options for your child. If you are unsure about which treatment is right for them, then it is best to ask questions. Your Orthodontist may be able to help guide you through this process by providing information on how much each treatment would cost and what kind of results you can expect from each option. Your Orthodontist can help you understand what options are available for your child, and how those options will affect their smile and oral health in the long term.
There are several different types of braces available today, including traditional metal braces and clear aligners like Invisalign. If you have more than one option, ask about each one's price range so that you can make an informed decision about which one will work best for your family.
Invisalign Melbourne
Invisalign is a treatment that allows you to transform your teeth discreetly and comfortably without having to use visible braces. There are several steps in the process of using Invisalign, including:
Visiting the best-suited orthodontist Melbourne has to take bite impressions and give an examination.
Aligner manufacture that produces an incredibly precise set of aligners tailored to your teeth, from as many as 48 sets of aligners to as few as 12.
Wear the aligners throughout the day, removing only to eat, drink, brush your teeth and floss.
Visit the dentist consistently to make sure that you are making progress with your orthodontic treatment.
Wear retainers for a few months after finishing your treatment and enjoy your new smile!
There are plenty of benefits of using Invisalign. It's a relatively simple way of aligning your teeth into a smile that you love without having to have visible braces for a significant portion of your life.
How much is Invisalign?
For a lot of people that consider using Invisalign, the amount that you pay for the treatment can be one of the first concerns. After all, dental care can be a significant expense if you opt for treatments that are of the highest possible standard. However, the cost of Invisalign can vary depending on your needs.
The first factor that affects the cost of Invisalign is your personal needs. Everyone has different teeth, with unique adjustment needs depending on their own dental history. More complex procedures with more aligners will cost you more money throughout the period. If you'd like a cost estimate you can always contact a local Invisalign orthodontist, with many orthodontists offering highly flexible payment packages. This makes sure you can get the treatment that you need without having to pay more than you can afford. Regardless of who you are, the Invisalign cost Melbourne patients face is manageable.
Is there Invisalign near me?
Wherever you are in Melbourne and beyond, using Invisalign is a relatively quick and easy process. Plenty of orthodontists worldwide embrace Invisalign as one of the premium ways of improving the appearance of a client's smile. Simply search for "Invisalign Melbourne" to see a series of licensed orthodontists that can offer you an Invisalign service and bring you the smile that you deserve.
Invisalign vs braces?
One of the main comparisons Invisalign comes up against is braces. After all, the two do the same task, just in different ways. The main benefit of using Invisalign is that it is an invisible solution, so people don't notice that you have corrective mouth wear in. Some people get self-conscious when they wear braces, and Invisalign is a way of solving any issues you have with your teeth without these worries.
Invisalign also means that you don't have to compromise on the speed of your transformation. Using Invisalign as a treatment takes between six and eighteen months depending on your personal requirements, with a brace taking up to two years of constant presence in your mouth. This makes the Invisalign solution quick and easy whilst being discrete for the duration of your time with the treatment.
Invisalign Sydney
When you're looking for an orthodontist Sydney patients trust, you want to make sure you're getting the best. After all, you only get one set of teeth, and the right orthodontist can help you to make the most of yours. Find out more about ten of the best orthodontists Sydney has to offer, and learn more about what Invisalign is and how it can be the ideal tool to support your move towards a smile you love.
When you're looking for orthodontic solutions in the Emerald City, there are plenty of things that you can look for. A reliable service is one, with strong word of mouth also helping you to make a better choice. Orthodontic solutions that are bespoke to you are also a must. This is where Invisalign comes in.
Invisalign is an orthodontic treatment that is an alternative to braces, acting as an invisible corrective procedure that patients use when straightening their teeth. This treatment works for children, teenagers and adults, and is specific to the way your mouth works.
How does Invisalign work?
We always want to know how our medical procedures work, and thankfully Invisalign is an incredibly simple process. You start by visiting an orthodontist that offers the procedure and getting bite imprints and an inspection of your teeth. Invisalign then create a series of aligners that suit the specific shape and structure of your mouth, creating a pathway to better teeth for you.
After you receive your aligners, simply wear them throughout the day and night. You can take them out to eat, drink, brush and floss, and over time you'll correct your teeth to give you the perfect smile. Once you're through all of your aligners, wear your retainers for around six months or as your dentist advises. At the end of the process, after an appointment with your dentist, you can be happy with your final smile alignment!
How much does Invisalign cost Sydney based?
One of the main concerns about any dental treatment is the finances behind any agreement. After all, if you don't know the cost of Invisalign, it can be hard to commit to the treatment. The amount that patients pay for Invisalign varies wildly from patient to patient, since everyone has different teeth and requires a unique form of support from the treatment.
An ideal way of finding out how much you can expect to pay is by asking an Invisalign dentist. These experts have experience with the treatment and know roughly how long any given treatment should take. You can also spread an Invisalign cost over an extended period of time, so you don't have to worry about the financial impact of getting a smile that you can feel confident with.
Invisalign vs braces
When most people think about having Invisalign teeth correction, braces are the nearest alternative. After all, a before and after of using braces is similar to an Invisalign before and after, so where's the benefit of Invisalign? The first major difference is that people can't see Invisalign, which means that patients can feel confident without the stigma that comes with wearing braces.
Invisalign is also a shorter process than having braces. Braces can take up to two years depending on the condition of your teeth, whilst Invisalign can take as little as six months. By choosing Invisalign you complete your orthodontic process more quickly, are more confident throughout and come out at the end of the process with a smile that you can love for the rest of your life.
Brisbane Invisalign Brisbane
Orthodontic procedures are incredibly important, with the perfect orthodontist bringing you a smile that you can love without you feeling any worries about the process. To make the right choice of orthodontist, you need to make sure that you know the best orthodontist Brisbane has to offer. Learn more about the most reliable orthodontists in your area, in addition to what Invisalign is and how they can provide a better option than braces.
Invisalign is an invisible orthodontic procedure that uses a series of gradually straightening aligners to give you a smile that you'll love. This process involves wearing an aligner for around 22 hours a day, taking it out for only eating, drinking and brushing your teeth. After you go through the process of wearing an aligner, you use a retainer for a short period of time before only wearing it when the dentist recommends. This is the perfect solution for anyone looking to feel more confident about their smile for the foreseeable future.
Is there Invisalign near me?
No matter where you are, if you have reliable orthodontists operating nearby there is Invisalign near you. Invisalign braces are some of the most common ways of treating teeth and restructuring your smile thanks to happy customers all around the world. Simply search "Invisalign Brisbane" if you'd like to know some of the locations you can get an Invisalign treatment and start your progress towards a smile that you love.
How much does Invisalign cost Brisbane based?
It varies. Everyone has different teeth that grow in different ways, with some naturally skewing away from what we see as the "perfect" smile. Teeth with more deviation require more correction and more sets of aligners, so these treatments can cost more than those with relatively straight teeth. You can contact a dentist or orthodontist to find out what they think your Invisalign treatment will cost.
Orthodontic treatments can be expensive, as they take a lot of tailoring to your own teeth in combination with advanced technology creating the ideal aligners for your unique smile. However, you can split this cost up. By paying over an extended period, you don't take a significant financial hit and can look after your finances more effectively than if you paid the treatment off in full.
Invisalign vs braces
Although braces and Invisalign end with the same product, there are a few fundamental differences between Invisalign and braces that split the two. The first of these is the fact that braces are a lot more visible than Invisalign as an alternative. They use a metal structure and bands to pull teeth into place, which Invisalign manages through a transparent plastic. Braces have an immediate stigma coming from the way they look, which Invisalign avoids through its more inconspicuous look.
Invisalign also makes living your day to day life far simpler. Aligners are easy to remove, making eating and brushing your teeth a simple process that doesn't need to involve a large metallic structure. They are also far more comfortable to wear, naturally sitting against your teeth without a risk of cutting your cheeks. Other people don't notice that you have Invisalign, and you may not even notice yourself thanks to how natural the solution feels.
Invisalign before and after
Seeing a before and after for Invisalign can be startling. Regardless of the condition of your teeth beforehand, using Invisalign's aligners and retainers means that you get your teeth looking far nicer. You can receive a serious confidence boost, and a before and after image can show you just how much of a difference using the process can make to your teeth.
From Two Wells to Aldinga Beach, if you have a concern about your teeth and want to solve them you're sure to have one question on your mind. What is the best orthodontist Adelaide has to offer? After all, we only get one set of teeth in our adult life, and looking after them to the best of our abilities is a must. See a list of the best orthodontists in Adelaide and find out more about Invisalign, with how much a treatment can cost and what to expect when using the Invisalign process.
Invisalign Adelaide
Invisalign is a smile-straightening treatment that gradually straightens your teeth through a series of aligners. These are see-through bespoke products that you wear in your mouth and pull your teeth into a structure that you like over time. Simply wear the aligners in the right order then follow it with your retainer, and you'll end the process with a smile that you can be confident with.
How much does Invisalign cost?
Thanks to the unique nature of Invisalign, the cost of Invisalign varies for each individual patient. We all have different teeth, different sized jaws and different dental histories, which mean that we require different aligner configurations. You can start to learn how much an Invisalign will cost you by visiting a dentist and asking them, as they will have some idea of how much alignment is necessary for you to achieve the smile that you want.
You can also keep costs manageable by paying through a range of different plans. Of course, very few people will have the funds to deal with the Invisalign cost Adelaide orthodontists charge in one single payment. There are a series of payment plans available to keep your finances manageable, so you keep your money in check whilst becoming happier and happier with your smile.
How does Invisalign work?
There are a few steps in the Invisalign process, each of which contributes significantly to the best possible smile at the end of the process. These include:
Visit the orthodontist to get a bite impression and inspection of your teeth by a qualified orthodontist.
Wait until Invisalign develop your aligners, with dozens of individual aligners created exclusively for your teeth.
Wear your aligners for 22 hours a day, taking them out only to eat, drink, brush your teeth and floss.
After your series of aligners is complete, wear your retainers as advised by a dentist or orthodontist.
Enjoy your smile!
Invisalign vs braces
Invisalign and braces do mostly similar jobs, there is a significant difference between the two. The first is a matter of comfort, with braces taking up a lot of space in your mouth. They take a lot of time to get used to, whereas Invisalign aligners simply fit over your teeth and don't lead to issues like cutting the inside of your cheek. It's also far easier to eat and brush your teeth without worrying about causing problems, unlike with braces.
Braces are also far less subtle. They can be very visible and lead to wearers losing confidence in themselves, with some people having to wear them for up to two years. Invisalign is an invisible solution, so nobody sees the aligners in your mouth. You're improving your smile without anyone around you being able to see what's going on, providing a great amount of discretion.
Is there Invisalign near me?
Of course! If you have a reputable orthodontist nearby, there will be someone able to support you through the Invisalign process. Simply search "orthodontist Adelaide" or "Invisalign Adelaide" to see the options available to you when planning your orthodontic transformation to a smile that you'll feel happy with.
Invisalign Perth
The City of Lights is a beautiful place, set amongst state forests and incredible white sand beaches. It's enough to bring a smile to anyone's face, so you need to be as confident as possible in your smile. This is where finding the best Perth orthodontist possible is a must. Learn more about some of the best orthodontists in Perth, and learn more about what Invisalign is and how it can help you to create a smile that you love.
Invisalign is a long-term treatment that helps you to get your teeth aligned exactly how you'd like them. Whether you'd like to fix a small gap between your teeth or move all of your teeth to make you feel confident about your smile, you can do it with Invisalign. The process is simple, with patients getting an impression of their teeth before receiving their aligners and wearing them every day. It's a solution with very little hassle that helps you to be happier with the way your teeth look as soon as possible.
Invisalign cost Perth
Innovative orthodontic solutions sound good, but always prompt a simple question. How much does Invisalign cost? There are a few factors that mean Invisalign cost varies, including your existing teeth. Everyone has a different dental history, from removals to the way your teeth grow and even simply having different brushing habits. Longer treatments cost more, with shorter treatments being far more affordable.
The cost of Invisalign isn't one that you bear immediately either. If wondering "How much is Invisalign?" is stopping you from getting a smile you love, simply opt for a long-term payment plan that makes the treatment much more affordable. You don't need to worry about your finances, just like you won't need to worry about your smile, as you balance your plan with the amount that you can afford on a monthly basis.
The benefits of Invisalign
One of the main concerns that people have when thinking about Invisalign centres around Invisalign vs braces. After all, if braces are the better option, why consider Invisalign. There are plenty of benefits of using the innovative service Invisalign offers, including:
Subtlety
Aligners are a very subtle solution to straightening your teeth. The see-through plastic is perfect for people that worry about the stigma attached to highly visible braces, since you can straighten your teeth without anyone being able to notice. This invisibility stays regardless of the issues with your teeth, with even complex alignment being hidden from those around you.
Functionality
Having aligners is an extremely functional solution for straightening your teeth. You can remove and put in aligners as necessary, which makes eating a lot easier than when using braces to get your teeth where you want them. Your eating, drinking and snacking habits become a lot more flexible when you use aligners.
Hygienic
Oral hygiene is a must for anyone, especially if you're going through an orthodontic procedure. Having braces can make flossing and brushing difficult, so your oral hygiene deteriorates over time. Aligners are completely removable, giving you complete access to brush your teeth and gums when you need to.
Invisalign orthodontist Perth based
If you're looking for Invisalign Perth experts can provide, it's simple to find a location that offers it. Simply google "Invisalign Perth" and you'll see a series of options that can all provide high-quality Invisalign services to help you on your journey to a smile you love. They can complete an initial inspection of your teeth before advising you further on your plan, helping you through the process.
Further reading: Terrifying facts to scare your kids into cleaning their teeth.