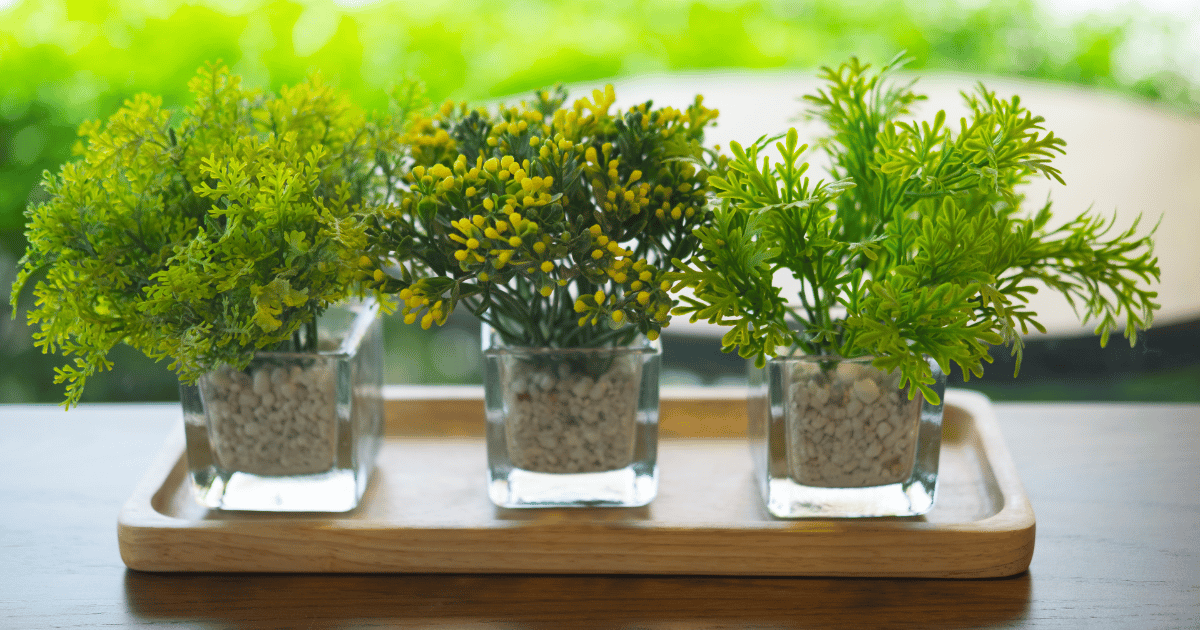 Why, hello there 2023!
Let's kickstart the year right! Spruce up your home with some lovely house plants. Decorate your place with some bright yellow sunflowers, vibrant green shrubs, stems and ferns or colourful potted trees, and feel the instant lift in your home's atmosphere.
Or, take it a step further and turn your home into a green oasis with a green wall disc! These planted discs are sure to make your home feel fresh, lively and homey.
If getting a real plant is not on the agenda given the amount of hard work and care living plants require, fret not. There is an ingenious alternative to keeping your green dreams alive… artificial plants!
Taking care of real plants is hard work if you are not naturally green fingered (like us!) it can seem like an almost impossible task and responsibility. Trust us, we know! The struggle to keep our plants alive, well and thriving is real. Luckily, these days there's a super awesome alternative…..artificial plants!
If you're looking for plant decoration ideas on how to style your home, look no further. We've prepared some pretty cool tips below. Inject life and colour into your place with these cool decorating ideas. They are sure to transform your home into a lush, vibrant green oasis, minus the upkeep.
Hanging Plants: Outside the Window
This simple, space saving trick does wonders to any home. It will transform your window into a lush heaven! Using hanging baskets is a great way to add more plants to your home and display them for all to see without using any floor space.
They look great and can even provide you with more privacy from the neighbours – especially if your window faces another house, or if you have a neighbour who's a tad nosy or overly friendly.
This is the perfect opportunity to show off your plants, too! Hang your plants outside the window and impress your neighbours and guests with some cascading tendrils. Artificial hanging plants are perfect for showing off a pretty new pot and keeping the plants safely out of reach from pets or your little ones.
Long & Thick Plants: Happy Vibrant Corners
Empty nooks and corners? The bonus of artificial plants is that they do not need sunlight. That means you can place them anywhere, even in the darkest corner. They will never wither and always look oh-so-beautiful and healthy.
Our take is to choose plants with long and thick leaves to fill up bare corners and brighten up your space. Some great options for the green corner vibe are ficus trees, pothos trees and money plants! With Chinese New Year just around the corner, the money plant (monstera) is a popular favourite believed by many to bring good fortune and prosperity into a home.
What are you waiting for? Make the most of your nook and crannies today!
Artificial Trees: Front Door or Entrance
The entrance is the first impression of any place, . The front door sets the mood and vibe of your entire home. It should give you a relaxing and inviting vibe; after all, your home is your sanctuary to recharge and relax.
Mesmerise your guests and passersby with a beautifully decorated main entrance. Use similar artificial trees on both sides of your main door. We recommend palm trees for breezy vibes and flowering trees such as camellia and wisterias for a whimsical and cheerful ambience.
Use some planter boxes if you have a long driveway leading up to your main door. Flowering plants in planter boxes are a sight to behold. Wildflowers, roses and petunias are great for planter boxes.
Let your inner creativity go wild and decorate to your heart's content.
Artificial Plants With Vase & Water: Side Tables
Bare side tables or dresser tops? Place a vase with a single rose on top, or take it up a notch with this fantastic idea below.
There's a huge trend for succulents right now. They're little plants that come in a variety of shapes, colours, and blooms. Of course, real succulents are pretty hardy and store water well, but with artificial ones, you won't even need to worry about a watering schedule. These pretty faux succulent plants are ready to be placed anywhere and everywhere.
Use them to accentuate and make a statement in any room. Because you can get succulents in various colours, they are super easy to mix and match with any theme you choose for your home. Add a bowl of water underneath as you would for an actual plant; this gives it an illusion of a real plant. Even a green thumb expert would need to take a second look to realise it's faux!
Flowering Artificial Plants: Dining Table/Coffee Table/Bedside Table
(suggestion: flowering artificial plants for tables)
Are you hosting a dinner party? Flowering plants make great centrepieces and conversation starters. Amaze your guests with a potted flowering butterfly orchid on the coffee table. Create a pleasant dining experience by decorating your dining table with a lavender plant.
Flowers will always make a lovely centrepiece for your table. They will add colour, warmth and style to any room. Set your dining table in style with some beautiful flowering faux flowers. Let the good mood and good conversations flow.
When night comes and the guests have all left, it's time to tuck in for a well-earned sleep. Nothing beats a calming pot of lavender on the bedside table with a few added drops of lavender essential oil to give you that much needed good night's sleep!
Why artificial plants, every time?
Artificial plants are better for home decor! They don't need soil and fertilisers; there are no more messy spills and cleanups. To keep your artificial plants looking their best, just give them a good wipe now and then. These everlasting beauties are non-toxic, making them safe for pets and babies. What's not to love about them?
Bring beauty into your home today with artificial plants!