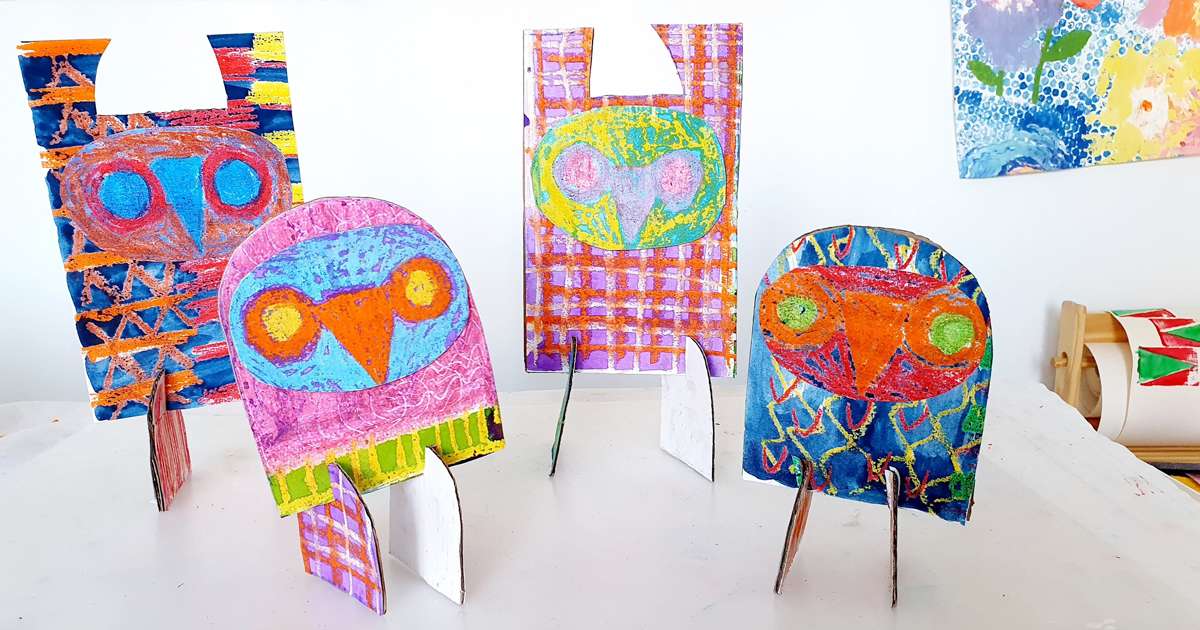 We find ourselves closer to the end of 2020, but the reign COVID restrictions have over our daily schedule remains strong. Some playgrounds might have re-opened, hooray! Maybe a skatepark or two are back in action, but the retail shops are still closed in some states, the interstate travel is cancelled, large picnic gatherings, water-slides and movie theatres are still off limits.
It seems, yet again, our Term 3 school holidays call for creative activities for our kids.
Here are five kid's art ideas that actually work and won't mess up the house … we promise!
FABULOUS NO MESS ART IDEAS FOR KIDS
CARDBOARD CREATIONS
When it comes to kids's art ideas, cardboard is the best art material out there! It is always available, free (use that cereal box!) and incredibly versatile. Cardboard paired with crayons is a match made in heaven, the arty-creation options are endless. These slot together owls are a great way to up-cycle any cardboard you have in your cupboard. The connecting technique of loosely slotting together shapes can be used for any cardboard sculpture – rainbows, circles, bugs? To make these owls cut out a large rainbow shape (elongated semi-circle) for the owl body. Then two smaller rainbow shapes for each foot. Decorate the owl with patterns using any colouring tools – crayons and oil pastels work well on cardboard. Create slots in each cardboard foot, then assemble your fancy owl. For some more inspiration on cardboard animal creations take a look at the amazing UK artist, Clare Youngs.
NO MESS PAINT
Is that actually possible?! Yes! And it is all because of a handy little product called paint sticks. Paint sticks are quick, easy and convenient way to allow kids to get into painting, without the preparation and mess involved with ordinary liquid paints. They work wonderfully on many surfaces like cardboard, paper, wood, clay and dry within a couple of minutes. You can try cutting shapes out from cereal boxes (fish, rainbows, rockets?) and setting them up on a table with paint sticks as an art prompt. Painting plain gift boxes from a craft store or a wooden photo frame provides a fun afternoon of creative decorating and you're not left with a sink of dirty paintbrushes. Some excellent paint stick brands I recommend are Kwik Stix, Little Brian Paint Sticks and Colour Slicks.
RAINBOW ROCK PAINTING
With winter behind us and more sunny days ahead take a walk outside for a nature art activity. Using rocks as a canvas is surprisingly satisfying! This creative afternoon begins with a walk to find your perfect rock "canvas". You can talk about all the possible fancy ways to paint your rock with your kids; from turning it into a charming little rock house, a rock monster, or maybe a colourful rainbow. All painting can be completed outside in the sun. You'll be surprised how many rock artworks your little artist will want to create! Rock painting is super fun for kids, and they make a very colourful addition to your garden.
KID'S ART IDEAS (CONT.)
JOIN THE FREE ART PARTY LIVE ART CLASSES
Still stuck for what to do these school holidays and have a little creative at home? Then this one-off school holiday offer is for you!
Mini Monet Studio is hosting a week of FREE LIVE ART CLASSES for kids. Every class is perfect for kids aged 5-13 years who love to draw, paint and create! Experienced art educator, Georgie, demonstrates each step of the drawing and painting projects, helping your little artist explore their creativity and create art at home. You can sit back and have an extra long sip of your morning coffee While your little artist creates a masterpiece a day for 5 days! The week long art party kicks off at 10am Monday Sep 21st until Fri 25th. You can register your little artist here and download your free art party pack. Visit www.minimonetstudio.com for more information or take a look on Instagram at @minimonet_with_georgie.
NO MESS PRINTMAKING
I love creative activities that use supplies from the kitchen cupboard! Foil, masking tape, paper and markers is what you need to start a simple, mess-free printmaking activity. All you need to do is tape a sheet of tin foil to a piece of newspaper or the table. Let your little artist colour the tin foil with markers then finish with a spray of water on top. Next, place a piece of paper over the top, gentle press, then pull back. Watch your child's expression when they reveal the rainbow, blended design! You can leave your print as it is, or cut out some beautiful butterflies, lizards or beetles. Such fab fun if you're on the hunt for kid's art ideas.