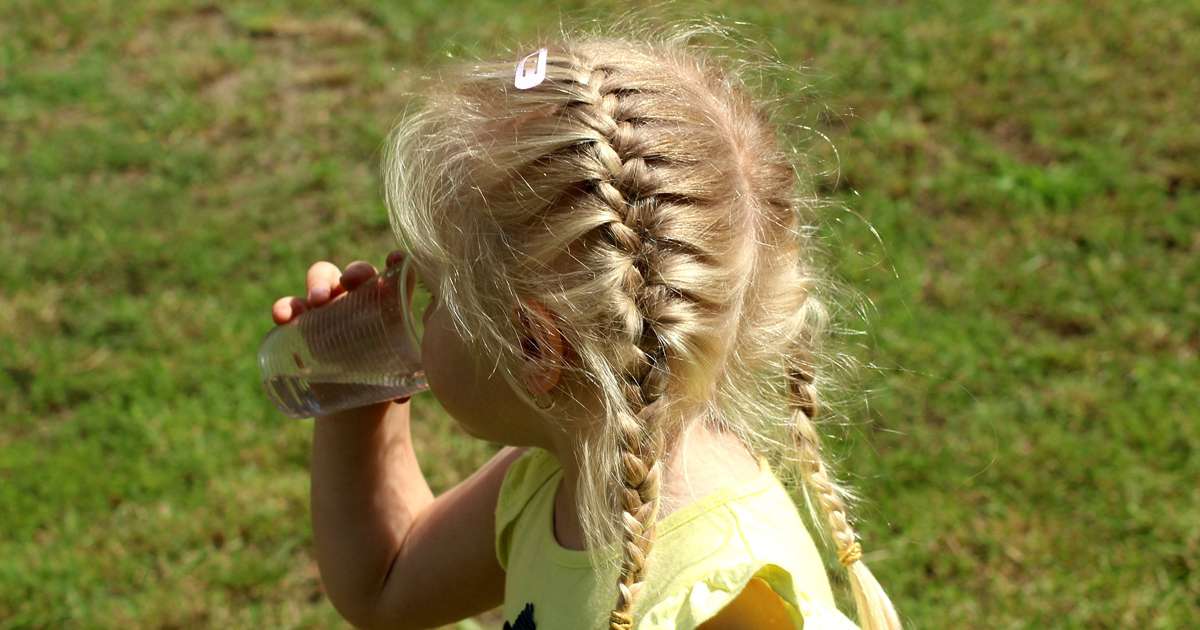 Drinking water is essential for keeping your body healthy and functioning properly. When it's hot out, it's especially important to stay hydrated. Although, sometimes, your kids may forget to drink water throughout the day. Here are some smart ways to keep your children hydrated.
What are the signs of dehydration?
One of the most common ways to get dehydrated is not drinking enough water. Your child needs around 4-8 cups of liquids, depending on their age. If your child is already feeling thirsty, this is a warning sign they may be dehydrated.
Here are some other signs to look out for:
Dark-colored urine
Bad breath
Dry mouth
Fatigue
Sugar cravings
How to Keep Your Kids Hydrated
With these common signs of dehydration in mind, here are seven clever ways to get your kids drinking more beverages.
1. Make Drinking Water Fun
Kids love colourful things, so why not use decorative cups to help entice your kids to drink more. Let them pick out glasses with their favorite Disney characters. To make it even more interesting, buy some twisty straws and fun-shaped ice cubes. Making drinking water seem like a fun activity encourages your kids to do it more often.
Water, unsweetened milk, and smoothies are good beverages to fill up your kid's cup. These drinks help keep your child healthy while providing extra sources of nutrients.
2.  Flavour Up the Water
Your kids may not want to drink water simply because it tastes too bland. To solve this problem, try adding fruit slices for a touch of flavor. You can add oranges, strawberries, or whatever your kid's favourite fruits are.
Here are some flavour combinations to try out:
Lemon, orange, lime

Strawberry, Raspberry, Blueberry

Watermelon, Cucumber, strawberry

Strawberry kiwi, lime

Lemon, orange strawberry
 If you want to change it up, you could also experiment with different vegetables and herbs. These flavored beverages are refreshing for warm summer days. Plus, then your kids get their fruit or vegetable intake for the day. 
3. Create a Reminder System
Similar to a chore chart, place a chart on the fridge to remind children to drink water. Each time they have a glass, have them record it on the chart. If you're going out for the day, you can also set a reminder on your phone.
Also, consider downloading apps to help monitor your water intake, such as: 
Aleo Bud

Drink water reminder

Plant nanny

Aqualert

My Water balance
Having a system in place can help drinking water become a part of their daily routine and turn into a habit.
4. Talk to Your Kids About the Benefits of Drinking Water
Educating your kids about the importance of drinking water makes them more involved in the process. Keep in mind as they get older, you won't be able to follow them around everywhere. So, it's important they make intelligent choices on their own.
Try to relate the benefits of staying hydrated to activities they enjoy. For example, if they play sports, tell them how drinking fluids can help them score the winning goal. Also, remind them water helps their digestive system function properly.
Here are some other benefits of drinking water to mention:
It lubricates your joints

It helps forms salvia used in food digestion

It delivers oxygen to your whole body

It improves your skin health

It regulates body temperature
5.  Try to Encourage Them to Drink Filter Water
Your drinking water may contain pollutants, so you want to ensure it goes through a filtration system. To check your water supply, purchase a water testing kit. To find the right equipment, make sure it tests for certain contaminants, such as bacteria and lead.
To get the most accurate results, follow these tips:
Read all the directions

Don't open testing stripes until you're ready

Wash your hands first

Keep a timer nearby

Use cold water
Once you get your results, verify them with the United States Environmental Agency (EPA) standards. You can also contact your local water providers for a water quality report within your area. To keep your water healthy, consider buying water purifying appliances, such as a Brita filter. Having germ-free water will taste better for your kids and give you peace of mind.
6. Have Water Readily Available
Another way to get kids to drink more is to provide them with easy access to beverages. Send them to school with reusable water bottles. Make sure they take water to all their sports practices and games. Also, when the kids come home from school they have a pitcher of water already sitting on the kitchen table. Meals are also a simple way to ensure they are drinking water throughout the day.
7. Scale it Down
Make sure to have kid-sized cups. This can make your child feel like they are drinking less water. Kids cups are often more accessible for children and are brightly decorated. One of the benefits for you is these glasses take up less room in your dishwasher.
Creative Ways to Get Your Kids to Drink More Water
Water is essential for your health. You can't go more than a few days without it. Although, staying hydrated can sometimes be challenging for children. Consider these tips to keep your kids drinking water throughout the day.