This article about how to become an Uber driver in Australia was last updated in 2021.
How to become an Uber driver in Australia.
If you have toyed with the idea of becoming an Uber driver but have never got around to it, this article will tell you everything you need to know.
Uber driving is a great way to earn money fast without having a job interview and with relatively little outlay. When I needed money, I decided to become an Uber driver, and it saved me financially.
WHAT I LOVED MOST ABOUT UBER DRIVING
It is the ultimate flexible work. If your child is sick, don't work. If your child has been invited on an unexpected play date, hop in the car and turn on the app.
You are your own boss. We have enough people to answer to. Why would you want more?
You get paid like clockwork, weekly. The more you drive, the more you make, and no unpaid overtime.
You get to meet new people. I loved this and even got asked out once!
You get to discover new places that were previously off your radar.
You are completely safe. The app tracks you and is connected to emergency authorities and specially trained incident response teams.
You get to choose who you work with i.e. who you drive. You decide whether to take a rider, or not. I would avoid anyone 3-stars or under.
Use your downtime (time in between rides) to listen to a podcast, read a book or just chill.
No uniform or make-up required. Deodorant is good though!
Get fuel discounts and other Uber rewards, the more you Uber drive, the more you get
It's super-easy to become an Uber driver. I'm a single mum in her 40's. If I can do, anyone can!
THE PROCESS TO BECOME AN UBER DRIVER IN AUSTRALIA
I have to admit, when I started the process to become an Uber driver, I was still in two-minds. In the end, it was the smooth, friendly process to get me behind the Uber wheel that made it happen. It is like a well-oiled machine. There is help and guidance every step of the way in the form of texts, email and even someone on the end of a phone! I was impressed, and it urged me to continue. I am really glad I did.
Here are the seven steps I took to become an Uber driver in Australia. Have a read to decide if Uber driving is the right job (or sideline) for you.
HOW TO BECOME AN UBER DRIVER IN AUSTRALIA 
STEP 1: MINIMUM REQUIREMENTS TO BECOME AN UBER DRIVER IN AUSTRALA
First of all, you will need to check that you meet certain requirements. Don't despair. I thought I wouldn't meet them and would be back to job-seeking, but it turned out I was fine.
They are:
Be at least 21 years of age
Have access to a vehicle that meets Uber's vehicle requirements

Hold a valid full driver's licence in your state or territory

Have held a full driver's licence in any Australian state or territory for at least 12 months (exceptions apply in certain states and territories)

Provide all the necessary documents required in your state or territory
I will also add here that your car must have four doors and be 10-years old or less. (More about vehicle requirements to come.)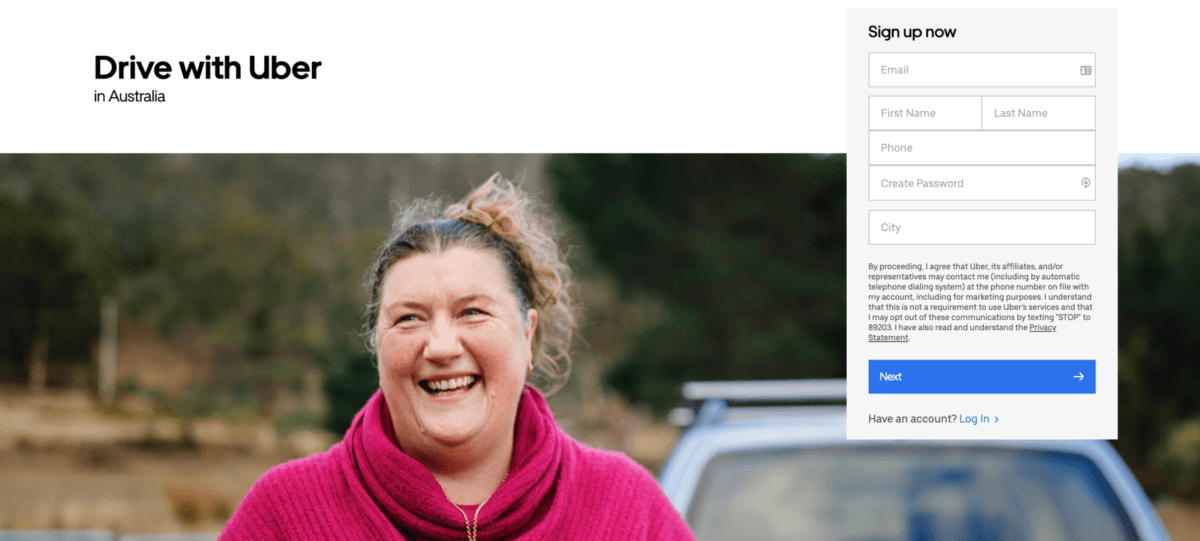 STEP 2: SIGN UP TO BECOME AN UBER DRIVER
If you reach the above requirements, you can sign-up to become an Uber driver in Australia. This is the easiest part. You will be asked simple questions about yourself and your vehicle. It takes just 4-minutes.
STEP 3: UPLOAD YOUR DOCUMENTS
You will then be asked to upload relevant documentation to support your application. These are:
A valid, full driver's licence for your state or territory
Your passport or birth certificate
Proof of vehicle insurance as required in the state or territory you plan to drive in
Any other documents required in the state or territory you plan to drive in
A driver profile photo

Must be a forward-facing, centred photo including the driver's full face and top of shoulders, with no sunglasses

Must be a photo only of the driver with no other subject in the frame, well-lit, and in focus. It cannot be a driver's license photo or other printed photograph
STEP 4: BACKGROUND CHECKS TO BECOME AN UBER DRIVER IN AUSTRALIA
Once you have signed up to become an Uber Driver, you will need to pass a background check. This is done online by a third-party provider via the Uber website. The check is secure, private and best of all, free. The check may vary from state-to-state but it will cover your driving record and your criminal history. You will receive a form to complete from Uber after sign-up to complete this step.
STEP 5: DOWNLOAD THE APP
Uber will review everything you have provided to them, which takes between 5-7 days. However, for me, it took just 2 days. While you're, waiting download the Uber Driver App and clean your car!
STEP 6: GET A VEHICLE INSPECTION
Once approved, you need to have an Uber Vehicle Inspection to confirm your car is roadworthy and smart enough to drive passengers. The cost is around $38 which will provide you with a 12-month Certificate of Inspection, to be renewed annually. You heart may sink here, but I can't tell you how easy this was. I live in a regional area so thought I'd be driving hours to a city for an inspection, not so.
The vehicle inspection process varies slightly from city to city. You will be given the details specific to your area but they can also be found on the Uber website. Uber sent me a handy text of all the places near to me I could use. It turned out my nearest Uber Inspection garage was a five-minute drive from where I live. Your car will be checked for general safety including: tyres, lights and body damage, so it's a good idea to have these all checked before, or do the safety checks yourself. Take a look at your car and think to yourself 'Would I be happy to pay to ride in this car?'.
My car failed as I had stains on my seats (don't ask, I have no idea what they are and had tried everything to remove them). Understandably, no-one, other than my kids, would really want to sit on them. Ultimately, I ended-up paying $300 for new seat covers. I was really glad I did and had made the money back within the week … from Uber driving. The stains still remain a mystery.
STEP 7: GET YOUR DRIVER ACCREDITATION
To become an Uber driver in Australia you are required to hold a Driver Accreditation or Driver's Authorisation, again, it varies a little from state to state. This is what allows you to take paying passengers in your vehicle. For me, in Queensland, it came in the form of a little blue card, similar to my drivers' licence.
Getting your Driver's Authorisation is included on the Uber sign-up process so you will be prompted on what to do. Firstly, you will be asked to book an Uber Health Assessment, which is the Commercial Standards Medical Check. This is a 15-20 minute health check to ensure you are fit to drive paying passengers. It can be completed with Jobfit Health Group via the Uber website for $77, or can be booked with your GP but the cost may vary. Like the vehicle check, Uber medical assessments are completed everywhere, I went to my local doctor's surgery. Although I was worried for some reason, I passed mine, and was given my certificate on the spot.
The next and final step to get your accreditation is to complete the Driver's Authorisation (DA) application. Again, Uber takes you through this process, in fact from memory, I think Uber completed mine for me! Once done, you will need to take it to your local TMR (Department of Transport and Main Roads) office, or the equivalent for you state, with your medical assessment and application fee (around $75). Approval can take between 1-3 weeks. This is the longest wait of the process, which is out of Uber's hands.
That's it. The above 7-steps are how to become an Uber driver in Australia.
PLAN YOUR UBER DRIVING WORK
While you are waiting for your Driver's Authorisation to come through, you can plan for your Uber driving job. Think about when you will be able to work and for how long. Put some goals in place for how much money you would like to make each week.
Utilise your Uber Driver app and open your emails from Uber. They will constantly keep you updated of the most lucrative place and times to work, as well as special events that could make you good money. The communication from Uber is excellent and although you are working alone, you feel they are available to support and encourage you all the time.
All the very best if you decide to become an Uber driver. I really enjoyed my experience on the road and hope you do to.