Globber My TOO Fix UP Scooter Review
---
My daughters are 13 and 11, and let me tell you .. they never tire of a good scooter. And we have been through many. From Dora The Explorer emblazoned ones, right through to their high-end electrical counterparts. I would almost go so far to say we are scooter connoisseur connoisseurs.
So with our extensive scootering experience in-mind, here are our thoughts on our latest rides with the Globber My Too Fix Up scooter.
Assembly
Well my daughters put them up. What more can I say? I checked them of course, but they did a great job. So five stars for packaging, instructions and ease of assembly.
Are you ready to be the very best single mum you can be?
Aesthetics
We really liked the look of these scooters. We had blue and pink. In fact, they are probably the best looking ones we have owned. Nice and bright, but also solid and clearly made of quality materials. We particularly liked the look of the padded handlebars. They looked comfortable to grip and evidently were.
Features
The best thing for us, well for my 'never-stops-growing' young teenager, was the three adjustable height positions. I was worried her scooter may be a little small, but it looked like it fit her perfectly, and there were no complaints from her even after long rides. The brake is nice and soft too, so easy for kids to get used to. Oh and the wheels must be good as they had no trouble riding them on grass.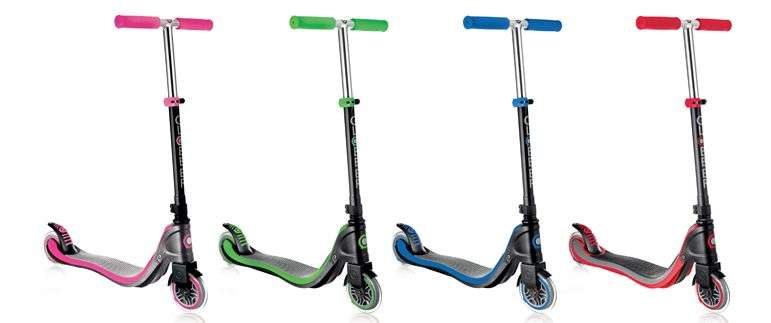 The ride
The scooters are super-sensitive to operate, evidently a good thing 'as it makes them easier to ride' according to my youngest. I was surprised to see the girls doing some jumps with them, which they have never attempted before, so they must have felt comfortable and safe to operate and manoeuvre. And they go fast, let me tell you .. I had a job keeping up with them!
Overall
We'd class the Globber My TOO Fix UP scooters as the best manual scooters we've had. Not only do they look high-quality, but they ride beautifully. The safety features are great for peace-of-mind, but also make for more comfortable travel. They are the ultimate when it comes to fast, fun scooter adventures for kids of all ages.
For more details about Globber Scooters click here.