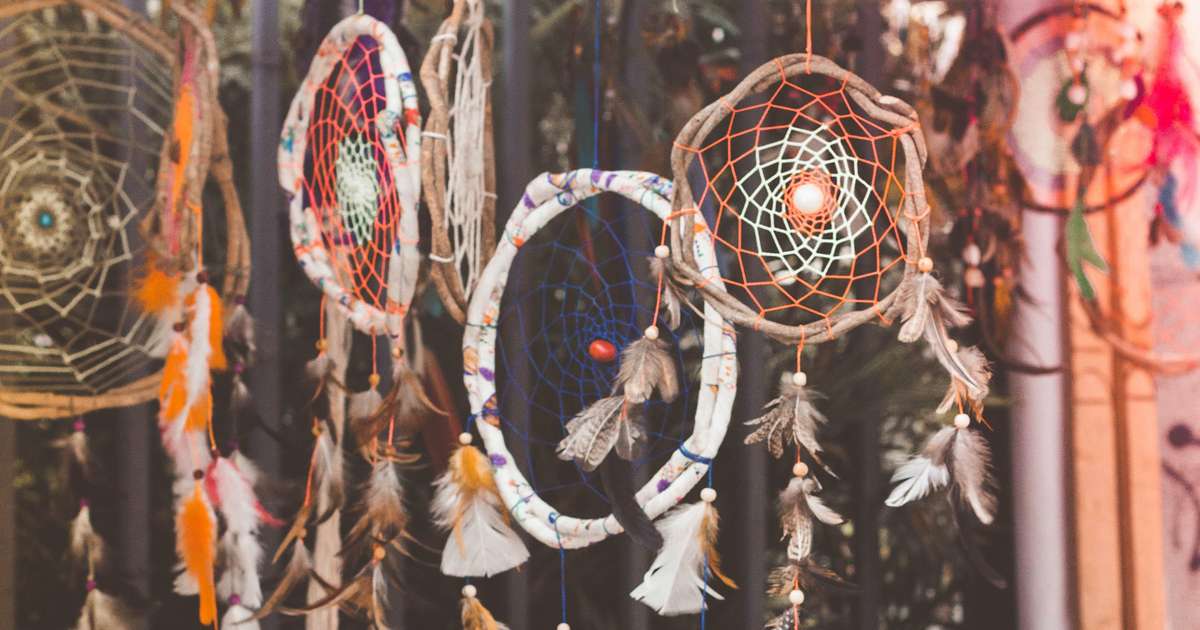 This article is checked regularly to ensure the information is recent and fresh. Last updated in 2021.
Dream catchers are beautiful, they are also very cool and have lots of meaning. Come on … haven't we all owned a dream catcher at some point?
Well, today we're sharing everything about "dream catchers for kids".
So, if your little one is a hankering after one, you're in the right place. Here begins the lesson on hunting down the perfect dream catcher for your child!
WHAT IS A DREAM CATCHER?
Dream catchers for kids have an interesting history.
A dream catcher is a spider web or net-like charm originating from some Native American cultures. The dream catcher catches any harm that might be in the air, like a spider web traps anything that comes near it.
Traditional dream catchers were made of willow hoop and woven with a net of string or sinew and used to protect babies. Dream catchers may also contain sacred beads, feathers and other items.
WHAT DOES A DREAM CATCHER SYMBOLISE?
A dream catcher, also referred to as a "sacred hoop" symbolises a spider web that traps harm and ill feelings. According to an Ojibwe legend, the protective charm came from the Spider Woman (Asibikaashi) who takes care of children. When it became difficult for Asibikaashi to reach all children, mothers made their own charms.
During the Pan-Indian Movement of the 1960s and 1970s, dream catchers became a symbol of unity among the Native Americans and First Nations people. They may also symbolise shared hope and healing, like the dream catcher made after the Red Lake, Minnesota shootings. Today, dream catchers are often used as decor by non-Native Americans and people who like the New Age or boho aesthetic.
HOW CAN IT HELP MY CHILD?
Dream catchers were originally used as a protective charm and can help your child sleep peacefully and ease anxiety and fears, such as fear of the dark or being alone in their room for the first time. They are thought to protect kids by trapping all bad dreams and feelings in the air, allowing only good dreams to pass. When the sun rises, all the bad things disappear.
WHERE TO HANG A DREAM CATCHER?
Dream catchers were traditionally hung over a cradle to serve as protection for infants. You can hang dream catchers anywhere: on the wall above or beside the bed, on a mobile or on a door. You can also put the dream catcher in a frame with a stand and display it on your child's night table.
HOW DO YOU MAKE A DREAMCATCHER FOR KIDS?
Dream catchers for kids may look complicated, but they are actually really easy to make. All you need are simple materials and a bit of time. Set aside a weekend morning or afternoon and have a blast making beautiful dream catchers with your children. These videos will guide you step by step:
Emilie Lefler shows you how to make a beautiful dream catcher from simple materials.
Source: Emilie Lefler
Check out this dream catcher for kids tutorial from DiYana on YouTube. Instructions are easy to follow and understand.
Source: DiYana
Another easy tutorial to make a dream catcher for kids from StyleNovice. This one uses paper plate, feathers and ribbons.
Source: StyleNovice
DIY DREAM CATCHER KITS FOR KIDS
Don't have time to buy materials? DIY dream catcher kits are the answer. DIY dream catchers for kids are easy peasy and make great decor and gifts.
Create your own colourful dream catcher with beads and feathers. The kit includes a 24-page book and materials that let you create 8 beautiful dream catchers.
We found this at: QBD Books
An adorable unicorn-shaped dream catcher is just the thing for your little princess. Comes with unicorn ring, ribbon, lace, feathers, beads and LED strings.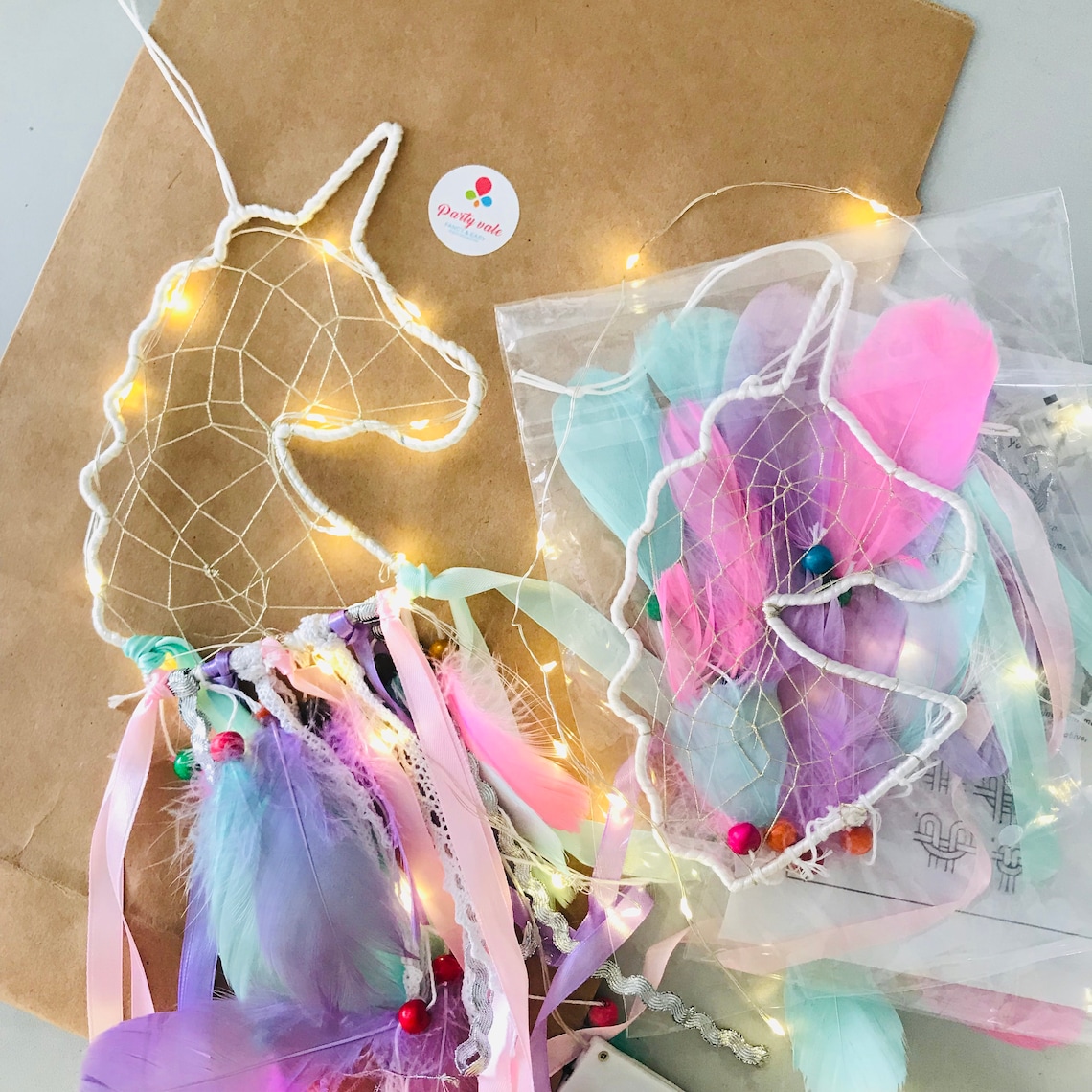 We found this at: Etsy
The Make It Real dream catcher kit is perfect if you're a newbie crafter. Also great for little hands as it encourages fine motor skills development and creativity.
We found this at: Target
WHERE TO BUY DREAM CATCHERS FOR YOUNG KIDS ONLINE
If you're not a crafter or DIY-er, you can buy gorgeous dream catchers for kids online. These are sold assembled already so you just hang them on the wall or put them in a frame.
Is there anything prettier than this Unicorn Dream Catcher from Wish? The golden horn, gorgeous fabric flowers and string lights really make it stand out.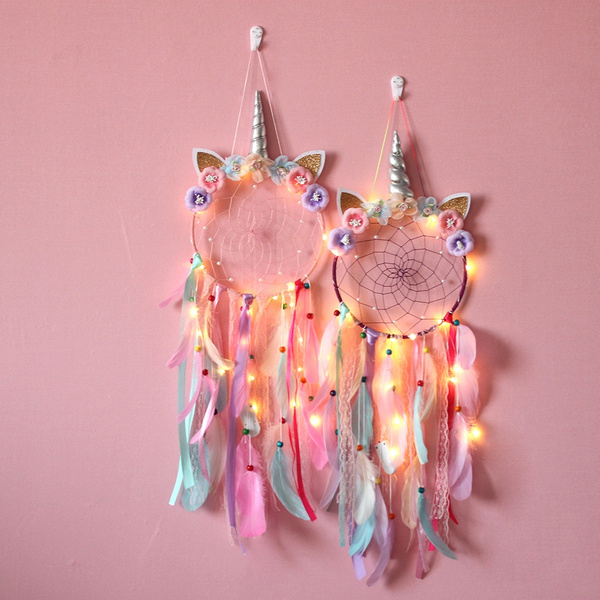 We found this at: Wish
Younger kids will love this colourful rainbow dream catcher from the Hippie House. It's simple, fun and has no small parts to ruin play time.
We found this at: The Hippie House
Sweet dreams are made of this stunning boho dream catcher. Perfect for the nursery, playroom or bedroom. Also great for birthday parties!
We found this at: Etsy
AND FOR OLDER CHILDREN …
This natural hand-knitted dream catcher is simple and goes with any theme. Crafted with cotton and wood in India.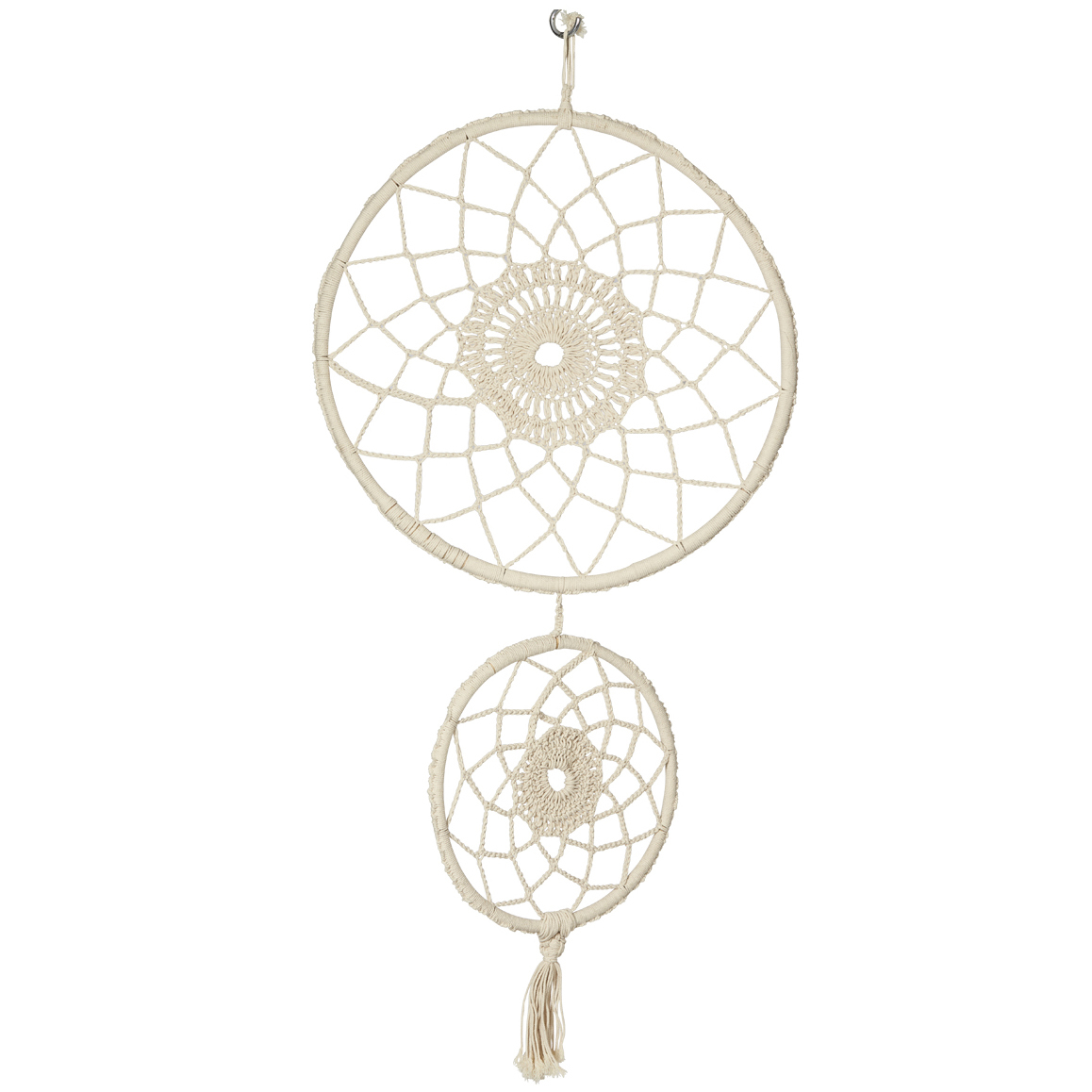 We found this at: Temple and Webster
Boho dream catchers don't get prettier than this. And it's easy to match with your existing decor.
We found this at: Light in the Box
The Mooloola Sweet Dreams dream catcher is elegant and understated, with a crochet web and trim that look like trendy macrame.
We found this at: City Beach