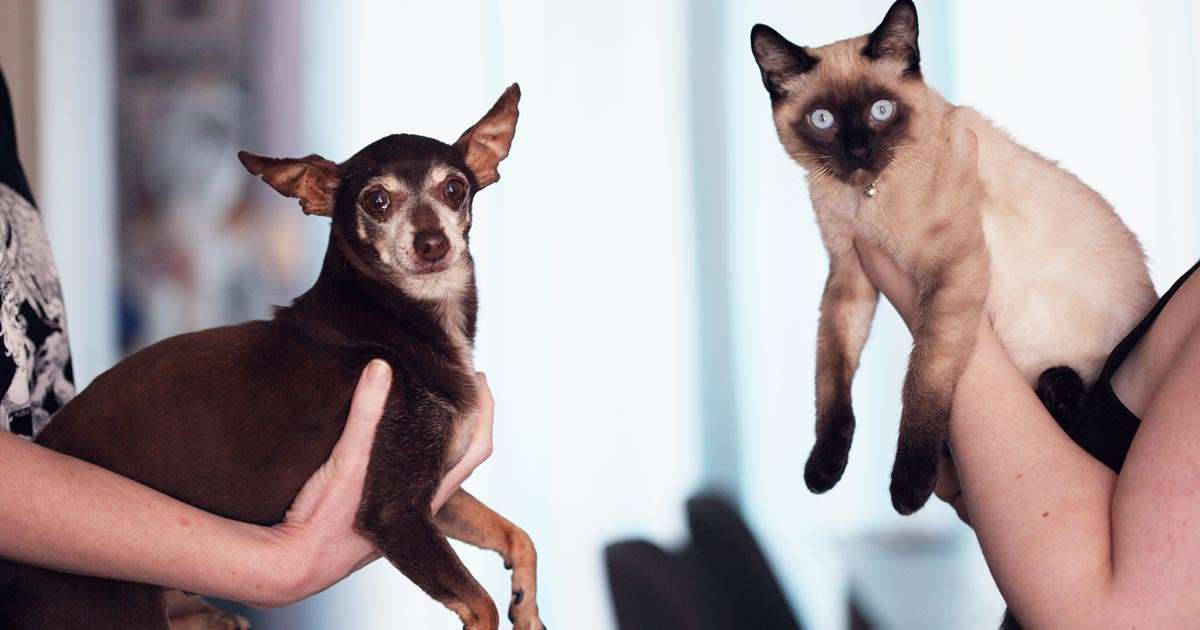 Do I need pet insurance? Your top 4 questions answered …
As Aussies, we're simply pet-obsessed. Did you know that in 2018, there were actually more pets than humans in Australia?1 While it's impossible to put a price on the love and adoration we have for our four-legged friends, the cost of owning a pet can quickly add up.
Caring for a dog or a cat in its first year alone can cost you anywhere between $3,000 and $6,000.2 That's a lot of money, especially when you're a one-income household.
So, on top of paying for pet food, vet bills, toys and grooming for your fur baby (plus taking care of your actual babies!), is pet insurance just an unnecessary cost?
DO I NEED PET INSURANCE? YOUR TOP 4 QUESTIONS ANSWERED
IS PET INSURANCE RIGHT FOR YOU?
Like our kids, sometimes our pets can get up to no good! Something as simple as your dog crossing the road, or running in a field, or cats who are allowed to roam the neighbourhood that scuffle with other cats or possums, could result in an injury needing a serious operation. This can cost thousands in vet bills. It's unexpected costs like these that can be the most distressing. With such expenses to consider, pet insurance may seem like a sensible option for some peace of mind.
WHAT DOES PET INSURANCE COVER?
As a single mum, you're often up against a lot of unexpected costs, therefore the biggest advantage of having pet insurance can be peace of mind. For example, knowing if your pet was to require urgent medical assistance, depending on your level of cover, you likely won't have to pay all of the (potentially large) vet bills.
However, similar to health insurance for us humans, some pet insurance policies won't pay all the costs you face or for all of the procedures. Plus, they'll usually charge an excess. How much money you're out of pocket depends on the level of cover you opt for.
DO I NEED PET INSURANCE? YOUR TOP 4 QUESTIONS ANSWERED (CONT.)
SO, WHAT KIND OF COVER SHOULD I GET?
Most basic pet policies generally only cover you for accidents while a more comprehensive policy may also cover your pet for some illness. Check the Product Disclosure Statement (sometimes called a Policy Booklet) to see if the cost for medicines or larger expenses such as a serious illness that requires surgery are covered.
You've probably heard around the schoolyard that pet surgery doesn't come cheap! Surgery for a tumour or joint issues can be quite expensive. Have a think about whether you can afford to absorb these kinds of costs. If you can't, then an appropriate insurance policy will mean you may only need to cover some of the costs.
I'M READY TO TAKE OUT COVER — WHAT NOW?
If you've decided pet insurance is right for you, you might be wondering where to start. A comparison service like iSelect can do some of the leg work for you by comparing from our range of providers and policies to help you find one for your furry friend*.
One final (but important!) tip to note when taking out a policy: read the fine print, including the Product Disclosure Statement. Many people are often caught out by terms and conditions which can result in your pet not being covered for essential treatments when they really need it. Be mindful that some policies may have a long no-claims waiting period between signing the contract, and being able to claim. Also, most policies generally exclude pre-existing conditions.
Owning a pet is supposed to be fun, rewarding and 'Instagram-worthy' — not financially perilous. Pet insurance is an option to consider that could potentially save you thousands in vet bills in the long run!
Source:

* iSelect's partnered with Choosi Pty Ltd (ABN 15 147 630 886) to help you compare pet insurance policies. iSelect earns a commission from Choosi for every policy sold through the website or contact centre. iSelect and Choosi do not compare all providers or policies in the market. Any advice provided by iSelect is of a general nature and does not take into account your objectives, financial situation or needs. You need to consider the appropriateness of any information or general advice we give you, having regard to your personal situation, before acting on our advice or purchasing any product. You should consider iSelect's Financial Services Guide which provides information about our services and your rights as a client of iSelect.  iSelect receives commission for each product sold by Choosi.