Being a single mum can be challenging at times. For many women, the responsibility of being a parent can feel overwhelming. Coupled with the general stress and anxiety that life provokes, it can be tricky to navigate feelings and emotions on your own.
It's important to remember that these feelings are normal, and even though life can feel busy and daunting, it's essential that we take care of ourselves so that we are available for our little ones.
In this article we discuss depression symptoms and how to cope with them.
DEPRESSION SYMPTOMS AND WHY TO TALK ABOUT THEM
WHAT ARE THE SYMPTOMS OF DEPRESSION?
Depression is a topic that some may be reluctant to discuss with family, friends, other mothers and partners. Postpartum depression or the 'baby blues' are often experienced by mums after birth. Depression symptoms can also hit at any time on your parenting journey.
Some depression symptoms mothers experience include feeling:
Teary
Emotional fragile
Exhausted
Anxious
As well as having:
Erratic mood swings
Bouts of sadness
Feeling of being on-edge more and more
Many factors can cause these natural and expected feelings to arise, such as a change in physicality, hormones and stress. Women's bodies can change and with these changes, feelings of despair and hopelessness can also present.
THE FIRST STEP TO COPE WITH DEPRESSION
Coping strategies are available at the first signs of depression symptoms.
First and foremost, mums are encouraged to talk out about what they are feeling. As cliché as this may sound, it's surprisingly more difficult than you may think. Women need to be able to turn towards one another and lean-in, expressing how they are coping and ask for support. This sometimes has a knock-on effect and creates a safe environment for others to share their stories and normalise one another. It may open what could ordinarily have been a hidden unspoken experience.
Women validating each other and listening to other mums' experiences can remove the stigma attached to trying to balance everyday life with little human's on-board.
SINGLE MUMS TALKNG ABOUT DEPRESSION
Additional challenges can face single parents. Whilst parenting is a joyful part of life, it can be very hard if you are parenting solo. It is even harder when there is a lack of support, limited access to resources, minimal time for self and loneliness. Being a parent is often a balancing act with two people, let alone one, and if single, it can add stress to an already overflowing plate.
Again, accessing support is crucial. Reach out to communities, neighbours, friends or family. No matter how difficult it may be, it can ease the burden. As the age-old saying goes, a problem shared is a problem halved.
Contacting a professional, a clinician, a support service and seeking counselling with the goal to beginning therapy is a wonderful tool for many. It will give you an opportunity to talk with someone about a subject you may not feel comfortable talking about within your network for fear of judgement. With an independent third party, many feel at ease sharing their struggles with someone who doesn't know them and trusting the therapeutic intervention on offer.
More so, stigma can play a role in single parents not receiving the help they need. Breaking the barriers down when talking about mental health is critical. There is nothing more refreshing to know that you are not alone in what is happening in your life. It can be this misconception that causes women to remain silent in their battles.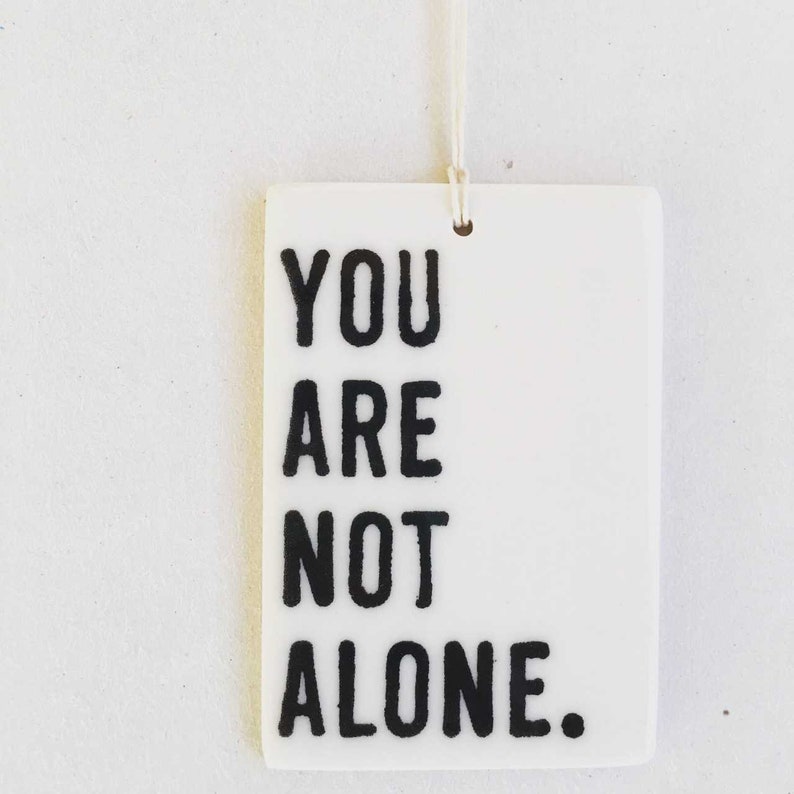 Stockist: Etsy
DEPRESSION SYMPTOMS AND WHY TO TALK ABOUT THEM (CONT.)
DEPRESSION SYMPTOMS AND SELF-CARE
Human beings are not designed to be alone. Trying to function autonomously, without a village in your corner can be debilitating. Self-care for a single mother could be better described as needing community care, collective care or collaborative care. As important as self-care is, human beings need connection. Interconnection is a protective factor for many mums.
Some essential self-care tips include small things like getting outside amongst nature, in the sunshine and reintegrating with the external world. Or eating nourishing food and getting restoration wherever possible by way of sleep. As well as engaging in meditation and mindfulness practices and silencing the inner critic that can often plague women.
If you are experiencing depression symptom, these are all very useful reminders to help keep us on track.
PRACTICE SELF-LOVE
Instead of engaging with your inner critic, show self-love and self-compassion. It can prove beneficial, reinforcing self-confidence and increasing self-esteem. As women, we tend to serve others, but not ourselves. If we could serve ourselves, which in turn would serve our children, the outcome would be much more positive.
ALWAYS REMEMBER
As confronting and isolating as some days may feel, you are not alone.
If you don't feel yourself or are experiencing depression symptoms, ask for help. It can't be said enough, for if you don't ask, the answer will always be no.