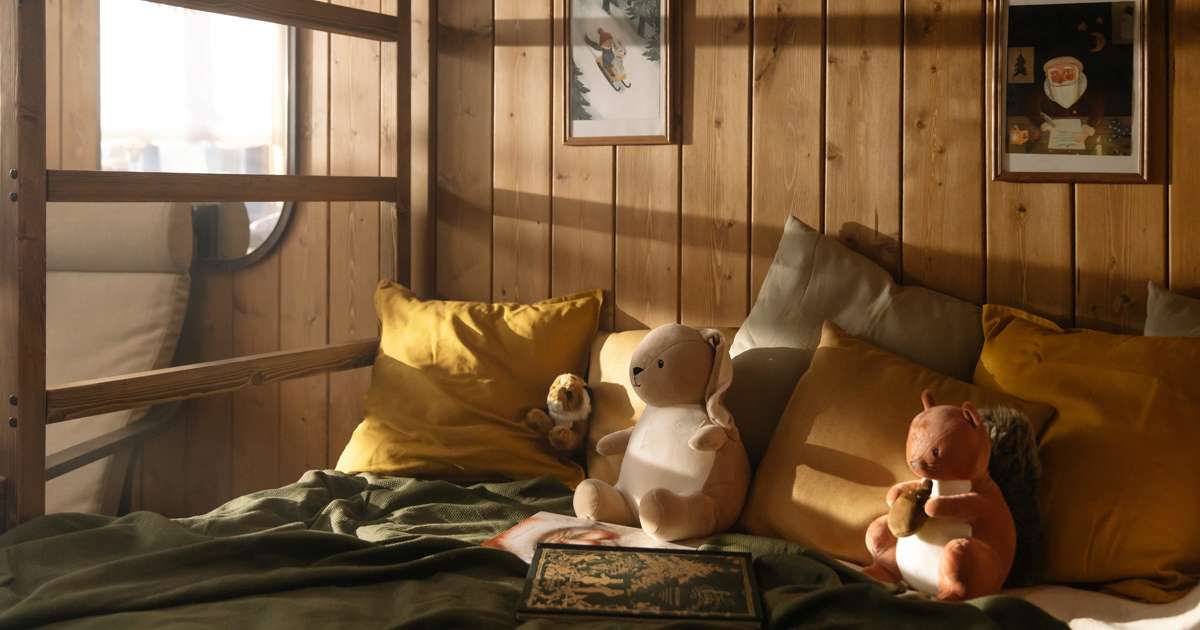 Kids deserve the cosiest room in the house, right? After all, they're the ones crawling, learning and playing the most. All that hard work calls for some rest and relaxation in a safe, comfortable space.
Luckily, designing a cozy kids room is relatively simple, especially if you use the following tips and tricks for inspiration.
1. Get the Light Right
Your child's bedroom should be a safe haven, a place where they can easily fall — and stay — asleep. However, they may have trouble getting a good night's rest if their room contains too much artificial light. That's because most bulbs emit blue light, which can disrupt natural sleep cycles.
Add a window or open the blinds during the day to regulate circadian rhythm. Then, invest in blue-light-free bulbs that you can switch on at night. Using them in the hour before bedtime will help everyone wind down and snuggle up to catch some z's.
2. Choose a Calming Colour Scheme
Most kids love colour and would gladly incorporate every hue in their bedroom. However, too many bright pigments can overstimulate your kids and make the space feel crowded and uncomfortable.
Find some middle ground by painting the walls in muted, stylish tones. Then, add pops of colour with accessories, toys and decor. This simple tip will ensure a calming color scheme and make it easier to redecorate as your child grows. Plus, it'll give those colourful toys a chance to make a statement without overwhelming your senses.
3. Incorporate Natural Elements
Whether you live on a farm or in the city, it's important to include natural elements in your design scheme. Use timber veneers alongside colours, scents, sounds and textures found in nature are soothing and can produce a calming effect in any room.
Draw inspiration from wild plants, animals, landscapes and more when selecting stuffed animals, prints, wall decals and mobiles. Use driftwood, dried flowers and other natural elements as decor. You might even include a few photographs of places you've visited to pique their curiosity and provide a view when windows with lovely vistas aren't available.
4. Select Cuddly Decor
Kids love to cuddle, so filling your child's room with items they can use to self-soothe is always a good idea. Create a cozy, snuggle-friendly environment with plush toys, blankets, fluffy comforters and pillows. Pay attention to materials and test-run items to ensure they're soft enough for your little one's face and hands.
Bean bags chairs, hammocks and luxe loungers can provide a cozy place to sit, too. However, infants and young children might get more use out of soft areas rug on which they can lay and crawl around.
5. Implement Storage Solutions
Are toys taking over your child's room? All those brightly-coloured playthings can overstimulate and distract your little one, especially when it's time to complete schoolwork or go to bed.
Clean up the clutter by implementing smart storage solutions. Use baskets, bins, shelves and cubbies to store toys, stuffed animals, clothes and more. Keep these organisers close to the ground to promote autonomy, self-guided play and cleanup. Pegboards, shoe organisers, and bar carts can also come in handy if you're looking for more customisable solutions.
6. Create the Proper Layout
Every child's room should support sleep, play, learning and enjoyment. Splitting the room into sections may help accommodate these four functions.
Maximise space and optimise layout by giving each activity its own distinct zone. Arrange the furniture and decor to section-off different areas and put an emphasis on rest and relaxation. Then, reassess the layout every few months and make any necessary alterations to ensure it's still the cosiest setup for your kiddo.
7. Add a Reading Nook
Helping children foster a love of books is key to proper growth and development. However, if your little one struggles to sit still for story-time, they might need a cosier place to read. Luckily, creating a comfortable private reading area is relatively easy. All you need is some extra space and a little bit of creativity.
For example, if the kids have a walk-in closet, you could convert part of it into a secrete reading nook. Window seats, large wardrobes, attics and lofts also provide wonderful opportunities for you to create a space for reading, writing and other artistic endeavours.
Making Room for Change
Even the cosiest rooms can feel uncomfortable if their contents don't reflect your interests. The same is true for kids. While it may be difficult to grasp that your baby won't be little forever, they will eventually grow up to develop their own interests, preferences and opinions. Therefore, parents must design rooms that grow with their kids to maximise comfort and keep the kids room cozy.
Choose transitional items and neutral colour schemes to ensure flexibility and let your child have a say in what goes in their room. Then, you can easily swap out toys instead of paint colours to keep your kids happy and comfy as they grow.