This article about buying cheap kids clothes online was last updated in 2022.
Buying clothes for our kids is best done the cheapest way possible because they will be outgrown within months … that is, if they make it that far without getting lost, ripped or irreversibly stained!
We are very lucky as there are heaps of places to shop for your little one's wardrobe, all from the comfort of your home.
So, if you want good quality and great value see our list of where to buy cheap kids clothes online.
For more great online shopping spaces see: 15+ Best online shopping websites if you live in Australia.
Where to buy cheap kids clothes online in Australia
Big W is a discount department store that offers a pretty great selection of cheap kids clothes online from big brands like Disney to local manufacturers like Bonds. They also sell toys, party supplies and books. Check out their Free Books for Kids Program that lets families collect a book each week for 8 weeks when you shop in store. We like their 90-day returns, same-day pick at no cost and home delivery.
Payment options: Credit card, Zip, Paypal, Afterpay, Lay-by, Gift Cards
Specials: Up to 50% off clearance items (while stocks last)
Best & Less is your one-stop shop for cheap kids clothes online plus more. This is where to get your basics, from underwear to sleepwear to school uniforms, as well as party clothes, swimwear and accessories–without breaking the bank. And with a practically endless selection (3000+ items online), you're guaranteed to find something to love. Be sure to check out their clearance section where cute tops and bottoms start at $1.00.
Payment options: Credit card, Paypal, Afterpay, Zip
Specials: Big markdowns in the clearance section
Aussie retailer Rivers is known for their men's and women's apparel, but there are a lot of hidden gems to be found in their kids section as well. While the store doesn't have that big of a selection (under 1000 items) and the prices are relatively similar to department stores ($50 on average), you can find some adorable baby and toddler clothes here at $10 or under. All orders over $100 ship free of charge Australia-wide, and you can return items within 30 days of receipt.
Payment options: Credit card, Paypal, Afterpay, Open Pay
Specials: Free delivery on orders over $100, exclusive deals for Rivers Rewards members
You might have shopped at Cotton On for some ultra-comfy undies, but did you know that their kids section is also a gold mine? While not as big as stores like H&M or Zara, Cotton On is definitely a must-try if you're looking for cheap kids clothes online. First off, their curated selections are high-quality and on-trend. And the price point is unbeatable: $15 on average for new items and under $5 to $10 for sale items.
Payment options: Credit card, Paypal, Afterpay, Zip, Laybuy, Latitude Pay
Specials: Free delivery on your next shop when you join Cotton On & Co. Perks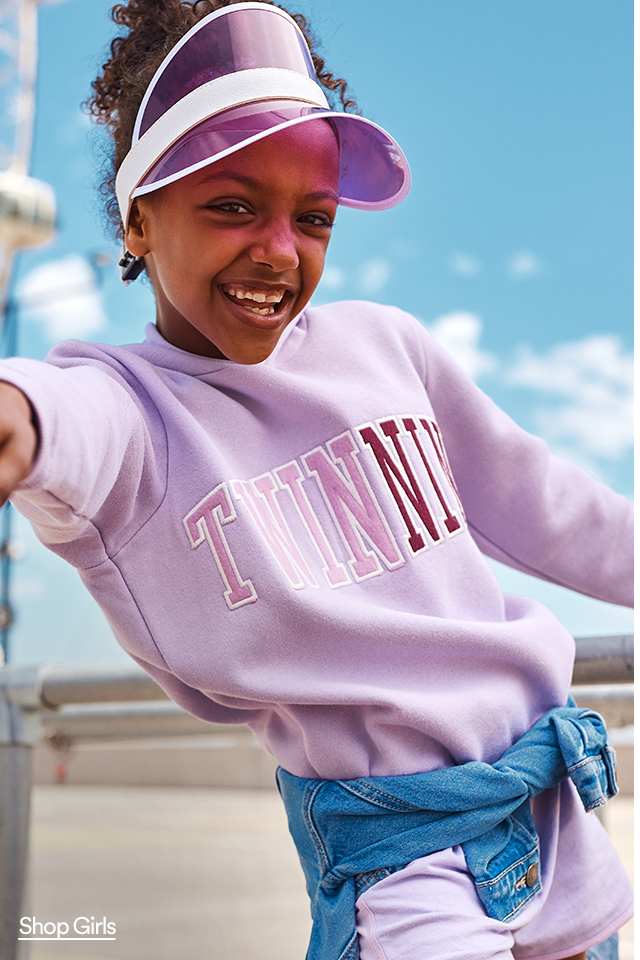 Popular discount store Kmart is a brilliant place to buy kidswear basics for as low as $2. You read that right, their prices are definitely wallet-friendly for the quality of the clothes. They have schoolwear, activewear, underwear footwear and costumes, plus a whole category of baby apparel and accessories. The kidswear selection is quite decent at 600+ items with brands like Disney, Bluey, Everlast and more.
Payment options: Credit card, Paypal, Afterpay, Zip, flypay
Specials: Free delivery for orders over $65

BEST KIDS CLOTHING STORES ONLINE (CONT.)
Australian icon Lowes is home to affordable, well-made clothing, and the same goes for their kids items. While you might want to skip the tops and bottoms (not a lot of options at under 100 items), Lowes is the place to buy school uniforms. They've been supplying schools in all states with quality schoolwear and accessories for over 100 years. Filter by state or use the search bar to narrow down the results.
Payment options: Credit card, Paypal, Zero
Specials: Free shipping on orders over $100, exclusive discounts for Lowes Rewards Club members
Don't you just love SHEIN? There's always a sale going on where you can score cute, trendy kids' outfits for as low as $5. Like any inexpensive clothing store selling fast fashion, don't expect too much in terms of quality (can be hit or miss). For clothes that kids will outgrow anyway or wear only once, this place is perfect especially if you have older kids or pre-teens. The clothes are stylish and you can find dupes of brand names.
Payment options: Credit card, Paypal, Google Pay, Afterpay, Zip, Klarna
Specials: Join their mailing list and get $4 off your next order, more specials on their website