This article about adult acne skin care products to clear your skin was last updated in 2021.
If it isn't enough to watch our once-youthful skin age, many women between the ages of 30 to 50, also experience the delights of adult acne.
Often adult acne is put down to an imbalance in hormones causing breakouts around periods, pregnancy, peri-menopause and menopause. However, it can also be caused from stress, skin products, diet, medication (including the contraceptive pill) and family history.
Whatever the reason for your adult acne, you will want to get rid of it … fast.
We've scoured the web for the very best adult acne treatments to save the day. Here's our top finds from complete skincare kits, daily treatments, through to products which target persistent, painful pimples.
DAILY SKINCARE TO KEEP ADULT ACNE AT BAY
A daily skincare routine is a must for acne-prone adults. For mild to moderate breakouts, a cleanser containing either salicylic acid or benzoyl peroxide, spot treatment and moisturiser help fight bacteria, target individual spots and keep your skin smooth and hydrated. Here are some products we love for treating and preventing breakouts
La Roche-Posay Effaclar Duo is considered by many women to be a holy grail skin care product for stubborn adult acne. The 'Duo' in the name refers to the active ingredients lipo-hydroxy acid (LHA) and niacinamide that work together to kill bacteria, unclog pores, exfoliate the skin and eliminate imperfections. It targets the cause of acne, calms irritation and fights scarring at the same time.
Cost: $31.95
General star rating: 5/5
Size of product: 40 ml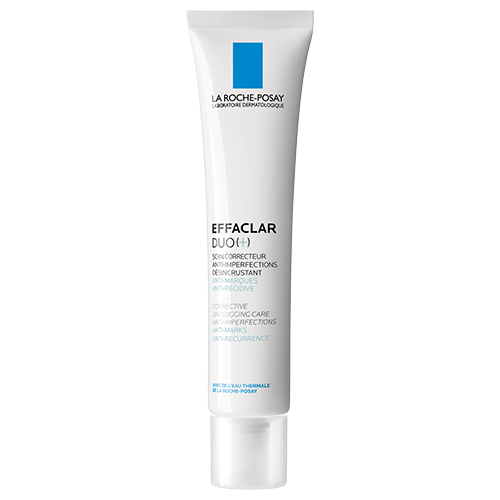 A great addition to your evening skin care routine, Dermalogica Overnight Clearing Gel spot treatment fights bacteria and regulates sebum while you sleep for beautifully clear skin in the morning. Salicylic acid unclogs pores, removes excess oil and exfoliates, while niacinamide and biotin soothe and prevent hyperpigmentation. The tea tree oil is an added antibacterial that calms redness. It's a bit pricey at $67, but the 50 ml bottle can last a long time because you only need to apply it to active spots.
Cost: $71.95
General star rating: 4/5
Size of product: 50 ml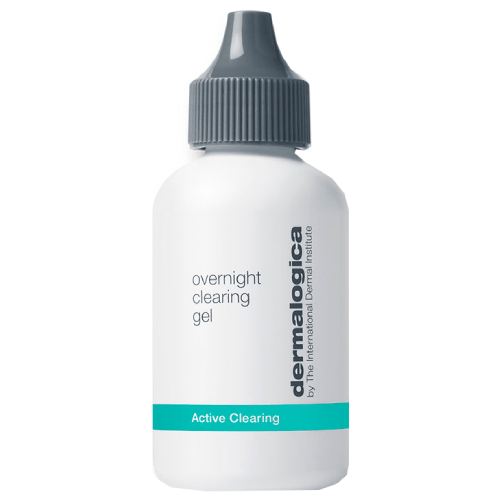 Another top-rated spot treatment, Alpha-H Clear Skin Blemish Control Gel eliminates stubborn spots, prevents future breakouts and minimizes scarring. It's an intensive gel serum that contains glycolic acid and salicylic acid plus soothing aloe leaf extract and limonene to target acne without irritating the skin. Many users swear that it can dry out a pimple in 24-48 hours, perfect for use before a big event. It's also a bargain at $16.96 for a 20 ml tube.
Cost: $29.95
General star rating: 5/5
Size of product: 100 ml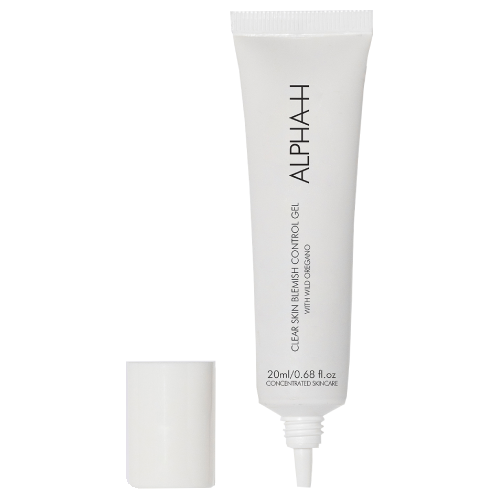 Clinique Anti-Blemish Solutions Clearing Gel is a daily treatment gel for acne-prone and oily skin. It claims to clear acne instantly upon application and prevent new ones from forming. Actual results may vary depending on your skin type and condition. Many reviewers say that it works quickly to clear problem spots, but tends to dry out the skin. Make sure to apply moisturiser right after.
Cost: $33.00
General star rating: 4.5/5
Size of product: 15 ml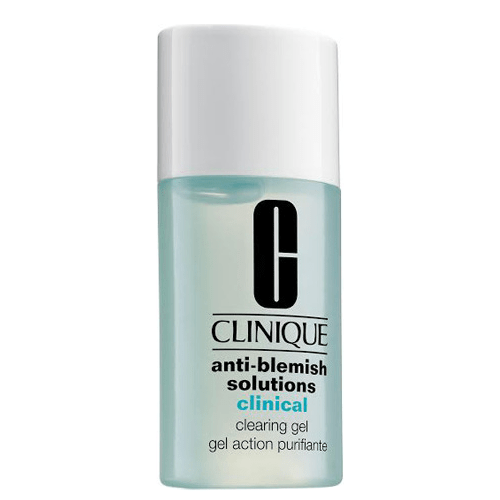 Thursday Plantation Tea Tree Medicated Gel is essentially 100% pure Australian tea tree oil in gel form. This potent acne-fighter goes deep into the skin to dry out whiteheads, blackheads and pimples whilst soothing redness and irritation. And all without benzoyl peroxide. Perfect if you want to clear acne but have a bad reaction to BP or just want a natural alternative. It's also free from synthetic colours, fragrances, parabens and animal-derived ingredients.
Cost: $11.49
General star rating: 5/5
Size of product: 25 g
SKINCARE PRODUCTS TO TARGET ADULT PIMPLES
Sometimes you need a more intensive product to zap those stubborn zits. Over the counter spot treatments are the most common way to target spots if you have mild to moderate acne. Below is a list of our top picks.
Some acne spots are stubborn and take forever to go away. Skin Doctors Zit Zapper makes short work of these types of pimples, drying them out in as little as 8 hours (according to the label). This is an intensive spot treatment that unclogs pores, exfoliates skin and calms redness. The active ingredients are tea tree oil to kill bacteria, witch hazel to soothe inflammation, salicylic acid to exfoliate and zinc sulphate to heal tissue and prevent scarring. Apply directly on the spot before bedtime. Some reviewers say it reduced pimple size by half overnight.
Cost: $23.71
General star rating: 4.5/5
Size of product: 10 ml
Unlike other spot treatments, Dermalogica Age Bright Spot Fader specifically targets adult acne and prevents premature ageing, a huge win if you want to get rid of pimples, scars and fine lines at the same time. The Spot Fader is a lightweight version of Dermalogica's Bright Clearing Serum and contains salicylic acid, niacinamide, AGE Bright Complex and hexylresorcinol that brighten your complexion and keep skin smooth. It works on all types of adult breakouts (hormonal, environmental and stress-related) and helps prevent scarring. The 15 ml tube is $68, but the reviews are mostly positive.
Cost: $55.20
General star rating: 4/5
Size of product: 15 ml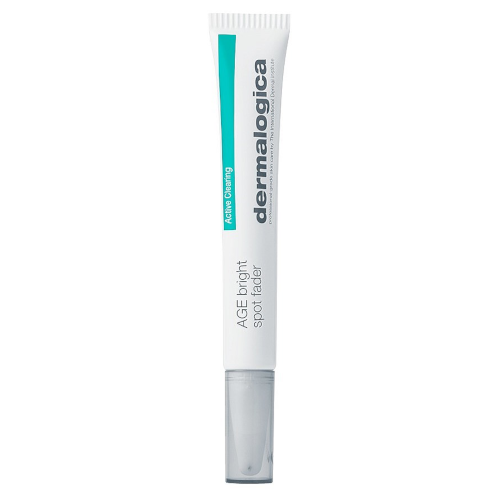 Benzac AC Gel 5% is the go-to benzoyl peroxide brand for many acne-prone adults. BP is often the first line of defence when treating mild to moderate acne. It works by killing up to 94% of the bacteria that cause acne. It also helps unclog pores and reduce hyperpigmentation. Benzoyl peroxide usually causes dryness and sometimes irritation, especially if you're using it for the first time. The skin gradually develops a tolerance to BP, but people who are hypersensitive may experience burning, swelling and peeling.
Cost: $15
General star rating: 4/5
Size of product: 50 g
Avene Cleanance Acne fighting kit addresses oily and acne-prone adult skin. The affordable Cleanance range get rids of excess sebum without drying your skin. Start with the cleansing gel to gently remove impurities and finish with Comedomed, a moisturising anti-blemish concentrate that zaps existing and future breakouts. Botha are top-rated products, with the Comedomed clinically proven to reduce blemishes by 45% after 8 weeks.
Cost: $11.99
General star rating: 4/5
Size of product: Cleansing gel 100ml, Comedomed 5ml
The Murad Blemish Control spot treatment is as strong as they come, promising to reduce blemish size and redness within 4 hours. The active ingredient (2% salicylic acid) is maximum strength and works quickly for fast relief without peeling or flaking. Another plus is you can wear this with or without makeup as it dries clear and is completely invisible. It's not too pricey at $35 for a 15ml tube and should last a month or two if you have mild acne.
Cost: $35
General star rating: 4/5
Size of product: 15 ml
SKIN CARE KITS FOR ACNE PRONE SKIN
For busy adults with acne-prone skin, skin care kits are a godsend. Kits takes the guesswork out of choosing the right products, and they are complete and easy to use. Here's a list of top-rated products that actually work, according to reviews.
For acne-prone adults, niacinamide fixes many problems by killing bacteria, lightening dark spots and improving overall skin health by serving as a barrier. It's great because the risk of irritation is zero to minimal and it can be easily added to your daily skin care routine. The Ordinary Niacinamide 10% + Zinc 1% combines these two active ingredients to clear acne and minimise the appearance of dark spots. The majority of reviews are very positive, and we love that the product is cheap. You may need to wait a few days to see results though.
Cost: $29.95
General star rating: 4.5/5
Size of product: 3 x50 ml
Endota Spa's Facial at Home Blemish kit is a powerful trio of products that promises to banish adult acne, excess oil and congestion. The kit contains an AHA Renewal Cleansing Gel that cleanses and exfoliates at the same time to improve dull-looking skin, a Rapid Enzyme Peel that rehydrates the skin to reduce the appearance of fine lines, and an Ultra Lite Oil-Free Moisturiser that cuts shine and refines the skin for that poreless look. The kit also comes with a cleansing cloth to remove excess product from your face. If you're a fan of Endota skincare, this blemish kit is worth trying although you do have to pay $140 for it.
Cost: $140
General star rating: 4/5
Size of product: AHA Renewal Cleansing Gel 120ml, Rapid Enzyme Peel 50ml, Ultra Lite Oil-free Moisturiser 50ml
Benzac Clear Skin Acne Control Kit is as basic as it gets when it comes to acne kits, with a cleanser, spot treatment gel and moisturiser. The active ingredients are salicylic acid and benzoyl peroxide working together to unclog pores and kill bacteria. The moisturiser is lightweight, oil-free and fragrance free to reduce irritation and keep your skin hydrated. The reviews are mostly positive, but results may vary depending on your skin type.
Cost: $31.95
General star rating: 4/5
Size of product: Daily Facial Foam Cleanser 130 ml, Benzac AC 2.5% Gel 50 g and Benzac Daily Facial Moisturiser 118 ml
The Medik8 Blemish SOS gel is perfect for flareups and acne emergencies. This highly-rated gel packs a punch and promises to reduce breakouts in just 24 hours. Active ingredient niacinamide soothes redness and calms inflammation quickly, whilst dioic acid declogs pores and prevents future pimples from forming. Just make sure to use hydrating moisturiser and watch out for peeling or dryness if you have extra sensitive skin.
Cost: $48
General star rating: 4/5
Size of product: 15 ml
Finally, we have the Garnier Pure Active Anti Blemish Skin Care Kit, another popular all-in-one anti-acne regimen. This 3-step kit contains micellar cleansing water, a 3-in-1 wash, scrub and mask and moisturiser. Salicylic acid, zinc and airlicium are the key ingredients that eliminate bacteria, unclog pores and even out skin texture. We love the price (only $20), the non-nonsense approach to acne-prone skin care and the many positive reviews from actual users who say that the products are effective.
Cost: $20
General star rating: 4.5/5
Size of product: Micellar Cleanser 125 ml, 3 in 1 Wash, Scrub and Mask 50 ml, Matte Control Moisturiser 40 ml
We hope you've found the perfect product for you. Another great way to improve your skin is to avoid stress, which is not always possible as a single mum! But here are some ideas to help: 10 Tips to avoid stress as a single mum.