There's something about single mums. A sense of unity. An instant understanding. Almost a bond, even with women who have never met before. It's because being a single mum is unique. We share similar challenges, we push similar boundaries, we deal with similar emotions .. and we even think similar thoughts.
Single mums just 'get' one another. And at the inevitable lonely times it's worth remembering you're not alone in your situation. There are other women out there experiencing the same journey.
Here are some thoughts that single mums think daily. Maybe they will resonate with you. Hopefully you'll smile knowingly as you realise that we're all in this together, which is not such a bad thing really.
10 THINGS EVERY SINGLE MUM HAS THOUGHT
"How am I supposed to do that?"
Let's face it, having a man in your life certainly has its advantages and when you are suddenly single you will be faced with challenges you never knew existed. Your inner strength and willpower will be tested at every turn as you flex your hands trying to discover the super powers it takes to open a jar of pasta sauce. Trust me, there will be a point where you remember to take the bins out, you actually start the lawnmower first time, and you work out how to ninja yourself onto the kitchen bench so you can reach the top shelf. Welcome to life as a single mum.
"I shouldn't be buying this."
Life as a single mum is about having hair that's splitting and inches of regrowth. But, school fees are due and little Johnny needs new shoes and there is no end in sight. Should you just shave your head? Unless you have the bone structure to pull off a buzz cut, the universe is not going to implode if you get a haircut or a new pair of butt-lifting jeans and pamper yourself a little. Remember, you're creating a new life for yourself as well as your children. This means boosting your self esteem, and being a content single mum, not a resentful one.
"I'm actually feeding my children WeetBix for dinner."
I don't know about your children, but mine are fussy eaters. I am constantly fighting with them to eat vegetables. 'I don't like this meal' is a common phrase from my little Miss. I try and I beg and I bribe. But at the end of the day, if they want WeetBix for dinner, that's what I give them. And while a few years ago this would have made me feel guilty, now I realise an occasional bowl of cereal for dinner is not going to ruin their lives. With only one grown up and two tiny humans in the house, throwing away a laboursome cook up because "I don't like this meal" is not always the smartest option.   
"I need wine."
You're not alone. We all need wine. Need I say more?
"How will they be affected?"
Feeling guilty over your relationship break down is normal. I honestly don't think it matters who is at fault. As mothers we are going to feel guilty for anything and everything when it comes to our children. But YOU know why your relationship broke-down. Your children may not understand today, one day they will and with Santa coming twice a year they will be just fine. In fact, parental separation can have a positive impact on our children. Remember it is better for them to see their parents happy apart, than miserable together.
"I don't want them to go."
Three years after being separated I still feel queasy every time my children go to their father's. I know they are safe; I know they are cared for. But letting go of your children and entrusting someone else to parent them regularly with a different set of rules is not an easy feat. It makes it even more interesting when there is a new partner thrown into the mix. Yes, it can be difficult but you will come to appreciate this time as a way to unwind, recharge and invest in yourself. It is one of the benefits of co-parenting. And your children will always know where home is. 
10 Things every single mum has thought (cont.)
"Did I just say that?"
Life as a single mum sometimes means saying whatever it takes:
'Please don't wipe your nose on the wall, it's not a tissue'
'This invisible magic fairy powder will stop your leg hurting'
'Eat all your broccoli or I'm calling your teacher'
'The poor tooth fairy broke her arm and couldn't reach under your pillow, can you leave your tooth out again tonight?'
"Do I really have to put up with my ex for the next 18 years?"
I think this regularly. But in many cases, it is possible to come to an arrangement that is both civilised and consistent. I recommend both parties do the Kids Are First parenting course if you are struggling in this area, it is free and can be done online. Sometimes we can forget how small and vulnerable our children are. Don't allow them to feel stuck in the middle if there is conflict occurring.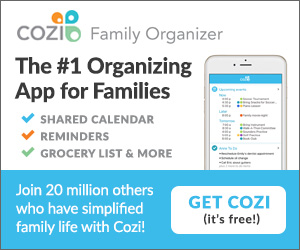 "I am never going to find someone."
Not with that attitude you won't! But, we have all thought this and when you have children it is an even scarier prospect introducing someone new into their lives. And dating as a single mum has it's own set of rules. The best thing you can do is be patient, be fussy and learn who you are and what you want before you put yourself out there again. You will never be happy with someone else until you find happiness within yourself first.
"This is so hard … I am so lucky!"
One moment you're beetroot red as your children misbehave in the bank, knowing you will not yell at them when surrounded by grown ups in suits. The next moment you find yourself yelling at them because they don't understand personal space and insist on pulling each others hair in the car. You wonder how you will get through the day. But at the end of it all, when you're sitting with your children reading a bedtime story, and kissing them goodnight your heart fills with love and you feel like the luckiest woman in the world.